Stake Your Claim!: Are You Still Dancing Around Disclosure?
We all tout the compelling benefits of the franchising model, praising its value as a blueprint for success and proven business system. So why don't the overwhelming majority of franchisors divulge any financial performance data to support this? Savvy companies that do show results gain greater credibility over their competitors.

I certainly had fun presenting earnings claims when I was involved in franchise sales because it provided a powerful selling tool that all buyers wanted and looked forward to during the recruitment process. "There must be some reason why other companies you mention won't give you financial information like we do. You know, the FTC encourages franchisors to provide you with earnings claims to help buyers like yourself make more informed decisions. We agree."
It's time to tell your story
Amazingly, while more than 700 of all active systems make earnings claims today, this represents only 29 percent of all active franchise brands, according to market research conducted by FRANdata. This means that 7 of 10 franchisors "dish" this responsibility off to franchisees, telling buyers they don't provide any financial information. This boggles my mind.

For years I have heard about franchisors without Item 19 disclosures dance around the issue by telling an inquiring prospect, "Sorry, but franchising laws won't allow us to make earning claims, so we just can't reveal this information to you." This "half-true" statement can come back to haunt you, so it's best to fess up with the full truth. When a prospect asks for earnings information, franchisors are required to inform prospects that they can't make earnings claims because they choose not to provide financial performance data in their FDDs. They can only speak with franchisees about this.
How to sell more franchises
Companies through the years like Aaron Rents, Molly Maid, Jimmy John's, Cottman Transmission Centers, GNC, Church's Chicken, and CertaPro Painters have provided earnings claims that help prospective franchisees make more educated decisions. Consequently, these responsive brands have strengthened their buyer attraction over competitors that don't divulge them. In fact, franchise broker organizations often require Item 19 claims from franchise companies seeking their representation. I congratulate them for this. Their brokers can assure clients that any franchise they represent will provide financial information in their franchise disclosure document. More loan sources are also asking franchisors for financial representations as a lending condition.

"What about liability concerns in presenting financial data?" I've asked several attorneys this question. They report that lawsuits involving earnings statements are mostly with companies that don't present them in their FDDs! This makes sense, since prospects have hounded or finessed sales reps into providing earnings claims they shouldn't. I've witnessed it. You may have, too.
How can I make earnings claims?
According to Lane Fisher of Fisher & Zucker LLC, "State and federal regulators want you to give prospects this information so badly that they make it easy to report earnings if you apply accounting principles uniformly and consistently with generally accepted accounting principles (GAAP) and maintain the required substantiating data. Even if you believe that you are better protected from liability through a policy of making no claims (since virtually every complaint filed by the FTC contains allegations of improper earnings information), franchisors have not been entirely effective in policing and enforcing a 'no disclosure' policy."

Just a few ways to present earnings claims:
Average unit revenues, income, or expenses
Average costs of goods, labor, or occupancy
Differences in revenues, income, or expenses based on location, market, or type of unit
Potential return on investment
Average annual "break-even"
Average annual revenue per sales day
Average revenue per van or kiosk
Average commissions or co-op advertising credits
Value of national accounts
Sales closing rates

Wake up franchisors, and "stake your claims." If your business model is totally upside-down, it's quite understandable why you should not provide Item19 data in your FDD. For the rest of you, give interested buyers something to help them develop their business plan. Visit www.franchiseupdate-digital.com/franchiseupdate/2008iss3/ for several examples of how franchisors disclose earnings claims. Challenge your attorney if they resist. There are umpteen ways the government will allow you to do it. You'll help your franchise prospects make better decisions and build greater credibility for your opportunity--especially in today's market.

This article is an excerpt from "Grow to Greatness: How to Build a World-Class Franchise System Faster" by Steve Olson. For ordering information, go to www.franchiseupdate.com/gtg.
Published: July 27th, 2009
Share this Feature
Recommended Reading:
Comments:
comments powered by

Disqus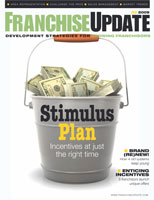 Franchise Update Magazine: Issue 2, 2009
Hub by Thryv is an end-to-end client experience platform custom-built for franchises. Its ready-to-use business apps help franchisees view their...
In 2022 Empower Brands emerged when Lynx Franchising and Outdoor Living Brands united. Empower consists of JAN-PRO, Intelligent Office, FRSTeam,...