STAR Struck: Top Performers in Franchise Recruitment Recognized
Franchise Update mystery shoppers posing as qualified prospects identified a stellar group of franchise companies for best practices in lead generation, follow-up, and recruitment. Scoring 152 registered companies on telephone response to prospects, and 127 franchisors on recruitment websites and response to website prospects, mystery shoppers judged how well--and how quickly--franchise sales and development staff replied to inquiries. In addition, online experts evaluated franchisors' recruitment websites and their use of social media.
The resulting STAR Awards (Speaking To And Responding) were presented at a special dinner during the annual Franchise Update Leadership & Development Conference, which took place from Oct. 9-11 in Atlanta.
Pete Linsdsey

SPORT CLIPS
Best Overall Performance - 1st Place

Pete Lindsey, vice president of franchising for Sport Clips, says the keys to the company's Best Overall Performance STAR Award are shared excitement, having the right staff in place, and using a system that works.

"My team in franchising here is such a blessing to work with. They're great people and they share my excitement about the brand," he says. "We want to offer the Sport Clips opportunity to people who are interested when they're interested, when their excitement is high. We've built a team that shares this philosophy, and we're executing well."
A call center is the focal point of recruitment efforts at Sport Clips, which has 1,117 units spread across 50 states. "Some franchises don't follow up on all their leads, but we focus on being very efficient with our web leads and our phone calls. Our trigger response time is 2 hours, and many times, it's just 30 minutes," he says. The Sport Clips website and its use of social media are also important, but both are designed ultimately to send people to the call center, says Lindsey.
"We don't make assumptions--we want to talk with people. We prefer to qualify with live voice rather than technology," he says. "Once we get them on the phone, we don't want to waste their time. We want to qualify them with regard to general profile to see if they're good candidates. If they are, we immediately schedule them an appointment with one of our area developers or a staff member."
Even if a prospect doesn't qualify or decides not to pursue the brand, Sport Clips staff still spend time talking with them, he says. "It's all about relationships. They may still be a client of our stores, and we want to treat them respectfully and well."
Doug Wong

DENNY'S
Best Telephone Prospect Follow-Up

In this era of breakneck-paced technology and social media, it's easy to underestimate the value of phone conversations, says Doug Wong, senior director of global franchise recruitment for Denny's, which has 1,700 restaurants in 50 states and 13 countries. "In Denny's case, most of our prospects, who are often Denny's consumers who love the brand and want to become franchisees, call in. That's their comfort zone. Anytime someone picks up the phone to call you, there's interest. Our job is to take that interest and move it to intent. It's our responsibility to respond to them quickly and to see what we can do to move things forward."
Also key to Denny's success, he says, is to have the right people in place. "Our philosophy is to treat folks calling as consumers interested in franchising the same way we treat our customers in our restaurants. We want that experience to be the same. For that to happen, our folks have to buy into the process."
Wong describes the brand's best prospects as "a little more sophisticated because our financial and background requirements and standards are higher than at some other franchises," he says. "Some prospects may be younger and still have the experience and financial standing, so we also have to speak their language. Their comfort zone is to go to the website and social media. We have to address all tools to make sure it resonates with whoever is reaching out."
Chad Tramuta

VOODOO BBQ & GRILL
Best Recruitment Website

"Three years ago, when we began working to build our brand to a regional and national concept, we could see that our franchise opportunity website was horrible. Like any young franchise, we needed a full overhaul," says Chad Tramuta, senior director of franchise development. "It was all about putting on relevant content and having everything accessible by pushing a button for people who don't want to spend time waiting for a call or talking on the phone, where they feel like they have to hold back information."
VooDoo, which today has 16 units in Louisiana and South Carolina and has awarded 58 licenses in 6 states, reached outside to revamp the site, says Tramuta. "Thomas Scott and Joe Mathews put together a website that told our story--all out in the open," he says. "If you go there, you can see each step you'll take through the journey. The site lays out who we are, what makes us different and what we're looking for in a franchisee. It also lays out what type of investment a prospect can anticipate as well as what returns they can expect."
When prospects reach out through the website, Tramuta gets back to them immediately. "Everything we've identified says that if you slow people down, you'll lose them," he says. "My job is to make sure they have a good understanding of our business and to walk them through the back end of the process." At the very end, prospects can also see a free franchise report, which covers in greater detail what they've seen online, he says. "This is what makes us unique."
Scott Fitzgerald

BRIGHTSTAR CARE
Best Website Prospect Follow-Up

"The growth of our system, today and in the future, relies on the quality of franchisees we bring in," says Sean Fitzgerald, executive vice president of franchise development at the 9-year-old company founded by Shelly and JD Sun. "We've structured our lead generation, recruiting processes, and candidate requirements around finding and recruiting those we feel will be the most successful and will be able to grow with us."
BrightStar's goal is to respond immediately to prospects from the website with an email directing them to their own e-tour of the franchise. "At the same time, when we receive a lead from the web, we are trying to contact that lead by phone as soon as possible. If you haven't contacted a prospect within 24 hours, you risk losing that prospect to someone who has. Most prospects aren't just looking at one concept at a time," says Fitzgerald.
BrightStar, which in 2005 became the first franchisor in the nation to specialize in both medical and non-medical care and healthcare staffing, currently has 160 franchisees with 260 locations in 38 states and Canada. "We utilize numerous avenues to find the best franchisees. SEO and PPC are going to help us position ourselves in front of people looking in our space. The way we have constructed our process gives them the flexibility to investigate anonymously and to have the ability to engage with us very quickly. Our response to their inquiry is just as important as what we put out on the website."
Jeff Bevis

FIRSTLIGHT HOMECARE
Best Social Implementation

FirstLight HomeCare, a three-and-a-half-year-old brand with 82 franchisees in 118 markets across 25 states, entered the business with the realization that social media would be a key component of their messaging and communications, says Jeff Bevis, CEO and president. "Social media is a new tool, a new primary way to get in front of the targeted candidate," he says. "Whether it's LinkedIn, Facebook, or Twitter, the undercurrent of our whole approach to recruitment is to incorporate social media."
FirstLight has a staff member dedicated to social media for franchise development and services. "Since senior care is very much focused on the adult child making real decisions--usually females 48 to 64--our person is on Pinterest, Facebook, LinkedIn, and different targeted campaigns on Google+," he says.
Bevis says this all-out social media approach has been measurably successful. "I'd said that if we can't demonstrate ROI, we can't do it. And we do measure it on a monthly basis, with our whole web scorecard pointing to new owners and candidates sourced from social media. As long as the ROI is there, it makes sense to apply more resources."
He's also happy to draw prospects from social media for another reason. "We're trying to make sure our owners have a tech bent. We're not looking for whiz kids, but our tech platform is the backbone of our business and enables a higher level of service," he says.
Bevis sees more franchisors benefiting from social media implementation. "For many years, people said social media didn't have any real metric to it--that it should be there but they couldn't afford it. Not that we're any smarter than anybody else, but we've taken lots of extra time to figure it out and we've seen how much it can mean."
Phillip White

SOTHEBY'S INTERNATIONAL REALTY AFFILIATES
Best Franchisee Satisfaction - 1st Place

Sotheby's International Realty Affiliates was established in 2004 when Realogy Holdings Corp., a global real estate services company, entered into a long-term strategic alliance with Sotheby's, the famed auction house. Today, the luxury real estate network has 13,000 sales associates in 670 offices in 49 countries and territories, says Philip White, president and CEO.

"We are honored to receive this recognition as we believe quality service begins with how we work with our valued network of affiliates and filters to how they serve their clientele," he says.
"Our sales associates are some of the most talented and experienced real estate professionals today, and it is our mission to support them in their efforts through a host of operational, marketing, recruiting, educational, and business development resources."
White says the company, based in Madison, N.J., recently completed a strategic initiative to enhance its service platform across Asia as the company continues to develop its brand in that region. "As we look to further our growth in key luxury real estate markets across the globe, we will continue to build on our talented team of support staff to ensure our worldwide network is receiving the highest level of service."
Hall of Fame Award Winners

Steve Greenbaum

Matt Alden

Franchise Update also recognized one franchisor and one sponsor/supplier for their long records of attending and actively supporting the Franchise Leadership & Development Conference during its 15 years of existence.

On the franchisor side, the award went to Steve Greenbaum, president of PostNet. Greenbaum said the while he was honored--and surprised--to receive the award, "I've actually received far more from attending these conferences over the years, so much more than I could have ever contributed." Greenbaum, who thinks he's missed only one conference in its 15 years, said the sharing of ideas and solutions that take place at the conference make it a tremendous value, which is what keeps him coming back year after year.

On the sponsor side, the award went to Franchise Solutions. "We're very excited to receive this award and truly appreciate the recognition by Franchise Update Media Group," said Matt Alden, president. "In a marketplace where many suppliers, especially in the lead generation space, come and go, Franchise Solutions is proud of its tenure and innovation posture."
BEST OVERALL PERFORMANCE
Sport Clips
Wild Birds Unlimited
BEST TELEPHONE PROSPECT FOLLOW-UP
Denny's
Huddle House
BEST RECRUITMENT WEBSITE
VooDoo BBQ & Grill
FirstLight HomeCare
BEST WEBSITE PROSPECT FOLLOW-UP
BrightStar Home Care
Molly Maid
BEST SOCIAL MEDIA IMPLEMENTATION
FirstLight HomeCare
Mr. Handyman International
BEST FRANCHISEE SATISFACTION
Sotheby's International Realty Affiliates
Kona Ice
HALL OF FAME AWARD
Individual: Steve Greenbaum (PostNet)
Sponsor: Franchise Solutions
Published: December 11th, 2013
Share this Feature
Recommended Reading:
Comments:
comments powered by

Disqus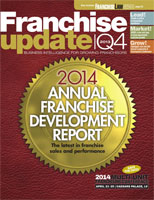 Franchise Update Magazine: Issue 4, 2013
ServiceScore helps businesses get the results they want from phone calls.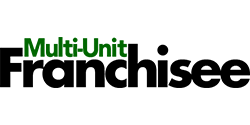 Published quarterly, Multi-Unit Franchisee Magazine is dedicated exclusively to Multi-Unit Franchisees. It delivers vital information and business...