Starting Anew: New School of Rock CEO Extols the Power of Music
Dzana Homan's story is one of inspiration and perseverance. She grew up in Yugoslavia where she spent a happy childhood filled with friends and surrounded by a large extended family. That came to an end in 1992 with the start of the Bosnian War. Thousands were killed and millions displaced. Homan lost members of her family, friends, and her country.
Despite these hardships, she continued to take solace in two things she had always loved: learning and children. Homan's passion in these areas led her to the U.S. and where she is today: this past June she was hired as CEO at the School of Rock. With a track record of success at Huntington Learning Center and Goddard Systems, she has big plans for School of Rock.
When Homan came to the U.S. in 1995 she spoke no English, but that didn't stop her. She worked hard, learned the language, and earned a master's degree in electrical engineering and physics (she also has studied piano), and settled in Los Angeles. A series of events led her to FutureKids, an educational software company that focused on technological and computer literacy. She became a teacher and director at a franchised learning center, became a franchisee, and was recruited to work for the corporate office. Eighteen months later, she became CEO, and spent the 7 years managing the brand before being hired away by Huntington Learning Center in 2008.
Two years as CEO at Huntington were followed by 3½ years as COO at Goddard Systems. Altogether, Homan has more than 15 years of hands-on experience leading and managing high-growth, outcome-driven institutions in the education, technology, and franchise fields.
At School of Rock, Homan plans to draw on her experience to expand in the U.S. and internationally, introduce new programs and services, and form strong partnerships and alliances that will enhance the brand's strengths. School of Rock has 145 locations in 8 countries, serving more than 17,000 students.
"I'm still new to the job, but one of the things we must do better is get word of this brand out," she says. "We can enhance our marketing efforts through online and social media that really gets the message out visually about what we offer."
Homan says about 40 percent of the brand's growth has come from its franchisees. "That's a great validation to what we're doing," she says. "We have our best presence in the Northeast and plan to look at expanding in the Midwest and South."
Homan is not short on passion, especially when it comes to learning. "The impact of music on young people is profound," she says. "Studies show that students who are involved in music perform better in school than those who are not involved. Our brand is a perfect provider of music education for the upcoming generations."
Name: Dzana Homan
Title: CEO
Company: School of Rock
Units: 145
Years in franchising: 19
Years in current position: 5 months
Leadership
What is your role as CEO?
The most important aspects of my position are to direct our vision and strategic goals based on School of Rock's mission and lead delivery on the strategic goals to the customers, employees, franchisees, and shareholders. My overall responsibility is to provide exceptional leadership to my team of stellar professionals and set the tone for the entire organization. I also see as a core responsibility development of a productive engagement with our franchisees and other institutional partners.
Describe your leadership style.
Value-based leadership, which allows for filtering of decisions by measuring them against core values. At School of Rock, core values include team orientation, being proactive, a drive for success, and a measure for the safety and security of the children. This style of leadership fuels the essence of what we do, from the corporate office to front-line employees. Core values create the culture of our organization: a culture of accountability.
What has inspired your leadership style?
I've been inspired by my parents, mentors, and experience in franchising and in life. My parents held very straightforward, conscientious values that were instilled in me at a young age. As the leader I am today, every decision I make is based on that set of core values. I have also been grateful to have exceptional mentors guide me in my professional career.
What is your biggest leadership challenge?
Talent. We are only as good as our people. As an organization, we can have values and budgets and projects, but if we don't have people who are experienced, competent, and truly invested in what we do, we will have a difficult time excelling and reaching our goals. As with any leader, it becomes crucial to find the right people, engage them, and create a culture that embraces creativity and fosters both individual and team growth.
How do you transmit your culture from your office to front-line employees?
If we instill the core values into everything we do, everyone will know how to measure their actions and impact. Consistent engagement and clear communication about our goals and responsibilities are critically important. I have spent the past several months traveling to corporate and franchisee-owned schools to help transmit the culture we embody to our front-line employees. It is so unbelievably important for me to show how invested I am in the brilliant talent we have throughout the system. I do my best to live by my values and demonstrate that in order to be very clear as to where our focus lies.
Where is the best place to prepare for leadership: an MBA school or OTJ?
An MBA is an asset, but everyone needs hands-on experience. I am a great believer in project-based learning. We work in the business of people, and while it is great to master the content, it all comes down to execution. Ultimately, your leadership style is developed and earned in the trenches.
Are tough decisions best taken by one person?
How do you make tough decisions? I am assuming that we are talking about those rare, but really hard decisions. All tough decisions are made by one person; it is a measure of the leader. What is done with the larger group is to socialize the decision and explain the way.
Do you want to be liked or respected?
Respected. I prefer understanding over agreement. If we all have an understanding about a decision and a position we will likely preserve respectful attitudes and be able to work and collaborate in the future.
Advice to CEO wannabes:
Outline all your goals and deliverables and have a clear vision for success, then own it. We all suffer a little bit from a fear of failing, and it's when we hesitate on execution that we lose quality and success of the overall objective.
Management
Describe your management style:
Inclusive and engaged. The practice of leadership and management inform each other. We are in the people business of franchising. A franchisor does not succeed without a franchisee. Leadership and management style have to be informed by that same symbiotic relationship, and that all begins with inclusivity and engagement.
What does your management team look like?
An exceptionally bright and fun group of senior managers leading their respective departments, all with the same goal of inspiring and adding value to the next generation of leaders.
How does your management team help you lead?
They are my eyes and ears. They watch my back, and I do the same for them. They tell me the truth no matter what, and I am the first to find out.
Favorite management gurus:
Do you read management books? Peter Drucker.
What makes you say, "Yes, now that's why I do what I do!"?
Watching our kids rock out on stage. School of Rock is more than just a music school, it's a chance for students to form a community, build confidence, make friendships, and be recognized for their contributions. Their performances are awe-inspiring and show off their unbelievable talent and skill.
Personal
What time do you like to be at your desk?
I am actually never at my desk. I've only been at the company for a few months, but I've been completely immersing myself in the culture, constantly moving and becoming ingrained in everything that is School of Rock. I want to engage with my team all the time, and that is where I am working, whether in conference zones, franchise locations, or in the crowd at student performances.
Exercise in the morning?
Wine with lunch? I jog in the morning and do Pilates after work. Lunch? What is lunch?
Do you socialize with your team after work/outside the office?
Yes, we are in the entertainment industry, so it comes naturally. We believe in learning music through performance, so a lot of our outings revolve around student shows. For example, we recently spent the weekend at Milwaukee's Summerfest, billed as "The World's Largest Music Festival," to watch students from 32 schools compete in our battle of the bands competition. It is events like this that really bring us together as a School of Rock family.
Last two books read:
Scaling Up Excellence and Powers of Two.
What technology do you take on the road?
I always have my computer, iPad, and iPhone. I carry two purses--one just for the machines and cables.
How do you relax/balance life and work?
This is really not my expertise. It is almost impossible to isolate yourself in this type of business. We are all involved in so many different facets of the job. I relax while acting in my role of CEO by going to School of Rock shows and watching our students tear up the stage.
Favorite vacation destination:
Hawaii. I absolutely love the islands, and the distance helps provide that sometimes necessary sense of space from the "real world."
Favorite occasions to send employees notes:
Small and big wins. We try to establish a culture of accountability and accountable behavior. Both big and small deserve recognition.
Favorite company product/service:
Showtime. We are a performance-based music education program, so the performances really bring to life everything we do. For example, every summer, the School of Rock AllStars--the top 1 percent of our 17,000 students who are acclaimed as some of the best young musicians in the world--embark on a tour complete with tour buses and multiple live shows throughout the country. Over the past 8 years, the students have performed at world-renowned festivals, including Red Rocks, Lollapalooza, the Hangout Music Festival, NAMM, Gathering of the Vibes, Austin City Limits, and countless others. They've also shared the stage with major rockers like Alice Cooper, Peter Frampton, Eddie Vedder, and Slash, just to name a few.
Bottom Line
What are your long-term goals for the company?
We are pursuing aggressive growth of the chain, growth of the top and the bottom line of each school, and brand recognition and penetration.
How has the economy changed your goals for your company?
The economy really hasn't changed the goals of our company. We have a clear vision and know there will always be roadblocks, but we consistently strategize to move beyond them and stay on our path of sustained excellence.
Where can capital be found these days?
Everywhere. If you have a great brand and great execution, you will find the capital.
How do you measure success?
Decide on your goals then deliver on time, on spec, and on budget. Above anything else, you must have clarity and defined goals. It is only then that you can measure success.
What has been your greatest success?
Personally, my greatest success has been starting over as an immigrant in the United States after a war in Sarajevo. This was definitely challenging and incredibly rewarding, but the drive that got me here keeps me humble, hungry, and on my toes. Professionally, having only started at School of Rock three months ago, my proudest success has been developing a great relationship with our franchisees, employees, and customers.
Any regrets?
Zero. Everything that I have done so far, all the wins and losses, got me to where I am at today.
What can we expect from your company in the next 12 to 18 months?
We will "rock your world"!
Published: April 10th, 2015
Share this Feature
Recommended Reading:
Comments:
comments powered by

Disqus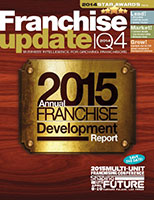 Franchise Update Magazine: Issue 4, 2014
Conferences
InterContinental, Atlanta
OCT 18-20TH, 2023
Leasecake is location management made easy – from lease contracts and licensing agreements to ASC 842 compliance. Never miss a deadline, stay ahead...
BoeFly drives growth by delivering financially qualified candidates increasing lead-to-franchisee conversion, and helping franchisees secure...