Staying on Target in 2010: Ring in the New Year with Successful Selling Strategies
What is the definition of success? When it comes to franchise development, most of us would say that accomplishing our goals is success--especially after a very tough 2009.

For 2010, setting realistic development and growth goals is key. Your sales goals (and associated budget) will be determined by several factors. Some of the important questions we should be asking ourselves and our executive team this year include:
How does our concept work in the current economy?
Can our new franchisees survive the start-up process?
What type of financing is available for both our new and existing franchisees?
Is 2010 the year for internal system growth?
Is it time to experiment with unconventional lead sources?

Candidates will want to know how your concept functions in today's economy. Take the time to discuss this with your management team and establish a consistent, defensible response that resonates strongly throughout the qualification process and discovery day. While some concepts will always be more attractive than others, that doesn't mean your concept can't work well today. Some "hot" concepts for 2010 (just a few) include the following:

Senior services: In-home care, estate planning, financial planning, assisted living
Kids: Education, day care, entertainment
Home: Handyman service, maid service, alarm, insulation, lawn service
Automotive: General repair, oil changes.
Key sales issues for 2010
Break-even. How long does it take for new franchise owners to reach a cash flow break-even? This is extremely important to candidates with limited funds. Putting "fast start" programs in place to assist new franchisees to a quicker break-even will make your opportunity much more attractive. Do they really need all the equipment on day one? Can they start with one van instead of two? A smaller footprint? Used equipment instead of new?
Financing. There is no simple answer to financing today. So it's time to change and adapt. What approaches can we take with our candidates and lending institutions to keep the process moving when the conversation turns to obtaining financing? A tendency today is to avoid "wasting" time with a candidate if we don't feel they have money, so we "go for the money question" too early in some cases, which may be costing us some qualified candidates. We must be careful not to push candidates off too early until we really understand if they are a good fit for our system.
Business plan. A solid business plan candidates can take to an SBA lender or local bank is a must. Taking an active role in supporting this process should yield large returns for franchisors. If this isn't your forte, several packaging options are available. A clean and concise business plan will create confidence with both your candidates and their bankers.
FPR. A well-written FPR will also prove a great tool when it comes to financing, and give you more flexibility in assisting your candidates in preparing funding requests for lenders. In some cases you can directly provide the lender with a business plan--along with a disclaimer about restrictions on sharing that information with the candidate. Always check with your legal advisor to understand how you can do this with a lender.
Transfers. 2010 will bring us an opportunity to assist struggling franchisees in transitioning their business to a new owner. In most cases a new attitude and a cash injection will turn most under-performing units around. This will help the existing franchisees and increase the royalty flow to the company.
Lead generation. Implementing a creative lead generation program is another key for 2010. In today's economy, it will be a challenge to attract candidates who are employed, since most won't leave a job at this time. We've all been fishing in the same pond for years. I've heard several encouraging stories recently regarding lead sources that used to work well starting to pull good leads again.

Finally, to keep the glass half full, here are three things to remember in 2010:
90 percent of the population is working.
Candidates with a 720 credit score and above can get financing.
Small improvements in the economy and unemployment will be positive.

Happy Selling,
Marc
Published: February 22nd, 2010
Share this Feature
Recommended Reading:
Comments:
comments powered by

Disqus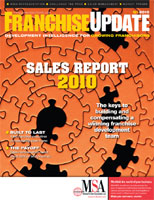 Franchise Update Magazine: Issue 1, 2010
Leasecake is location management made easy – from lease contracts and licensing agreements to ASC 842 compliance. Never miss a deadline, stay ahead...
Support your multi-location brands and empower users. OneTouchPoint integrates localized marketing services and comprehensive brand management...