Stimulus Packagers: Franchisor's Incentives Are Turning Prospects Into Franchisees
Franchise development teams are trying to defy the seemingly insurmountable odds of today's economy by creatively ramping up their sales efforts. Tactics such as discounted franchise fees, reduced royalties, buy-back guarantees, and other incentives have been pouring onto the franchise marketplace in recent months. The innovative techniques seem to be getting results.
Finance solutions
"These are incredibly unique times," says Glenn Franson, CEO of San Antonio, Tex.-based Massage Heights. "I've talked to other franchisors and some of us are seeing lead flow down by as much as 80 percent." One of the fundamental reasons, he says, is prospects' inability to obtain bank loans to cover the franchise startup costs.

The company's response has been to get actively involved and speed up the financing process any way it can, says Franson. "We want to help qualified franchisees get the capital they need to get started in business."

One way of doing that was to list Massage Heights on the SBA Franchise Registry. "Only a handful of franchisors qualify for this, and it makes it so easy for lenders to check you out as a company," says Franson.

Late last year, Massage Heights created a special finance steering committee composed of both corporate officers and regional developers with backgrounds in finance and lending. The group meets biweekly to discuss ways to improve and streamline the financing process for Massage Heights prospects. One of their first tasks, says Franson, was to begin identifying and building relationships with banks that were interested in lending money.

"We discovered the Coleman Report, which is packed with news concerning banking, financing, government, and SBA lenders," he says. "We've been contacting those banks and trying to build rapport."

Franson says one of the things he's discovered is that many banks are looking to really get to know the people they are lending to, and the Massage Heights team is doing everything it can to help make that easier. For example, regional developers on the ground throughout the country are working to build relationships with local and regional banks. As a show of good faith to its developers, Massage Heights relaxed requirements on development schedules for its regional developers because of today's lengthier loan approval process.

As an added incentive to candidates, if a new qualified franchisee can't secure funding within 18 months of signing the franchise agreement, Massage Heights will refund the franchise fee (as much as $42,000 for franchises purchased after April 1, 2009 and disclosed in the 2009 FDD).

The company is aggressively trying several other techniques. Franson says the company is being flexible in negotiations with prospects that could be great franchisees by allowing them to have lower liquid assets and net worth in exchange for building smaller spaces with fewer frills.

Cash is king, and Massage Heights recognizes that with a special plan to boost the cash flow of new franchisees by buying their annual customer contracts (at a small discount), immediately pumping cash into the franchisee's books.
Comeback kid
Not too long ago, Pizza Inn was an untouchable brand, with anemic growth and accelerated unit closings. But the turnaround continues at the Dallas-based franchisor, with sales incentives helping drive the forward movement.

"It was a brand in decline, but we've stabilized it and we're back in building mode again," says Charlie Morrison, president and CEO of Pizza Inn.

Much of the brand's return to growth has centered around the development of a new buffet-style concept restaurant, a throwback its earlier days, says Morrison. Under a new incentive to promote growth, begun in January and continuing through June, any new or existing franchisee who signs up for a new buffet-style concept restaurant will pay no royalties during the first year of operation. The royalty climbs to 2 percent for the second full year of operation, and after that to 4 percent of gross sales for the remainder of the franchise agreement. "This eases the franchisee's startup cost and boosts cash flow," says Morrison.

The initiative doesn't stop there. New and existing franchisees also can take advantage of discounted franchise fees by signing up for the chain's standard multi-unit restaurant development agreement incentive, says Morrison. "Multi-unit agreements for three or more locations under the program are $25,000 for the first restaurant, $18,750 for the second, and only $12,500 for the third location and beyond," he says. Although the program is still relatively new, he says there are "already a couple of done agreements and a number of prospects in the pipeline."

Morrison says the initiative is a temporary incentive meant to "seed the business." And he says the deal is attractive to lending banks, who love the idea of no royalty payments during the first year.

"You're looking at a range from $384,000 up to $764,000 to open a new restaurant, and that's a big risk for a new franchisee," he says. "We want to give them room to succeed by helping make their P&L better during the first couple of years."

Morrison acknowledges the program is financially aggressive and lowers much of the up-front income potential for the franchisor. However, he says the long-term strategy more than supports the short-term deficit.

"Ultimately, we are building a brand and franchise system that's successful at operations," says Morrison. "If we can do that, we can create a concept that is attractive to lenders and franchisees."
Published: April 29th, 2009
Share this Feature
Recommended Reading:
Comments:
comments powered by

Disqus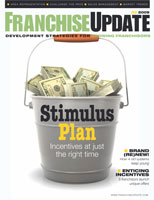 Franchise Update Magazine: Issue 2, 2009
Prisma has reinvented the marketing supply chain with an end-to-end solution that makes it easy to design, customize, order, download, print, kit,...
Bring Order to Your Business. All-in-one management, print, and design solutions at your fingertips, on one platform