Stories from the Covid-19 Front Lines: CEO Q&A with Jonathan Barnett of Oxi Fresh Carpet Cleaning
Name: Jonathan Barnett
Title: CEO, Founder
Brand: Oxi Fresh Carpet Cleaning
Segment: Residential and commercial carpet cleaning
Units: 411
Locations: 48 states, Washington D.C., 2 locations in Canada (Alberta and Ontario)
How has Covid-19 affected your brand?
Until about mid-March, we were up around 20% as a brand. We were seeing really great growth. Following the outbreak of Covid-19, we've seen a drop in jobs. Of course, we're still moving forward and are continuing to innovate and adapt. I'm certain we'll come out on the other side even stronger than we were before. That said, this time has been hard on our franchisees, but the majority of our locations are still open and operating. Many are now moving their focus to serving commercial clients. As a home office, it's of course been challenging, but we built our brand to be flexible. We've been able to provide the same level of support during these times despite a shelter-in-place order that affects our home office and scheduling center. We have been able to do this because all of our programs are Internet-based. Our team is able to do the same quality of work at home as they were in the office. Our scheduling center uses a VOIP phone system, so our customer service representatives were able to take the phones home, plug them into their Internet, and provide support to our customers.
What are you doing to help your franchisees through this?
We've done a lot of different things. 1) Fee deferment: We've begun deferring a portion of our fees to make this difficult time easier on our franchisees. 2) Hospital grade hard-surface disinfectant: We've added a new product that meets the EPA's criteria for use against SARS-CoV-2, the virus that can cause Covid-19 (the disease). This gives the franchisees a new revenue stream and a way to help their community. It's proven especially valuable at commercial properties like offices and grocery stores. 3) New marketing tools: We've added pages to our website, new email campaigns, new videos, and other tools to help our franchisees keep their customers informed about openings/closings and new services. 4) Frequent communication: During times like these, communication is more important than ever. Through our online platform, we've been sending regular alerts and updates to our franchisees. We've also hosted webinars to relay valuable information clearly and quickly. 5) Constant support: Our staff has been on call at their homes basically this entire time. If something needs to happen, even in off-hours, they'll be on it right away. This ensures that we are always there for our franchisees and our customers. 6) Funding options: We've been researching the various emergency funding options and getting that information to our franchisees. There's a lot going on and it's always changing, so we're trying to provide as much useful, up-to-date information as we can.
How are you supporting your corporate employees?
As a brand we are staying united; that certainly is the case for our corporate team. Over the years we have been looked at as a marketing and technology company that cleans carpets, and that has proven true through this challenging time. All of our staff are able to work from home, access all our important files and documents, and serve our franchisees just as if we were still in the home office. That includes our scheduling center. As a home office, we field all the customers' calls from across the country for our franchisees. This allows our franchisees to focus on growing their business, rather than having to be on the phone all day. Thanks to our focus on technology and systems, the shift to having our scheduling center staff working from home has been seamless. We're still able to take calls and provide that valuable service to our franchisees. Like many companies, we are hopping on virtual meetings and staying connected daily. And we are pursuing various projects aggressively not only to help our franchisees now, but to set us up for the growth that we expect to come when this cloud is lifted.
How are your franchisees supporting their employees?
As a brand, we have allowed our franchisees to make the decision for themselves whether or not to temporarily shut down. We're not forcing them to stay open if they don't feel it is safe for their team. That said, many franchisees are still out there in their communities providing cleaning services while following new safety guidelines. This allows them to create healthier, safer environments. We've also collaborated with the IFA to provide materials on the funding programs the government is providing to help small businesses. By doing this, our hope is that our franchisees are able to keep their employees on staff even though work has slowed.
What are your franchisees doing for their customers?
We are being respectful of social distancing and have ramped up our protocols on disinfecting our equipment between jobs to keep technicians and customers as safe as possible. And as noted, we've also added a hard-surface disinfectant service. This hospital-grade disinfectant kills a variety of viruses and bacteria on hard surfaces and meets the EPA's criteria for use against SARS-CoV-2. We can use it in homes and businesses.
How do you see the future of your brand, operations, market, etc. post-Covid-19?
We are going to take off. We have people all across the country wanting to get their spring cleaning done. When the situation clears, we know we'll have a serious demand to get back in these homes and businesses to create clean environments. From a franchise development perspective, we were able to navigate this crisis and not shut down or furlough employees. That puts us in a position of strength among those looking to start their own business or grow their current Oxi Fresh location. We have quite a few leads lining up who are interested in buying a franchise once things settle down. We always talk about being recession-resistant, and that is evident even during these tough times as we are still booking hundreds of jobs a day.
Published: June 25th, 2020
Share this Feature
Recommended Reading:
Comments:
comments powered by

Disqus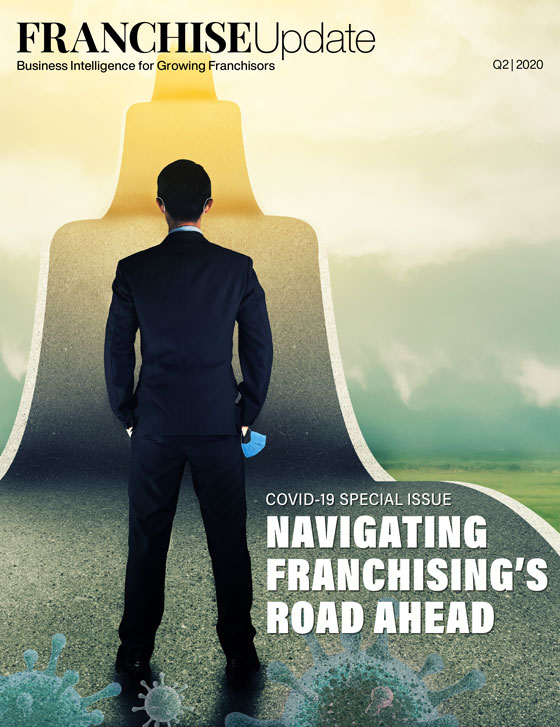 Franchise Update Magazine: Issue 2, 2020
April 25 - April 28, 2023, Caesars Forum, LV. The Multi-Unit Franchising Conference is the premier annual event for the country's leading...
June 20-22, 2023 Marketing-Operations-Technology. Be a part of this ground-breaking new space for ideas, inspiration and networking for Franchise...