Stories from the Covid-19 Front Lines: CEO Q&A with Kevin Bazner of A&W
Name: Kevin Bazner
Title: CEO
Brand: A&W Restaurants
Segment: QSR
Units: 1,000 (approx.)
Locations: 39 U.S. states, Bangladesh, Indonesia, Okinawa, Malaysia, Thailand, Singapore
How has Covid-19 affected your brand?
We've fared very well, all things considered. More than 90 percent of our locations are open. Most of our restaurants can pull guests through either a drive-thru or drive-in, so most of our business has remained. We even have restaurants that are doing better than the previous year, which is impressive given the overall reduced traffic. We're seeing new customers we've never seen before. Our success in recent years is built on local store marketing, so our franchisees are equipped with the mentality that to survive, you must improvise. We're pushing new Family Packs – enough food and fresh root beer for a family of four – along with Float Packs to give our guests the A&W experience, but in the safety of their own home.
What are you doing to help your franchisees through this?
We immediately, along with our franchise association, decided to suspend advertising and royalties. However, we went a step further and refunded the balance of each restaurant's marketing fund. Given our ownership structure, these were quick and easy steps to make. New partnerships were established with DoorDash, Postmates, Uber Eats, and ChowNow. Additionally, we've hosted three system webinars per week, guiding our franchisees on everything from sourcing PPE equipment to filing for PPP loans. We've answered every single question that's asked from the field. We're a high-touch organization, and we were built to help our system withstand a crisis like this.
How are you supporting your corporate employees?
We are proud to say that up to this point, we've been able to keep our entire restaurant support center team on the payroll. We've had twice-a-week all-company webinars updating our team on all aspects of the business, with time for all questions. We pushed aside most of the projects we were working on as we moved to an all-hands-on-deck mentality, and new projects emerged. I can honestly say I've never been prouder of our team than I have been over the last few months.
What are your franchisees doing for their customers?
What they do every day: being there to support their local communities. And it's incredible the amount of support that is reciprocated. Everywhere we look, we see instances of generosity and giving. The A&W brand was founded on the basis of strong community ties, and that still rings true, maybe even more than it ever has in the past.
How are you working with your suppliers?
Our supply chain relationship with Restaurant Supply Chain Solutions (RSCS) has been a lifesaver for us during this crisis. Having the benefit of shared buying power with Yum Brands for items like masks, hand sanitizers, and thermometers has given us a leg up against other chains our size. Equally important, RSCS has helped keep our kitchens supplied with food. These are perfect examples of the value RSCS brings to our business and our franchisees.
How do you see the future of your brand, operations, market, etc. post–Covid-19?
I have no doubt that QSR traffic will get a huge bump as we come out of this crisis. People want to get out of their homes. Low fuel prices will be a further boon to business. What remains to be seen is to what degree our guests' behaviors will stay the same or revert back to pre-coronavirus. Will guests look for in-store dining experiences, or want to eat at home or at a distance? Certainly brands will need to put a greater emphasis on the safe handling of payments, food, and service. We suspect there will be renewed interest in nostalgia, which is certainly an A&W strength.
Published: August 11th, 2020
Share this Feature
Recommended Reading:
Comments:
comments powered by

Disqus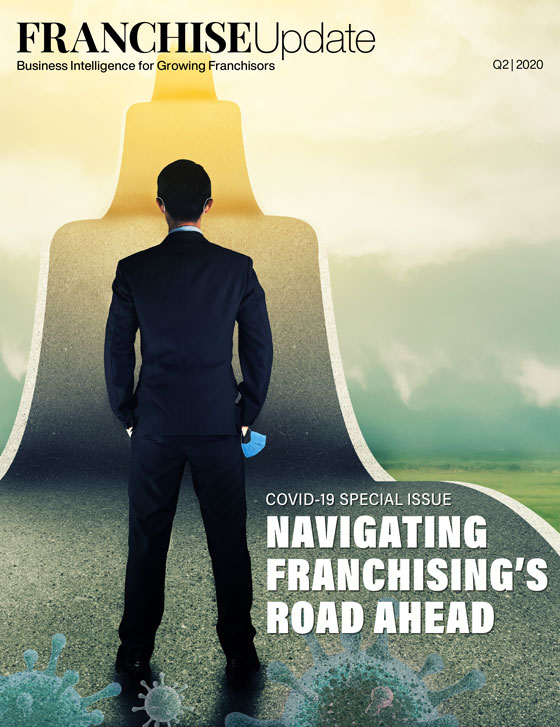 Franchise Update Magazine: Issue 2, 2020
Conferences
InterContinental, Atlanta
OCT 18-20TH, 2023
The Hungarian Franchise Association was founded in 1991 as an interest representation organization of the franchise business community.
More than 15 years of passion and fascination with the franchise system. Thanks to having met many Franchisees, today I can help new ones and those...