Technology Never Sleeps: Evolution and Integration Deliver Powerful Recruitment Tools
One of the most challenging problems in franchise recruitment is keeping prospects and candidates engaged throughout the sales process. That's what recruitment technology is for: not only to keep track of candidates in your pipeline, but to keep them moving forward through your sales process, even when the office is closed.
"What a lot of people fail to realize is that, while human touch is number one in the discovery process, the time an individual will spend not speaking to you is far greater than the time they will spend speaking to you," says Tim Johnson, president of Process Peak, which is focused on creating online experiences to increase engagement and optimize collaboration in the recruitment process.
"It's not just about automation, or just following the basics," says Amit Pamecha, CEO and co-founder of FranConnect, which offers a franchise management system, and in 2009 introduced Captivate, a franchise sales system. "Are you engaging the prospects? Are you able to give them what they need at 6 p.m.?"
Today's recruitment technology--enabled by the integration of online communication, the Internet, and an increasingly web-savvy pool of potential franchisees--solves that problem by providing 24/7 access to an automated, online systems that keep candidates moving through a franchisor's structured sales process.
Franchise UPDATE spoke with three of today's leading providers of franchise management and recruitment systems to ask them what's changed in recent years, and how franchisors can use technology to boost sales without busting their budgets. One theme became immediately apparent: Today's recruitment technology, while light years ahead of where it was just a few short years ago, is second to having a proven, structured sales process in place and a clearly defined set of goals for franchise growth.
For franchisors, the goal is clear: find qualified leads at the lowest cost, increase their conversion rate, and build more high-performing units. Thus, franchisors seeking to maximize the benefits of employing best-in-class recruitment technology should first look within, and see if their sales process is worth automating--before investing in the tools to get it done.
We've come a long way (maybe)
Franchise recruitment technology systems have made major strides in the past decade, but not all franchisors have embraced it. "A lot of franchise organizations haven't evolved their web presence beyond what they had in 2000," says Pamecha. "When it comes to lead generation and franchise development, people think immediately about Internet portals, the new thing in 2000, or standard CRM software that at the back end will manage leads."
So what's new? First, of course, was the convergence of greater bandwidth with the explosion in hosted, web-based applications, the integration of formerly separate applications working together in a unified system, and candidates using the web as their primary tool to research opportunities.
More recently, says Pamecha, "One of the most popular things we have seen happening is the evolution of virtual brochures to dynamically present your franchise opportunity the same way a sales rep would present it on the phone."
An important goal, which has become somewhat of a buzzword in 2011, is to engage candidates, emotionally, to produce more qualified leads and, eventually, conversions. Videos, ranging from basic presentations of the concept to testimonials from franchisees, are a highly effective way to make that emotional connection, he says.
Improved tools (including pixel tracking, which allows a sales rep to know exactly where a prospect spends their time on the franchisor's website, and for how long) have made it possible to know more about candidates than ever before. Today's technology will tell a franchisor a great deal about each candidate: how engaged they are, what questions they may have, and how interested they are in the opportunity--even before the first phone call.
The need for transparency
"The days of selling, of wooing somebody by using old-school techniques about why you're so fabulous are past," says Johnson. "We live in a transparent society, which means you need to execute a discovery process and have a platform for that." Today, he says, it's about setting expectations early and often, and integrating the go/no go decisions as early as possible.
The question franchise sales reps must ask, says Johnson, is "How can I empower a candidate to want to move forward with my brand by using a sharing versus a selling process, where you put forth your differentiators and allow them to experience and fully comprehend your differentiators, and the benefits they will find as a franchisee if they move forward?" During the discovery process, he says, "You want to use transparency to express, from the first touch, and communicate with each candidate, that the interview is a two-way street where you evaluate each other," he says. "The key is to use technology as a conversation."
The ideal mix in the recruitment process is the intelligent combination of phone and online contact and communication, says Pamecha. "The telephone is not going away, it's still the number-one communication tool," he says. "But that alone doesn't generate enough success because you can't produce the same level of consistency on the phone. The phone part is there to build a relationship; the online part is to build the engagement."
Metrics and dashboards
Another big change for franchisors is the use of dashboards to measure everything both their candidates and their sales teams do. "Successful franchisors see where leads that close are coming from," says Pamecha. "They know the cost per lead, per discovery day, and per close."
And the information is accessible anytime, anywhere for the sales team and managers. "If I'm a typical vice president of franchise development, I don't have time to go into the system and generate a report or ask an assistant to do it. I'm interested in 8 to 10 key points that show the critical numbers."
Historically, he says, these were all intuitive numbers. Today, with dashboards, franchisors can create customized reports, take them back to the portals they use, and say, "You're sending me leads, but not enough are qualified." Or say to their sales team: "You're only making two contacts per lead, but I need four or five."
Visual appeal is big
When considering investing in a franchise, most buyers look at visual appeal rather than the hard, factual data, says Pamecha, and franchisors must incorporate that into their online process and presentation. "For a lot of people, facts don't drive decisions," he says. With all the competing brands vying for attention in every sector, the company that creates an emotional engagement with their optimal candidates is the one that signs them.
"What most franchisors haven't done is create that layer of emotional engagement using technology," he says. For example, franchisors should include video testimonials from franchisees, pictures of a store being built, a movie of what a typical store looks like inside, etc.
Yes, today's recruitment technology solutions have come a long way, but they're still only tools. "Recruitment technology is fabulous as is, but has nothing to do with the quality of the lead," says Johnson at Process Peak. "The right technology will deliver you a higher-quality candidate," he says. But the responsibility for nurturing a lead and creating the kinds of relationships and level of engagement that result in franchise sales still lays squarely on the shoulders of the people on your sales team.
Process Predicts Performance
One obvious advantage of today's recruitment technology tools is that they can provide an early indication of how candidates are likely to perform as franchisees.
"If they don't follow instructions now, do I really want this person?" asks Dan Martin, founder and president of San Diego-based IFX Online. He says a candidate's performance through a franchisor's step-by-step online process reveals a lot about their future behavior. "Are they coachable, so they can open faster and become higher volume faster?"
One way to determine that, he says, is to "march them through a bunch of hoops" as they move through the sales process. "Once we get something back, we make the prospect perform an assigned homework task: watch a video with five things that make the brand unique--and ask them no-brainer questions to a no-brainer video, simply to see if they watched the whole video," he says.
The system tracks their responses, the time they spent (and where), and the results are transmitted to the franchise development team for action. The goal is not only to keep qualified candidates engaged in the discovery process, but to provide a steady stream of information to the franchisor to use in evaluating each candidate at every stage. The system is structured so the next step comes up only when the previous one is completed.
"Depending on the type of lead, a sequence of tasks can be generated that are different for a single-unit or multi-unit, or someone with experience or no experience in franchising or the industry," says Martin.
"That's really where it's headed," he says. "The technology is in place to 1) keep track of where the candidate is in the process, and 2) the candidate is continually put through hoops. The candidates educate themselves, conduct due diligence to evidence to themselves whether they're qualified to become a franchisee. It puts the onus on the prospect."
It's All CRM Now
Once upon a time, not so very long ago, there were customer relationship management (CRM) systems and there were marketing automation systems (MAS). "It's all CRM now," says Jeff Lionz, president of LionzForce CRM Consulting in Santa Cruz, Calif.
"If I'm in the business of selling franchises, there are things I'm going to want to know about my potential partners," he says. Coupling an MAS with a company's CRM, he says, is the way to find out what you need to know to prioritize and intelligently evaluate potential franchisees. MAS tools allow franchisors to automate marketing functions by using customizable response analysis to segment and sort incoming prospect data.
MAS is a critical component of CRM, sorting leads into hot, warm, and cold, for example, before feeding them into the sales team's CRM system. And after the data is delivered into the CRM, sales reps can use the MAS to help manage the delivery and timing of outbound material such as videos, the FDD, and emails throughout the sales process, based on candidates' responses and actions.
"Most CRMs out there do not do a good job of scoring," says Lionz. "MAS is really designed to intercept inquiries and evaluate them on what people fill in--and don't--and to measure how long they were on a particular area of your website," he says. "MAS tools are intended to help firms get smarter about what people want"--and then give it to them, at the right pace.
When evaluating a possible partner/vendor, he says franchisors should ask questions in two key areas: 1) What are the distinctions of each company, i.e., how are they the same or different?; and 2) What is their technical infrastructure? Have they worked out all of the various functions that will allow franchisors to be successful?
Published: March 4th, 2011
Share this Feature
Recommended Reading:
Comments:
comments powered by

Disqus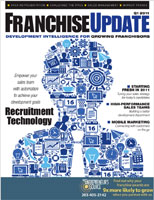 Franchise Update Magazine: Issue 1, 2011
Tiger Pistol, the world's leading collaborative advertising platform, connects the power of brands with the knowledge and credibility of their...
More than 15 years of passion and fascination with the franchise system. Thanks to having met many Franchisees, today I can help new ones and those...