The Fundamental Approach: Charles Smithgall Grows His Aaron's Empire by Keeping it Simple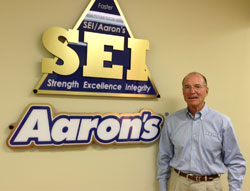 Charles Smithgall has a system. He operates with a simple business plan and model that focuses on executing fundamentals and getting results. He's refined the process over the past 18 years he has been an Aaron's franchisee. "This is my fifth career, but my first in franchising," says the 71-year-old. "It's a fantastic business model because it allows me to focus on operations and execute. Everything else has already been worked out."
And working out it is for Smithgall. Back in 2008 his SEI/Aaron's company had 61 locations in 7 states. Today, he has 105 locations in 10 states. And though he's preparing to hand over the reins to his son, Chas, in January 2015, Smithgall is not slowing down--in fact, he's stepping on the accelerator.
"We're right in the middle of a 10-year goal to grow to 200 stores, $250 million in net revenue annually, $20 million in net profit annually, and to create 25 millionaires within our system," he says. Bold goals to be sure, but Smithgall is just the kind of person who can make it happen.
"Our business is all about people," he says. "We need great people, especially our store general managers. We search hard for the best and test them, and when we find them we reward them and treat them right so they stay with us for a long time."
His goals may sound big but, he says, but "If I didn't have goals I'd probably still be operating five stores." Growth obstacles for Smithgall's company have little to do with capital or acquiring territory. Rather, it's hiring and retaining great people that present the biggest challenge. "I'd guess about 90 percent of the general managers throughout franchising would not be able to successfully operate an Aaron's store," he says. "Our managers not only have to make the sale, they have to collect the dollars."
That's no easy task, he says, because "Our customers are always in a financial crisis." Aaron's is there to help them, which is one of the beauties of the brand's business model.
Smithgall, who calls himself the company's "cheerleader," is still active and on the road regularly. When we spoke, he had just finished a three-and-a-half day trip that saw him travel more than 1,500 miles, visiting 32 of his stores across 5 states. He leaves his home base in Atlanta to visit his stores throughout New England every week.
SEI/Aaron's has grown over the past five years from a combination of acquiring existing franchisee stores, company-operated locations, building new stores, and converting independent stores into the Aaron's brand. "I'll do whatever deal makes sense," he says.
Asked if he had ever considered additional brands, Smithgall quips, "I already know this business model, why would I go and have to learn another?" Seriously, he says Aaron's is a great company with plenty of expansion opportunities, and he's hoping to get in on the brand's HomeSmart concept. So far those stores are all company-owned, but if Aaron's offers HomeSmart franchises, Smithgall plans to be at the front of the line.
It's been a great ride for this Southern gentleman, who recalls his 90-year-old father asking him what he was doing 18 years ago when he was first kicking the tires of the Aaron's brand. "He said to me, 'Son, if you're gonna hitch your wagon to a star, make sure it's a rising star.'" It was, and nearly two decades later his star is still rising.
Name: Charles A. Smithgall, III
Title: Chairman & CEO
Company: SEI/Aaron's, Inc.
No. of units: 105 Aaron's Sales and Lease Ownership
Age: 71
Family: Wife Griff, son Chas (32), daughters Meghan (29) and Jessica (26)
Years in franchising: 18 Years in current position: 18
Published: February 19th, 2014
Share this Feature
Recommended Reading:
Comments:
comments powered by

Disqus
At Nautical Bowls, we combine healthy, fresh superfood bowls with an uplifting atmosphere, giving you energy to life a full life! Our goal is to...
Cash Required:
$100,000
Another Broken Egg is an upscale breakfast, brunch and lunch restaurant that specializes in Southern-inspired menu options and signature cocktails....
Cash Required:
$250,000