The Rewards of Virtue
Bill McPherson builds a stellar sales career with integrity
When Bill McPherson was growing up in the San Fernando Valley, he dreamed of being a professional basketball player. He was good enough to get a scholarship to the University of California at Irvine.

But a career-ending ankle surgery changed all that. "I didn't have a plan that would have end me up in business or sales, but luckily my parents had made sure I had a good head on my shoulders, and I graduated magna cum laude with a business degree," he says.

Today, as vice president of domestic franchise sales for Fastsigns International in Carrollton, Tex., McPherson is building growth and profits, and garnering awards for the 23-year-old franchise signage and graphics company.
When McPherson arrived at Fastsigns eight years ago, there had been four new franchise sales in the previous year. Seven years later, the franchisor had awarded another 275 units to franchisees, growing at what he calls a "nice clip, but strategically." Today Fastsigns has 560 units in 6 countries. McPherson is responsible for the U.S. and Canada, home to about 500 of those units.

Getting started

Following college and three years in finance, McPherson learned his personality was better suited to working with people than with crunching numbers. He switched to sales, and it didn't take him long to become top sales manager and branch manager.

When the company decided to start franchising, in San Francisco, they asked McPherson to help lead their efforts. "I knew very little about franchising, but I said I'd love to be trained and do it," he says. "I went through the offering, recruiting, marketing, and franchising. I had to be hands-on and make mistakes and learn."

In 1995, after four years with the staffing franchise, he moved to a post as vice president for development for a retail concept (gifts, candles, home décor). "The company had some challenges inherent in a mall-based retail environment, but I and others thought we could turn things around," says McPherson. But, ultimately, it was not to be, and he left.

Joining Fastsigns was a breath of fresh air. "I had 10 years in franchise sales at that point, and thought I knew what to do and what not to do, but I could see that I could continue to grow as a senior manager," he says.

"I learned that a strong manager doesn't lose sight of bringing in the right people, which is easier said than done," says McPherson. "I'll look at prospective franchisees and see that they have the money, they speak well, and do a good interview, but I have to make sure their goals, strategies, and integrity align with ours."

Fastsigns franchisees, he says, need to treat customers with integrity and be good at building sincere relationships. "Those aren't things you can teach; you can teach skills and techniques, but you can't teach values and integrity. A person must already have that," he says.

Doing it right

McPherson says he learned a lot about integrity from watching his own parents operate their business for more than 20 years. "I learned not to get caught up in making the sale. Franchise management should get caught up in helping good people be successful in the franchise concept."

Success in franchise sales also requires strong follow-up skills, beginning with the first contact with a prospect. "Without them, you're dead in this industry. It's a 'now' society--everyone wants their information now."
And when it comes to making the close, it's not just about the numbers, he says. "Anybody who's been in franchise sales for any length of time can probably close a sale. But is that the right thing?" It's best, he says, to take time and get to know the candidate to determine if it's the right match--for both parties. "If you want to be around a long time as a franchisor, you'll take your time and do it right."

Something else McPherson has learned over the years is the importance of the candidate's spouse. "With our level of investment (a quarter of a million dollars), it's especially important to get to know the spouse--even if he or she isn't involved in the business--because the spouse is often critical in the decision-making process," he says.
McPherson says he's been lucky to pick up pointers from others he's met over the years. "About eight years ago, I was blessed to work with a colleague who has now become one of my best friends. Mark Jameson is vice president of development for a flooring franchise in St. Louis," he says.

"In working with Mark, I learned so much about management, hiring, treating people the right way, and growing the franchise strategically. From a vertical integration standpoint, Mark knows what makes sense for a business model. He sees the big picture and communicates that to his staff."

Professionally, he's planning to take on more responsibility and continue building a stellar sales team at Fastsigns. The company remains in growth mode: for 2008, 30 to 40 new units will open domestically, with a goal for 700 units in the U.S. and Canada by 2010. Although he's admittedly a good-humored Type-A professional, McPherson says he is learning to occasionally "put the Blackberry down and have a nice cup of green tea."

And personally, he's trying to be the best possible role model for his children. "It's the most important job I'll ever do. And you have to work at it--it doesn't just happen."

Name: Bill McPherson,
Title: Vice president of domestic franchise development
Company: Fastsigns International
Years in current position: 8
Years in franchising: 18

PERSONAL
Key accomplishments: Professionally, leading three different brands over 15 years to unprecedented levels of franchisee satisfaction and unit growth. Personally, I'm most proud of my family.

Biggest mistake: I'm still waiting for the biggest, I think. Everything is a lesson, something to be learned for your next challenge.

Smartest mistake: Accepting the role of VP of development for a retail concept (before Fastsigns). It was a mistake in that the concept no longer exists, but it was a smart mistake in that I learned what not to do in franchising. Also, what I learned there about sales management was invaluable.

Typical day: I spend every day trying to motivate and lead others. To be a success in sales management, you need to be a leader, someone people respect and will follow. I also become involved with sales managers' deals, to varying degrees, and spend a lot of time educating staff and potential franchisees. I travel 40 to 60 percent of the time because it's important to get in front of people.

Work week: I try to keep it to Monday through Friday, but anytime in this profession it can be 24/7.

Favorite activity: My favorite activity is closing sales. I also enjoy working out, going to the movies, and being with my boys. I can't sit still.

Exercise: Working out, basketball, karate, weight training--anything to stay active.

What do you do for fun? Recreational travel, karate, spending time with my family.

Books/magazines recently read/recommended: The E-Myth, Franchise Update, Franchise Times, Bill O'Reilly's latest book.

MANAGEMENT


Management style: I'd say it's a hands-on, open-door style. That may sound a little clichéd, but it's so important to make sure you have constant, effective communication with people. This business moves so quickly, you just can't have miscommunication. I always try to have a great sense of humor. We have a tough business model with odds stacked against us, so we might as well try to enjoy ourselves while we work.

Greatest challenge: Being a good dad. Raising kids right is the toughest job you will ever do.

Personality: Outgoing, great sense of humor, driven, matter of fact, with a can-do attitude.

How do you hire and fire? I've always heard "hire slowly and fire fast," which is really true, especially with salespeople. Try to cover all your bases when hiring. If you have to fire, do it quickly and move on.

Find good franchisees? We use all the regular sources--brokers, print, the Internet--but the key is to make sure you understand the integrity and values of your franchisees. It's not just about them having the money; it's a marriage and long-term if you do it right. That's why Fastsigns has been around for 23 years and experienced steady growth.

Retain them? As for staff, it's essential to help them understand that this is a tough profession, especially the sales aspect. For franchise salespeople, it helps to be sensitive to their ups and downs, to understand that people's health and their families are more important than work. We're not robots, especially in sales.

"Growth meter": How do you measure your growth? I ask myself, "Would I do it again? Was it smart? Strategic?" We don't want to grow simply for the sake of growing; we want smart strategic growth.
Published: August 10th, 2008
Share this Feature
Recommended Reading:
Comments:
comments powered by

Disqus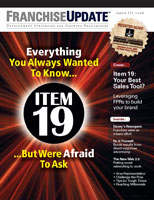 Franchise Update Magazine: Issue 3, 2008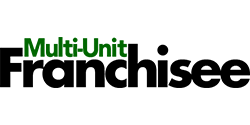 Published quarterly, Multi-Unit Franchisee Magazine is dedicated exclusively to Multi-Unit Franchisees. It delivers vital information and business...
Clayton Kendall provides franchise communities nationwide with comprehensive branded merchandise programs leading to greater brand exposure,...