They Bought the Brand!: Two Capriotti's Franchisees Now Own The Company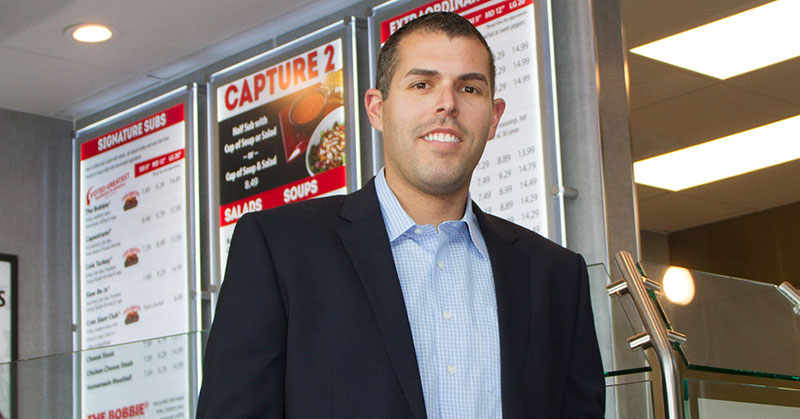 Ashley Morris and childhood friend Jason Smylie were not afraid to take on the world when they graduated from college in their early 20s. While attending the University of Nevada, Las Vegas (UNLV) both had been such raving fans of Capriotti's Sandwich Shop that they broke an apartment lease to move closer to a store.
Morris began as a financial advisor at Wells Fargo and Smylie as a software engineer at Bechtel Nevada before they purchased a Capriotti's in 2004. Four years later, they assembled an investor group and bought the whole company from Lois and Alan Margolet, who founded the company 40 years ago in Wilmington, Del. Today, Morris is CEO and Smylie is president--and that youthful passion, which continues today, is one of the cornerstones of their success.
Morris says his experience on both sides of the franchise fence has given him a balanced perspective of both the franchising model and the Capriotti's system. His own background as a franchisee provides "street cred" with current franchisees as well as with prospects, and is a powerful advantage as he leads the brand.
To gain insights and buy-in across the system, Morris relies on meetings, testing, and focus groups with franchisees. He's used that approach to make changes with existing systems and products. And because franchisees know where he's coming from, he's able to implement change with their approval and support. Combining a buy-in approach with franchisees, technology to accelerate both productivity and profit, and training tools that help squeeze every dollar of profitability possible from each store has paid off in increased quality and efficiencies across the system--good for both franchisor and franchisees.
Of course, Morris has faced his challenges--notably when qualified candidates dried up for a time in the late 2000s--but numbers have been looking positive lately. Currently, the brand has 106 units with 15 more in the pipeline, and Morris hopes to have a total of 250 units open by 2020.
He sees both the brand and the economy motoring along at a healthy clip these days. "There's access to capital markets now," he says. "You can go into a bank and borrow to open and run a business. For a long time you couldn't do that."
As for the crowded sandwich market space, Morris believes Capriotti's will continue to differentiate itself with the very thing he fell in love with in the first place: the food. "The food is the difference," he says. "It's what we do with our product. We operate in a niche. We are the better sub sandwich."
Name: Ashley Morris
Title: President, CEO
Company: Capriotti's Sandwich Shop
Units: 106
Age: 36
Family: Married with 2 boys, 5 and 3
What is your role as CEO?
To be the visionary of the company first and foremost. In addition, I am involved in company strategy, setting the vision and mission, big decisions and ideas, managing large relationships, and R&D.
Describe your leadership style.
I lead by example and make sure to incorporate lots of fun along the way! My focus is constantly trying to simplify the organization, and to delegate to the greatest team in the industry!
What has inspired your leadership style?
The book Traction by Gino Wickman and working for people where I didn't respect their leadership style.
What is your biggest leadership challenge?
Making the hard people decisions.
How do you transmit your culture from your office to front-line employees?
First off, have your values all over the place--on office walls and in stores. Hire people who share those values. Be genuine and passionate for your business and others will follow your lead. It starts with you.
Where is the best place to prepare for leadership: an MBA school or OTJ?
I have found that reading books from the great leaders you admire will best prepare you.
Are tough decisions best taken by one person? How do you make tough decisions?
I think having a sounding board like a board or group of mentors is vital to helping think through the really tough decisions. At the end of the day you must make them and not be afraid to make a wrong decision. You will make many wrong decisions along the way.
Do you want to be liked or respected?
I don't have a need to be liked or respected. However, I have found that people do like and respect me, which is helpful to the organization. They won't work for you unless they do.
Advice to CEO wannabes:
The job requires a very specific personality. Before you decide you want that job, really do some deep learning on yourself to make sure you truly possess the personality. If you don't, it's a recipe for disaster.
Management
Describe your management style:
I'm data driven. I don't micromanage. Rather, I do my best to inspire my team to be passionate and do their best work.
What does your management team look like?
We have, including myself, seven members of the senior management team: CEO, president, SVP finance, SVP development, VP operations, VP supply chain, and VP marketing.
How does your management team help you lead?
We have a culture where group thinking is always encouraged. We also spend 90 minutes per week in a formal meeting where solving issues is a priority among the leadership team.
Favorite management gurus/books?
I love former Yum! CEO David Novak's The Accidental CEO; former GE CEO Jack Welsh's Winning; Gino Wickman's Traction, Get a Grip and Rocket Fuel; and Good to Great by Jim Collins.
What makes you say, "Yes, now that's why I do what I do!"?
When a franchisee opens a restaurant that blows the doors off the sales average and becomes a successful business owner and improves their personal life.
Personal
What time do you like to be at your desk?
At scheduled times, and the last thing before I leave the office.
Exercise in the morning? Wine with lunch?
Exercise 6 a.m. to 7 a.m. Monday to Friday. Beer or vodka on Friday or Saturday nights. Possibly on the golf course!
Do you socialize with your team after work/outside the office?
The president of the company is my best friend so we see each other all the time. I try to do things on a monthly basis with members of the team. A lot of our team do get together on a weekly basis. I am just usually tied up.
Last two books read:
Good to Great (usually once per year) and The Martian.
What technology do you take on the road?
Laptop and iPhone.
How do you relax/balance life and work?
I have 2 young boys, 5 and 3, so outside of work I spend time with them. While it's not relaxing all the time, it's my favorite thing to do. I also plan four fun trips each year, two with only my wife and me, and two with the whole family.
Favorite vacation destination:
Too hard to pick a favorite, but anywhere there is a beach and sand volleyball.
Favorite occasions to send employees notes:
Anniversaries, birthdays, when someone wows me, and holidays.
Favorite company product/service:
At Capriotti's, the Cheese Steak. If you mean favorite other than Capriotti's, the Apple iPhone.
Bottom Line
What are your long-term goals for the company?
500 profitable stores all executing our uncompromising standards of quality and service.
How has the economy changed your goals for your company?
It hasn't.
Where can capital be found these days?
Capital is everywhere today. Everyone is chasing yield. There are so many investor groups, private equity groups, and personal investors looking for return. Banks are still good, but always the strictest.
How do you measure success?
I try to only look 90 to 180 days out at a time, and if we are accomplishing our list of quarterly initiatives that we set out for the leadership team, then we are successful. We also use a weekly scorecard to measure the big metrics. When that scorecard is all green, life is good.
What has been your greatest success?
My ability to achieve a positive, happy mindset throughout my day. Life is not the long-term destination, it's the daily journey.
Any regrets?
Not so much a regret, but if I had a do-over, I wish I would have spent more time focusing on learning the best corporate structure for the organization 8 years ago, because now we are doing the work. If we had done it back then, we might be miles ahead of where we are now.
What can we expect from your company in the next 12 to 18 months?
75 new locations sold, 20 new locations opened.
Published: August 25th, 2016
Share this Feature
Recommended Reading:
Comments:
comments powered by

Disqus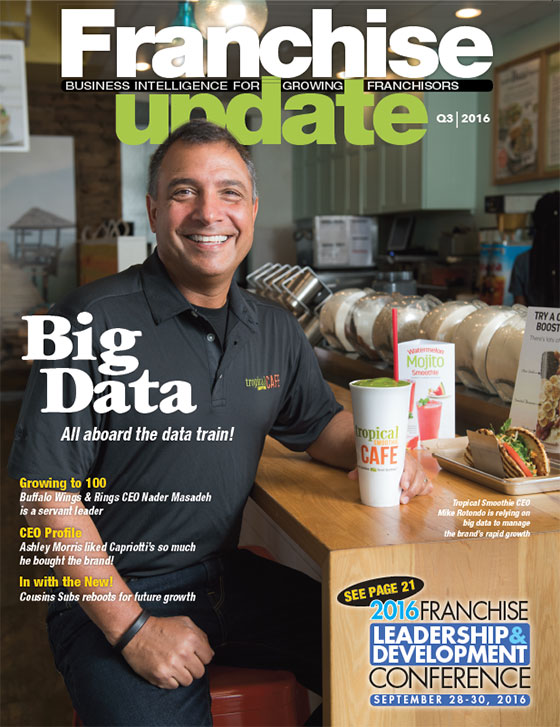 Franchise Update Magazine: Issue 3, 2016
919 Marketing Co. is a national content marketing, PR and social media agency serving franchise brands. Our proprietary social relations approach...
The Titus Center for Franchising, one of Palm Beach Atlantic's Centers of Excellence, offers a concentration in franchising to business students.