This FROG Has Legs: A Program To Give Franchisees A Quick Leap Forward
With well over 100 company-owned units in operation mostly on the west coast, El Pollo Loco decided that its franchise program needed to change if the company was going to handle the growth it was anticipating from 190+ franchised units. The product, flame-grilled chicken with a Mexican flair, was right for a market more interested in healthier eating.

The question, according to CEO Steve Carley, was simple: "What would it take to deliver if our franchisees are our No. 1 customer, and we want to be world class." The conclusion of El Pollo Loco's strategy committee was that it is too easy to let franchisees slip through the cracks--even the kind of experienced and sophisticated multiple-unit franchisee that El Pollo Loco was working to attract.

Because the concept began as company-owned restaurants, moving into franchising required a shift in culture to move the franchise model to the center of the organization.

The solution was logical, although no one else had tried it: One department to handle the franchisee from the time he signed up until his third store was open and running. That was the genesis of the Franchise Restaurant Opening Group (FROG) , a cross-functional group to be the key contact for new franchisees, from the time a development agreement is signed through the opening of a franchisee's new restaurants, including site selection, supply chain, construction, training, marketing, public relations, and operations.

On the surface, it would seem that an area developer would need less help than the one-off franchisee, but that wasn't necessarily the case.

"When we looked where the gaps were, there was an opportunity to do a couple of things," says Carley. "We needed somebody inside who would know what was going on with the franchisee; we also realized once the hoopla was over, the franchisee came in saw Discovery Day, and we signed him up for area development, then months could go by before anybody talked to him. We saw the need for the franchisee to have a one-stop person who could be their liaison, barrier-buster, ombudsman."

Phillips reports directly to Carley, which puts the company on notice that the operation has support from the top: "He can coordinate across functions--real estate, construction, marketing, purchasing--as opposed to assuming all those folks are talking to one another. We created the FROG group to be the umbrella to talk to them and to make sure that our new franchisees as they came in to the system were consistently communicated with."

Staying in touch, Carley says, is not just a matter of making sure that the franchisees have the help they need, but that they also know that El Pollo Loco is paying attention to them: "We're bringing in terrific franchise partners," he says. "These are very busy men and women, who are sometimes building other concepts than ours at the same time. If we can't get them answers, we can go on the back burner." And while that might be fine for grilling chicken, it isn't for a franchisor.

California franchisee Carlton Hargrave, for example, had at one time had five McDonald's units, and was a franchisee of a country-buffet chain. He had been looking at another concept for expansion, but decided against it. "I think it was a good product but fried foods are not a universal product. People are going to more healthy foods. When I looked at the concept of El Pollo Loco, I thought it had a lot of upside for the future. Like the display cooking, where people can see the product."

His first restaurant was opened while the FROG concept was being established, but he got some of the benefits. "If you've been in the quick-service business, the basic concept is the same no matter what you sell, but in the specifics, it was extremely helpful. I plan to use FROG whenever necessary."

"The whole purpose of this is to create the franchise relationship from ground zero," says John Phillips, who as the head of the group holds the title director of franchise openings. "Many restaurants don't have the support we're offering to make the franchisees successful."

Phillips was Hargrave's area representative as FROG was getting off the ground, so he had the benefit of the kind of experience the new director was going to be offering.

"I think this would be useful for even experienced franchisees," Hargrave says. "One of the things I've found is they pay attention to every area--advertising focuses on advertising and it's integrated all the way through to the store level and execution level. They don't just come up with pie in the sky. As far as construction they have a liaison person who works with you once the building is under construction. They really are integrated on every level that you need. I really enjoy that about them." And this from someone who is also in the process of opening two more El Pollo Locos and another buffet restaurant.

Like many multi-unit operators, Hargrave likes to have a variety of concepts to spread the risk and opportunity. It was the reason he sold his McDonald's units--"they wanted to be 100 percent of your business efforts." He has since helped his sister-in-law and niece into eight McDonald's units in Los Angeles, and notes an interesting similarity between McDonald's and El Pollo Loco.

"One of the things that McDonald's did for us was to have us work there one year before being able to purchase the franchise," he says. "I learned that one of the keys to my success is learning the business from the ground up, starting with cleaning the bathrooms. I've always carried that through. At Hometown Buffet I went through the training for six months. One of the things El Pollo Loco is doing is they are requiring operators to do the same thing." He has since moved his son from the kitchen of the buffet restaurants and into the general manager's slot at the El Pollo Loco operation, "and I'm requiring my son to do that. He's going to have to learn every phase of the operation, starting with cleaning the bathroom."

As Phillips conceives of it, the job of FROG is to fit in between the development effort and the full-fledged operation after the franchisee has the third store up and running. He's currently working on about 20 stores, many in the east.

"Once the franchisee is approved through Discovery Days, then the process starts with sourcing sites and we move into construction phase," says Phillips. "We have our development department handle that. Through there it moves into our training and marketing department, which will bring the store from ground to opening, then through opening the continuing training department and operations. We take the franchisee through the second or third store to create their own training store so they become more self-sufficient in their area."

Another value the group is offering is flexibility as it learns how to deal with other sections of the country.

"One of our stores in Chicago was a non-drive-through," Phillips says, "which is not a typical site for us, so our construction and development team had to go in and redesign the front and back of the house. We were able to do that for the franchisee because he felt that was a good spot to go in."

That willingness to be flexible is part of what Phillips calls "taking a very broad look at what is needed for franchisee success. We're there to help them from the dirt pad through their second or third restaurant. It becomes a lot more detailed, with more issues involved, and a lot more people to manage to make that support happen. The end result is a support system that will allow our franchisee to flourish."

Phillips envisions a "kind of hand-off" from one part of the operation to another, as the franchisee needs it: "Our development department sources and helps the franchisees secure areas, then they hand off to us. Once we've kind of finished with that franchisee into their third store, then we have a great franchise operations team that takes over that handles the month-to-month operational issues that may come up. A good part of our job is going to be developing the relationship between those franchisees and us.":

In the end, the process comes full circle, because, Phillips says, "FROG is going to become a sales tool."
Published: May 30th, 2006
Share this Feature
Recommended Reading:
Comments:
comments powered by

Disqus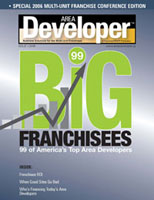 Multi-Unit Franchisee Magazine: Issue 1, 2006
Our first store opened in 1990 in California, growing quickly to a 5-store regional chain. PET DEPOT® started franchising locations in the USA in...
Cash Required:
$53,250
Phenix Salon Suites is awarding our scalable, semi-absentee opportunity to motivated entrepreneurs. With no salon experience required, franchisees...
Cash Required:
$300,000