Three venerable brands try some fresh ingredients
Can an elephant change its spots? Sometimes it feels easier to start a new brand than to change an old one-even if the old one seems ready for the bone yard. But how do franchisors who want to keep a valuable (but tired) nameplate breathe new life into it, attracting new customers while retaining the faithful--and convince its franchisees not only to have faith after years of malaise, but that change is what they need? Franchise UPDATE spoke with three franchisors who knew they had a good thing going-and figured out a way to make it fly once again.

Dairy Queen: Restoring the pride
As people approach 65, they think of retirement. As Dairy Queen neared that venerable plateau, thoughts at headquarters turned to a corporate makeover. The changes had been coming for more than a decade, arguably for several, says Michael Keller, chief brand officer and part of the new team brought in to rejuvenate what he called "a tired old brand with incredible equity." One of the unique things about Dairy Queen, despite its age, says Keller, is the "incredible passion consumers have for the brand and its product." That was the good news. The bad news, he says, is that the brand "was suffering from lack of focus and lack of relevance to consumer trends and behavior and was not addressing competitors' activity." The challenge, then, was to maintain its loyal base and bring the dowdy brand quickly into the 21st century. For example, the new Grill & Chill concept is branded under the DQ name and logo, not Dairy Queen's. This preserves the name and heritage, but connotes a shift to the more extensive menu and upgraded look and feel. The first DQ Grill & Chill opened in Chattanooga in December 2001 to test and tweak the concept.

The changes began in early 2001 when 39-year-old CFO Chuck Mooty was promoted to CEO. Mooty, who started with the company in 1986, began thinking very differently about the brand and the business, says Keller. One key change: hiring senior executives from outside the company, including Keller. This past January, several changes at the top created a management team populated mostly by 40-somethings.

One early goal was "to restore some pride to our collective system and do it in a way that unified our system," says Keller. "Unfortunately, we have a fairly fragmented system. Rather than competing as 5,500-store system in North America, we tended to compete as a number of small markets and systems."

By the end of 2001, a relatively new management team was in place. "We started putting changes in place that would serve as a blueprint for 2002 to 2005," says Keller. "We needed to make changes in almost every aspect." Yet some of the hardest years lay ahead. "2002 and 2003 were brutal for the fast food industry," with the industry going into negative comps for about a year and a half, he recalls. But by the second half of 2003, DQ started going positive in terms of comps, with some stores showing double-digit improvements. DQ sustained the upward trend through 2004, finishing up 10 percent on the year, second only to Starbucks in the QSR category, says Keller. So far in 2005 comps are up 8 to 9 percent, with 22 months of continuous rise, the majority being double-digit positive, he reports. Important factors in its makeover, says Keller, were the company's willingness to restructure, and "to reach outside the company for new talent-and inside the company for talent that may have been hidden before." And to reach out to the franchisees, early and often. In times of fundamental change, the franchisor's role is to provide leadership, he says, and to listen to the voice of its franchisees. "I could not get anything done without the full support of the North American franchisee leadership. Before we sell a thing to consumers, we have to sell the idea to the franchisees." Keller, who came on board in August 2001, says one of the most exciting things at DQ has been the improvement in the relationship with franchisee leadership, and by extension, with the franchisees at large. "The relationship has dramatically and radically changed," he says, with increased mutual respect, trust, and communication. "Get corporate and franchisee leadership aligned and you're on your way." There is no formula for turning around a 5,500-unit, 60-yearold ship, says Keller, but he does offer some advice:
Challenge all your current assumptions; have no sacred cows; leave no area of the business without review. "You're forced to ask yourself some pretty tough questions," he says.
Take an outward focus. "We were so inwardly focused for so long," he says. Management's attention was more on infighting and mechanics than on "what our consumers and competitors were doing to us. It's amazing what happens when you shift outwardly."
Plan strategically for the long term, with horizons of three, five, and 10 years. (Patience is also recommended.)
A final word to anyone about to embark on the road to rebranding: "It's massive. It has to be exhaustive, it has to be continuous, and it has to be done in concert with franchisee leadership or it will go nowhere," says Keller. And it's not for the faint of heart. "You're going to sweat, bleed, and cry on the way there," he says. But it sure beats the alternative.

Mazzio's: Beyond the pie
In 1961 Ken Selby opened The Pizza Parlor in Tulsa. Five years later he opened a second location and renamed the restaurants Ken's Pizza. By the mid-1970s, that concept began to lose some steam, and in 1979 the first Mazzio's Pizza stores were added. 1994 saw the addition of Zio's Italian Kitchen, a casual dining restaurant with a full bar. Business remained good for the Mazzio's brand-until about five years ago. "We were about 20 years in when we said we needed to retool," says Dave Poth, vice president of marketing and sales for Mazzio's Italian Eatery, the company's newest concept. "Our restaurants needed a fresh look; our concept needed a freshening. We no longer wanted to be perceived as a pizza place."

At the time, Mazzio's was a $140 million brand with about 200 stores, about two thirds franchised. This left it too small to add another brand, and much too large to give up its goodwill and brand recognition. The plan was to change all its Mazzio's units, building on its name to target the fast casual customer.

Fortunately, Mazzio's had an up-market "big brother" in Zio's, which Poth jokingly described as a very expensive test kitchen. "It gave us the experience and confidence to do other things that we incorporated into our concept," says Poth.

Mazzio's worked with IdeaStudio Design Group, a Tulsa marketing and communications firm, to complete its "image alignment" process, designed to reveal how a company's own ideas about its brand line up with consumer perceptions, expectations, and experience. They gathered input from three groups- franchisees, consumers, and company employees-to learn the answers to such questions as: How do you perceive Mazzio's? What do you think we do best? What are your expectations of us? Are we credible in terms our statements and claims?

Image alignment, says Poth, brings the input from all three groups into a single concise summary, with an action plan. The result? "Get together with Mazzio's," a slogan that reflects the fact that all types of groups-soccer teams, church groups, and families-come to eat at Mazzio's (or call for pickup or delivery). "Alignment is such a key word," says Poth. "If we don't see the same world it's going to be ugly." And at the very least, he adds, the company will reach agreement that the direction it chose was the right thing to do.

From 1998 to 2002, Mazzio's stopped selling franchises until its new direction became clear and its sales numbers improved. But improvement was slow in coming. "In 2002 and most of 2003, we really had a heck of a time of it," says Poth. But starting in May 2003 the brand started to see sales growth, which has continued in every period since, a 24-month run.

Mazzio's started with a new menu, then remodeling, and then rebranding. The changes began in company-owned stores, with the first new model opening in September 2003 in Stillwater, Okla. Poth says that store has enjoyed a fairly steady 20 percent growth, and broke a sales record this spring. Another remodel, in Broken Arrow, Okla., doing well before the makeover, jumped to the sixth highest sales in the system and after about 15 months is still growing at 10 percent. Before the rebranding effort, same-store sales growth was in the two- and three-percentage range system-wide, says Poth. The new stores, about 15 so far, he says are reporting growth upward of 20 percent. System-wide, same-store sales rose 10.3 percent in 2004, and have continued at a 5.6 percent growth rate in 2005.

"Now what we're excited about is franchisees are starting to do the same," says Poth. "After they saw us do it-and rightfully so, we should blaze that trail-now they're starting their remodels and reimages and are enjoying the same benefits we've been seeing." The first franchisee-owned new store will open this summer in Wichita Falls, Texas, a new location for Mazzio's.

The new Mazzio's appears to be working as planned: "Nowhere are we less than where we were before we started the remodel and reimage at those locations," says Poth. And while conversions, remodeling, and reimaging helped boost growth, they are not the sole reason, he adds.

Mazzio's also benefited from changes in the service format, from the economy turning, and from being more aggressive in getting its operations up to speed, boosting customer satisfaction ratings from 38 ("not so good," says Poth) to 60 and above.

"It's never one thing, but it's a combination of things that we're excited about in the new era we're facing. The new image is a part of it but these operational changes are a key part as well."

Hardee's: The one thing
By January 2001, Hardee's had been experiencing sales losses on a same-store basis for the better part of 10 years, says Brad Haley, executive vice president of marketing. The franchise had maintained its strength at breakfast, but was losing ground on the lunch and dinner parts of the day, he says.

One major reason might be termed an identity crisis. The menu, which offered four items in 1960 (charbroiled hamburgers and cheeseburgers, soft drinks, and coffee), had ballooned to include hamburgers, chicken sandwiches, fried chicken, roast beef, hot dogs, hand-dipped ice cream, and more. "It was like six or seven fast-food chains had decided to brand under one roof," says Haley.

In January 2003, after two years of R&D, the company announced it was changing all its restaurants to focus on "Thickburgers." The changes included eliminating about 40 lunch and dinner items. "Trying to be all things to all people just does not work," said CEO Andrew Puzder at the time.

"We knew we had to do something different," says Haley, as the company charged ahead into the largest, most competitive QSR segment. The new charbroiled, 100 percent Angus beef "Thickburgers" would be larger and more expensive than fast-food burgers but priced below a comparable item served at a sit-down restaurant; and served with the speed and convenience of fast food- or as close to it as possible, says Haley.

While part of the new burgers' hoped-for appeal was size, the goal was to offer food with the quality of a casual restaurant. "I don't know if we started this thought process in the industry, but we certainly are a part of offering better quality fast food," he says. "We used to think there was a glass price ceiling in the industry that led us to constantly engineer the food to the $2.99 price point. The paradigm shifted when we showed we could get $5 for a really good burger." Franchisees were brought in very early in the process. They had been through a lot, says Haley, including years of sales decline. At the first meeting, he asked them: "Are you willing to make radical, revolutionary changes to get this brand turned around again?" The response, he says, was a unanimous yes.

A few months later, in early 2002, the group met again to talk about Thickburgers. The FAC was very supportive, says Haley, their chief concern being to test the idea thoroughly before rolling it out systemwide. Hence, the one-year period until the Thickburger announcement in January 2003. During that time, he says, "We shared almost monthly results from the test markets with the franchisees," and management made several regional tours to share results face to face.

In fiscal 2005, ending Jan. 31, Hardee's reported its first annual operating profit in six years. FY05 operating income increased $31.6 million over the previous year to $5.3 million (following operating losses of $10.5 million in FY03 and $76.9 million in FY02.) On a two-year cumulative basis through February this year, same-store sales were up approximately 13 percent with 21 consecutive months of increases. And for January, Hardee's reported higher unit volume than for any one period since 1994. Of Hardee's 2,034 restaurants (down from about 2,200 in Jan. 2003), about 1,300 are U.S. franchises.

After racking up initial success with the Thickburger, Hardee's began looking at other areas on its menu and in April, announced its Hand-Scooped Ice Cream Shakes & Malts. The shakes, made with real ice cream and milk and blended to order, are priced a dollar or more higher than the old shakes.

One challenge, says Haley, was making the product as "operationally friendly" as possible for franchisees. "We think we found a way to do that," he says. By May, with about 75 percent of the units offering the new shakes, sales had doubled and tripled, says Haley, with the hot weather still ahead. Look for ads by the end of June or early July. Hardee's has remodeled 90 to 95 percent of its units over the last several years and has started building its next-generation restaurants. They will look more like a casual dining than a fast-food environment, says Haley. The first few will open this summer to research consumer reaction before full roll-out.

And who are its future customers? Hardee's, traditionally a family restaurant, is focusing its marketing eye on 18- to 34-year-old males. These "young hungry guys are the most frequent and most devoted hamburger consumers in the country, true burger lovers," says Haley. That explains the recent Paris Hilton car wash ad, and the comparisons of its other ads with beer commercials: both target the same demographic. "The ads will be edgy, attention-getting, and in some cases we'll use attractive women, like beer advertisers do," says Haley. Can their targeted audience down enough burgers and drink enough shakes to rejuvenate Wilber Hardee's germ of an idea? Will tomorrow's leaders be today's eaters for the new Hardee's? If Hardee's bet the franchise on the Thickburger, it seems to be paying off: they had to do something to stem the tide. "After 10 years of decline, it's safe to say we were running out of time," says Haley. Today, they're running ahead.
Published: September 20th, 2005
Share this Feature
Recommended Reading:
Comments:
comments powered by

Disqus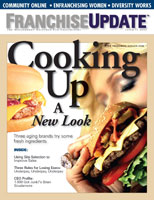 Franchise Update Magazine: Issue 2, 2005
More than 15 years of passion and fascination with the franchise system. Thanks to having met many Franchisees, today I can help new ones and those...
Prisma has reinvented the marketing supply chain with an end-to-end solution that makes it easy to design, customize, order, download, print, kit,...