Time for Common-ism?: Managing Uncertainty Through Cooperation
The Affordable Care Act (ACA) implementation, potential minimum wage increases, and likely overtime rule changes add to the ongoing challenges of managing the expense side of any business. For multi-unit operators, the implications are increased costs. However, there are a few efficiencies to be gained from the scale multi-unit operators enjoy that can lessen the impact.
The ACA represents one opportunity for efficiency for larger multi-unit operators not shared with smaller franchised and most non-franchised SMEs subject to the 50-employee trigger. Managing a larger pool of hourly labor employees allows greater flexibility. It also comes with additional costs in the form of management time; but therein resides the efficiency, in that incremental additions to labor, in theory, should not have similar incremental additions to management time if management is operating efficiently.
A common thread with all these potential changes is that we often don't know how to most effectively minimize the impact these costs have on our businesses. In other words, we have uncertainty. We should tackle uncertainty with two sequential solutions. The first is ideas. We're pretty good doing that. The second is measuring outcomes that ideas create. We're less proficient with this step.
Let's use the ACA as an example. We already have a number of "experts" telling us all its implications and how to change our business models. Some will be right, others will be quickly forgotten. Who should we listen to? In franchising, we are fortunate to have people living their experiences and willing to share them.
At Franchise Update's upcoming Multi-Unit Franchising Conference (Las Vegas, April 23-25), there will be a general session panel of multi-unit operators clarifying misconceptions about the ACA and explaining how they are preparing for the changes it will bring. This exchange of ideas and initial approaches starts us down the path toward tackling an issue shared by all multi-unit operators. That's a necessary first step, but it is not enough to promote universal action. Which ideas should we adopt? How much will they cost? And what are we saving by doing so?
Answers to these questions can be developed only over time. Unfortunately, we tend to miss the opportunity that sharing this type of information can provide. As an example, administering changes to the ACA will cost money. How much should you budget? What nuances of administering required changes will produce the most cost savings? We can answer those questions only with facts--facts that can come only from shared multi-unit experiences.
If we have a common challenge we all have to deal with, wouldn't it make sense to build a way to share outcomes, so that all could benefit? It seems as if we are being confronted with a challenge that has cooperation written all over it.
The path is pretty straightforward: Develop a set of common definitions, contribute actual data against those definitions, and benchmark each against the whole. Multi-unit operators have so many common challenges I'm surprised that such common sense solutions don't already exist. Then again, multi-unit operators are almost all entrepreneurs, which means, among other things, that they have to learn for themselves what doesn't work to find out what does.
Some franchise systems do quite a bit of performance sharing. For those systems, I would expect that addressing the new labor cost challenges will be a central topic. For systems that don't do a good job of performance data sharing (and for those that don't address the additional needs specific to multi-unit operator performance), what should multi-unit operators do? Is there any reason they can't reach out to other multi-unit operators with other brands? There are some non-franchise cooperatively grouped businesses that pool performance information (look up CoopMetrics as one example). Perhaps multi-unit operators should form their own group.
What role should franchisors have in assisting such efforts? Historically, franchisors have focused their training and performance systems on less-sophisticated operators. In most cases, that's what multi-unit operators prefer, leaving them to manage their expanding businesses based on their own experiences. Unfortunately, when confronted with a common new challenge like labor cost changes, that leaves multi-unit operators to figure things out on an individual basis.
Is it time to address common challenges in both the ideas and facts phases? Will multi-unit operators find ways to share actual performance results that lead to individual improvement for all? Perhaps that would be worth a separate discussion at the Multi-Unit Franchising Conference. I'll see you there.
Darrell Johnson is CEO of FRANdata, an independent research company supplying information and analysis for the franchising sector since 1989. He can be reached at 703-740-4700 or djohnson@frandata.com.
Published: May 14th, 2014
Share this Feature
Recommended Reading:
Comments:
comments powered by

Disqus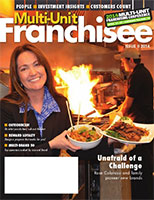 Multi-Unit Franchisee Magazine: Issue 2, 2014
810's mission is to bring there premium entertainment experience, traditionally available in large metropolitan markets, and makes it available...
Cash Required:
$550,000
Garage Living is expanding their successful franchise network by seeking a select group of individuals who are passionate about building a business...
Cash Required:
$100,000