Transfers Ahead: But Where Will The Buyers Come From?
Franchising has flourished over the past two decades, adding tens of thousands of units and rising on a compound basis faster than most of the industries it operates in. Much of this growth was achieved by franchisee operators who began when they were in their thirties and forties. Today many of them are in their fifties and sixties and looking toward retirement.
An unprecedented number of franchisees find themselves in this situation, and they are not alone in this desire to cash in and retire. There are more than 25 million U.S. business owners, many of them Baby Boomers, and the coming years will see a growing pool of businesses on the market. It's simply demographics at work. Where will the buyers come from?
As with many trends only beginning to reveal themselves, definitive answers are hard to come by. What we do know is that transfers will rise relative to new units. Early in the past decade, there were far more new units than transfers in franchising. In the past few years, however, we have seen been about as many transfers as new units. Combine today's difficulty in adding new units with the bulge of soon-to-retire small-business owners who started franchising in the past 20 years, and it's clear the trend toward proportionately more transfers will accelerate in the coming years.
There are about two thirds as many Gen Xers as Baby Boomers, making them a rather competitive market for finding buyers. The generation after that, the Millennials, is slightly larger than the Baby Boomers--a promising pool, were it not for the fact that they have the least amount of available capital. Thus, the deepest pool of transfer buyers (as well as new unit buyers) is the age pool with the least capital. Add in today's conservative lenders, and we may be seeing some compression in unit valuations ahead--all of which could add up to good news for expansion-minded multi-unit operators.
The equations that determine the costs associated with building a new unit or buying an existing one may also be shifting the balance toward transfers. That's an interesting prospect for multi-unit operators, who appreciate the cash flow that transfers already have, which reduces the uncertainty associated with the time it takes for a new location to hit its stride after a bit (or a lot) of experienced operator tweaking.
While this coming trend of rising transfers represents an opportunity for multi-unit operators, it is a growing challenge for franchisors. Franchisors focused primarily on new unit growth will have to start paying more attention to their transfer rates, as well as to the implications for human and capital budget allocations.
Just as we quickly look to see what the house down the block sold for, franchisees try to find out what the last unit changed hands for. Unlike many independent businesses, in franchising each unit has a standalone presence, both in a legal sense and usually in some sort of a physical sense. When a franchised unit is transferred its valuation can affect the brand and other franchisees--a number lenders are watching closely today.
No franchisor wants a unit to go dark--not only because of the lost royalty stream, but especially in this market because it may affect the willingness of lenders to provide capital for their brand. With wary lenders scrutinizing unit economics and overall system performance, and franchisors seeking to keep units open, the coming years could present attractive acquisition opportunities for multi-unit, multi-brand organizations.
Franchisors, however, must make internal changes to adapt to the changing demographics. Should franchisors have staff that work specifically on transfers? Should they change their training programs from just offering succession planning material and sessions to advising franchisees on ways to maximize transfer value? Should they look at underperformers and provide ways either to improve or assist in a transfer? The answers to all these questions are moving quickly to Yes--and multi-unit operators may have a bigger role to play in what Yes means.
At the least, franchisors will have to address transfers more strategically instead of reacting to them just tactically. At the most, it may mean significant changes in franchisor development, training, and field support operations and budgets in coming years. What does all this mean for franchisors? Well, for starters it means benchmarking. Changes to the franchise business model do not come easily but do come. Having good comparative information will guide franchisors seeking best practices through change much more efficiently and with fewer mistakes.
What does all this mean for multi-unit franchisees? They may become important contributors to helping franchisors understand the best ways they should change. Multi-unit organizations have the experience to evaluate unit performance and create value--for their units and for the system. If franchisors can learn from that multitude of experience and share it internally and with their system, the rise in transfers will lead to stronger units and more royalties. Will franchisors see it that way? I believe the better ones will. Either way, all will have to confront the growing transfer issue, because the economic and demographic forces creating it are gathering force.
Darrell Johnson is president and CEO of FRANdata, an independent research company supplying information and analysis for the franchising sector since 1989. He can be reached at 703-740-4700 or djohnson@frandata.com.
Published: September 13th, 2010
Share this Feature
Recommended Reading:
Comments:
comments powered by

Disqus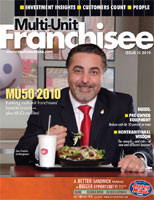 Multi-Unit Franchisee Magazine: Issue 3, 2010
With 500+ restaurants in development worldwide, Wayback Burgers is America's favorite hometown burger joint and one of the world's fastest-growing...
Cash Required:
$250,000
Brain Balance has 80 centers nationwide and continues to grow with global expansion on the horizon. Brain Balance offers a drug-free program designed...
Cash Required:
$125,000