Trouble Shooters: Does Your Franchisor Have Your Back?
When a franchise unit or organization runs into trouble, what does your franchisor do to help? Unfortunately, according to several multi-unit operators we spoke with, not much, not enough, nothing at all--and sometimes worse, demanding future royalty payments for closed units, or refusing to allow franchisees to shut or relocate distressed units.
What should franchisors do? In an ideal world, anything and everything they can to protect the brand--which means keeping units not only open, but profitable. Certainly there are operators who aren't making the grade and never will, despite help from the franchisor. These operators should be assisted in making a quick and graceful exit.
Sometimes temporary external circumstances that are no fault of the operator can cause a unit's bottom line to turn from black to red: Hurricane Katrina, a food scare, or a YouTube video showing employees behaving badly, for example; or changed demographics at an older location, construction that blocks access, or the exit of an anchor tenant from a once-thriving mall.
We spoke with several multi-unit operators, on and off the record, about what surely is a delicate matter between them and their franchisors. Even asking franchisors to speak on the record about their "SWAT" teams, who swoop in to help franchisees with struggling units, proved problematic, in that it acknowledges there are problems in the system. And while every system has its problem children, what franchisor wants to admit that--even if their program to support underperforming units is world-class?
"We typically don't need those services," says David Ostrowe, president of the O&M Restaurant Group in Oklahoma City. He is about to open his 11th Burger King. "The guys that are failing are typically the smaller guys."
When Ostrowe's units with a brand he was operating some years ago were struggling, he did call on his franchisor--with unexpected results. He'd invested a lot of money in the units and business still was down 20 percent. He asked the franchisor for their recommendations on how to improve his restaurants. "They sent out an audit team and we scored highest in the system. They said 'It's your problem, we're having problems as well,'" he recalls. At that point, he says, "You have to question whether we have a viable concept. After that conversation, we sold our stores."
John Metz has spent much of his life as a multi-unit, multi-brand franchisee. His restaurant company, RREMC, operates 29 Denny's. He's also been a Bennigan's franchisee during that brand's struggles (in July 2008 the company filed Chapter 7 and closed 150 company-owned stores). He also was president of Roadhouse Grill for a time, and has operated franchised hotels, and for a time among other business ventures.
Metz says Bennigan's did grant him royalty relief on two underperforming units, dropping the rate by half, from 4 percent to 2 percent. However, he adds, he negotiated for that as a condition before he signed on for those units. The 50 percent royalty reduction was for 6 months, renewable at their option. "I didn't like it but couldn't argue," he says.
In his exploration of other brands, Metz says he's spoken with McDonald's franchisees who presented a more positive picture. "They've told me that if they have a unit not up to standards or the volume they expect, McDonald's sends in a SWAT team." According to those franchisees, he said, the franchisor reduced royalties, implemented a special marketing program, and conducted an analysis of operations at the units in question.
"That's pretty impressive to me as a multi-unit operator," he says. "McDonald's will go in on the ground and look at every aspect, from food handling to customer operations, to make sure you're running the restaurant right. They're the gold standard, doing it absolutely right--at least from what I've been told."
Doing it right?
Last year Metz acquired the troubled Hurricane Grill & Wings, where he is chair and CEO. Now in the role of franchisor, he is trying to do for his franchisees now what he wished his franchisors had done for him in the past. "What we do here is because of what I went through," says Metz.
"We take a page from McDonald's, send in our SWAT team, and analyze the market," he says. Actions he'll take include direct mail, advertising to bolster the store, and spending money to improve the sales of that unit. Increased sales, he adds, cures most ills--as long as the rent, food costs, and utilities are in line.
To qualify for a royalty reduction at Hurricane Wings, he says, franchisees must meet specific criteria, including: 1) sales a certain level below AUV for the class of unit, and 2) the franchisee has already attempted to get rent relief from their landlord. "Once you meet certain criteria, we'll help. We'll cut royalties to 2 percent for 6 months, until you get back where you belong or can't solve the problem," he says.
Stepping in to help doesn't always work, as other factors may be too difficult to overcome. When he took over Hurricane Grill & Wings, the brand had 28 locations; today 25 of those remain. Two units were struggling, one because of terrible access, the other because of a terrible market, he says. There was no chance for either site to be cured, either by a new operator or by the franchisor. In these cases, says Metz, "We recommend they close the unit."
He allowed one franchisee to relocate the store, did not charge any fees for that, and assisted in trying to find a new location. He says that unit is now successful. The other, he says, "gave up the hunt, sold the equipment, and we worked with to him wind it down." That unit is now closed. "These were all legacy franchisees when we acquired the brand. All of our new franchisees, about 20 new stores, are all much higher volume," he says.
"At least we're on the ground looking at the problem and analyzing it," says Metz. His SWAT team consists of three people: himself, marketing, and operations. "Hurricane is all about the franchisees making money, so if we have an underperforming unit, we're all over it," he says. "For me to make money, franchisees have to make money."
Future royalties
When it comes to franchisors that demand payment of future royalties for closed units, says Metz, "That's a travesty. Here's a poor franchisee struggling to make ends meet and corporate won't give him any relief. That's just not right."
The idea of paying future royalties, says Ostrowe, is probably in 95 to 98 percent of franchise agreements. "It gives the franchisor leverage to work out a deal," he says. "One of the things in my agreement with Burger King Corp. is that I'm only liable for the royalties for the first 5 years."
The logic, he says, is it that it will take him up to 5 years to make the unit profitable. He calls this arrangement unusual. "It's for people who are actively developing--part of my development agreement, not part of my franchise agreement. A single-unit wouldn't have that."
Ostrowe was working with Burger King to acquire more underperforming units when he spoke with us. "They said they won't hold me liable for future royalties if it doesn't work out. They acknowledge we're taking the risk up front," he says. "The last thing they want to do is destabilize me over one unit." And as far as relocating an underperforming or distressed store, he says he's gotten "no pushback whatsoever, though it's not 100 percent in my power."
The blame game
"The problem with distressed units and franchisee-franchisor relations," says Ostrowe, "is people start playing the blame game: the price was wrong, or they picked they wrong site. The franchisee blames the franchisor, and the franchisor, rather than looking to true marketing conditions, blames the franchisee. It's a bad message to the public, and someone is losing lots of money, typically the franchisee."
It's much easier to be objective evaluating a third party's operation than when discussing your own, says Ostrowe, who has taken on (and turned around) troubled restaurants in the past. "If it's somebody else's distressed unit, you take out the blame game," he says. "If the franchisor came to me and said, 'I have a distressed unit,' it's easy to be objective." With a franchisor that uses a matrix to map food, labor, rent, utility costs, etc., evaluating the ROI is a lot easier. "If you're with a concept that tracks that, it's good to have," he says.
And if the franchisor decides to enter into litigation, how can a franchisee combat that, he asks, just in terms of cost, if not time. "All of a sudden you start compromising," says Ostrowe. For example, in his first foray into franchising, he says, "The franchisor violated my franchise contract in the first six weeks. It was bad. They were wrong. They still bullied me, but I didn't have a choice. It's not a fair relationship, you have to understand that."
In many cases, says Metz, there are mitigating factors that are beyond the franchisee's control. "If you have a Burger King or a Hardee's and McDonald's moves in across the street, you're going to have a tough time. That's where it gets dicey." Also, he says, not all systems work in all markets. As a franchisor, he says, you must be forgiving when it's not the franchisee's fault.
Wish list
If Ostrowe had a wish list for what a franchisor should do to help distressed or underperforming units, he'd ask them to "do a deep dive into my business, where I'd be willing to turn over every aspect of the business and ask them what's wrong." While he feels his organization doesn't need this, "There are a class of franchisees who would embrace those services." He says they are mostly new and smaller operators, "who don't know if they don't have the skill set."
The franchisor has a lot of power in providing various forms of relief, says Ostrowe, and knows of several concepts that have done royalty rebates; some do it as a form of litigation control. At Burger King, he says, "If you continue to invest and bring your store up to the new image, they'll give you a royalty rebate"--as long as it's tied to a set of clearly delineated expectations, metrics, and results.
Yet, while a franchisor might be able to stabilize some franchisees, it may not help the brand as a whole, says Ostrowe. "The franchisor can clean up a lot of underperforming units, especially if they're focused on average unit volume," he says. Underperforming units bring the system average down, which can affect future franchise sales. One former brand, he says, had to close a lot of stores to bring up average unit volume.
As willing as Metz is to jump in to help turn around a subpar unit, "Ten times more important is the ability to close an underperforming or a nonperforming unit. That is essential," he says. "The single most important thing is that you're dealing with a franchisor who will allow you to close underperforming units." Otherwise, "You'll go personally bankrupt," he says.
"Loud and clear, the single most important thing as a multi-unit, multi-brand operator going into a new brand, I want the right to close the unit if it's not profitable," Metz says. He negotiated with Bennigan's for that right (and won), and that Denny's has "a pretty straightforward way of doing it. If you're not making money, they grant you the right to close the unit." They will not, he adds grant the right to close one of their units to put another brand in making more money. This issue, he adds, is something most of the smaller or less experienced multi-unit operators don't think about. They'd better.
Ultimate Responsibility
David Ostrowe (see main story) says that, in the end, success or failure is in the hands of the franchisee. Take the much-contested Burger King "Dollar Double" cheeseburger--the source of a lawsuit last November by franchisees claiming they were losing money on every sale. The suit was filed by the brand's National Franchise Association, which represents more than 80 percent of the brand's 5,200 U.S. restaurants.
The product, a response to McDonald's McDouble burger, was a loss for many operators, but for Ostrowe it was a loss leader. His response to the corporate edict was to visit every one of his stores and speak personally with every cashier.
"As operators, it's up to us to upsell," he says. For example, recommend the customer buy a Whopper for just $1 more, and sell them a large soda. "I think it was a healthy thing," he says. "It did a lot for us: it drove traffic, we completely outpositioned key competitors. Those people came back, ordered other things. When we screened the deep discount, we made money at the end of the day." However, he adds, he would have preferred a better margin on the promotion.
"As a franchisee, at the end of the day it's my fault," he says, "versus working in a corporate environment, where it's always somebody else's fault. We're supposed to be independent business guys who make good decisions with the help of the franchisor." Your first good decision? Choosing the right franchisor.
Stand By Your Zees
A franchisor's reputation for standing by its franchisees when they get into a jam can go a long way in franchise sales--even if the real reason is to protect the brand's stock price (for public companies), or to keep earnings up for the ownership team or the growing number of private investors involved in franchising.
But just let it get around that a franchisor didn't help its operators who suffered from Hurricane Katrina, or from negative media reports (true or not). For the franchisor, it comes down to brand protection, market penetration, and the future of its expansion plans. For prospective franchisees, inaction sends a bad message: get in trouble and you're on your own.
The worst thing for a brand is to have franchisees who fail: banks stop lending or call in loans; suppliers don't advance credit, which can freeze up the larger system; and customers who hear about internal troubles may think twice about coming through the door.
Here are a few things a multi-unit operator should look for when considering adding a brand from a new franchisor--or negotiate for up front if the franchisor doesn't provide it on their own:
Royalties. Abatement of royalties and advertising fees, typically 8 to 10 percent of sales, can help tide over a struggling franchisee until operations are improved or external market conditions turn around. This kind of relief goes a long way toward alleviating financial pressure on franchisees who find themselves in a temporary bind. Terms can range from a few months to a few years, depending on the situation; and they can be renewed if certain conditions or goals are met.
Banks. Franchisors can approach banks who hold the mortgage and tell them, "Look, this is a temporary situation for a great franchisee. We want you to come to the table with some relief. Our experts say this downturn will last two to three months. It's in your long-term interest to look at ways to rework the loan." Many banks will work with a franchisee anyway, but when the franchisor steps in to lead the process, it can be a tremendous help.
Suppliers. If a major supplier doesn't want to ship food or other goods to a struggling franchisee, will the franchisor approach them and guarantee payment? Offer incentives (including threats to buy elsewhere) to the supplier to keep the food coming? Will they urge the supplier to offer you terms and stand behind you?
Procurement assistance is an item on David Ostrowe's (see main story) wish list for franchisor services. In today's market--a low-end deep discount environment in an economy likely to remain slow for the next couple of years, he says, "The franchisor, instead of pushing franchisees to eat margins, needs to do R&D to help us make more margin through procurement or new products. It's up to them to engineer new solutions."
When it comes to dealing with operator adversity, franchisors who handle it well and whose operators have recovered will attract the best candidates and grow the brand from within. Multi-unit operators looking to expand their portfolios are every bit the candidate for those franchisors. But for those franchisors who let their struggling operators twist in the wind, good luck.
Look to the Leadership
"As a lawyer, I'm looking at the character of the leadership and their track record," says Craig Tractenberg, a partner at Nixon Peabody in New York, who represented Ground Round franchisees after the franchisor filed Chapter 11 in 2004. "Good leaders are tested by fire, and they understand that how they treat the people who need help is reflective of their management," he says.
"So I would look first to top management and see if they've gone through adversity and dealt with it successfully. Have they turned around or improved tired brands? Do they have the flexibility to deal with any adversity and find a solution? Have they had the experience and didn't panic?"
If they pass this threshold, he says, the next issue for multi-unit operators to look at is how the brand treats its underperformers.
"Every brand has a top third, a middle third, and a bottom third. The bottom third may be suffering. Is the franchisor executing the best practices to help these franchisees as if they were strategic partners, or letting them twist in the wind? The act of management of the underperforming tier improves the brand overall, like a rising tide raises all boats," he says.
"Is the management using all the tools--loans, rent deferment, etc.--is less relevant than if they're using the tools that are necessary," he says, and lays out three scenarios:
If McBurgers or McDonuts has the ability to write out a check but chooses not to, because they believe it will not improve the franchisee's ability to control costs, they're just aiding and abetting bad management, he says, and wouldn't hold it against them. "I would want McBurger's to say to management: 'I'm going to spend as much time as necessary for you to understand what must be done here. If you can't do it, that's okay.'"
McBurger's may decide not to write loans to anyone, as long as they're in the stores offering as much help as they can, and that help makes a difference, he says. "I'd look at how committed the franchisor is to having people advise the franchisees--and the quality of that advice."
If McDonuts has an underperforming franchisee because standards are not maintained, they may decide to send three warning letters and see if they change. If they don't, they might send in a group of people to retrain their teams for a week to see standards are brought up and to explain what the expectations are. "I want franchisors who are willing to commit the time--which is more important, and more expensive, than writing a check," says Tractenberg.
Published: December 6th, 2010
Share this Feature
Recommended Reading:
Comments:
comments powered by

Disqus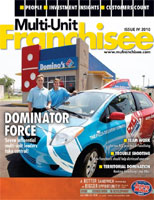 Multi-Unit Franchisee Magazine: Issue 4, 2010
Join the growing $811 Billion grocery industry. Save A Lot is the nation's leading independent grocery chain. Our proven licensed model provides the...
Cash Required:
$300,000
Own a highly profitable business that impacts lives in your community by jumping into action as an Urban Air franchisee owner.
Cash Required:
$750,000