Troy Medley, at 35, is building Velocity Sports Training into a well-coached powerhouse
Troy Medley has had two major life-changing experiences. The first came when he was just a 19-year-old college student in Missouri.

"I answered a newspaper ad for a College Pro Painter franchise," he says. This summer job and the trials and errors he faced would have a significant impact on molding his future.

"I was working seven days a week doing estimates, picking up supplies, and painting. I learned that when it's your business you're responsible for getting the job done." But perhaps more important that summer, he also learned much about the franchise model.

As it turns out, Medley was a good study. Today at only 35, he is CEO of Velocity Sports Training. The Aliso Viejo, Calif.-based company, with 77 franchise locations nationwide, did $25 million in revenue in 2006 and is on track to hit $35 million this year. Velocity trains more than 77,000 athletes, starting as young as 8 years old, using programs designed to help them get stronger, faster, and healthier.

So how did he wind up where he is today? Seems it's not so strange a journey.

"Sports and athletics have always been a passion of mine," he says. "Most of my values and my work ethic have been a result of playing sports and from the influence of many of my coaches." He applied those skills at College Pro, his first franchise job, and later at The Franchise Company, where he went to work right out of college.

"That was great experience for me too," he says, "because I learned how to analyze, evaluate, build, and adjust franchises." He worked there in franchise sales and regional manager positions for about five years in the late 1990s.

In 2000, Medley changed course and decided to attend graduate school in California. While working on an MBA at Pepperdine University, he worked as director of training and development for New Horizons Computer Learning Centers, where he was instrumental in providing training and field support to more than 500 franchisees worldwide.

It was during this time that his second life-changing event occurred.

The perfect day
One day, the professor in one of Medley's business classes asked the students to visualize their idea of a perfect day, assuming money was no object. "That was easy for me," he says. "My perfect day was centered around sports and coaching."

The professor then had each student research to see if there was a way to transform their idea of a perfect day into reality or a business. That led Medley to Velocity Sports Performance. He purchased the company's second franchise in 2003 and quickly built it into a thriving business.

Medley was an active franchisee. "I have a big mouth," he says. "If someone asks for a volunteer I'm probably going to say 'I'll do it.'" That characteristic eventually led him to become chair of Velocity's franchise advisory committee, where he helped develop sales systems and grow the brand. In September 2006, Medley was named CEO by the investor group that had acquired the company.

"Overall, the company had been struggling prior to the buyout," he says. "So one of my biggest projects over the past year has been to build relationships with our franchisees and build systems of training and support for these guys."

Medley and his team were so driven by these goals that, in an effort to focus their time, energy, and resources on the existing structure, they have not actively sold new franchises over the past year. "One problem I have seen in some franchises is growth for growth's sake. That does nobody any good because the house of cards falls down when you can't support the growing franchise network," he says.

Medley says he has learned a lot about marketing in the time he has spent with Velocity, where he has been a franchisee since March 2003. "This is a grassroots industry, and we have to really get out there to promote it," he says. That's why company staff and franchisees alike spend a lot of time in the community trying to educate the public about their services - attending high school sporting events and getting to know the coaches, for example. "We're not just a coaching and training company," he says. "We're a sales company."

Loves what he does - and it shows
Even the toughest of critics would admit that Medley's arc has been sharp and steady. He credits much of his success to his approach. "It's important in franchising to uncover the traits that define your franchise," he says. "Develop a system for proper training and support - and make people accountable. And recognize that franchisees and the franchisor must work together as partners."

But he also credits his accomplishments to the staff of 18 in the corporate office. "It's important to attract talented people to surround me and help me build this business. Really, we all want to accomplish the same goals and objectives."

This approach also applies to finding the right franchisees, he says. "My business philosophy has always been to find quality people to run the franchises. It's key."

Medley manages through what he calls a "goal setting and review" style. Something else he says he learned at that first franchise job: "I look at what needs to get done, is it getting done, and are all levels of management communicating about these efforts."

Besides healthy financial performance, especially in the area of cash flow, Medley says he has an easy way to spot a successful franchise. "It's the one where if I'm sitting in the parking lot, I can watch a young person run from their car to the front door and look back with a smile. They're eager and excited to be there to get the training from their coach." And, he says, the franchisees and coaches are fully enjoying what they're doing.

True to type, Medley has lofty goals for the future. "We want to make sports training available to everybody, regardless of sport or location," he says. The company is big in Texas and California - obvious dense population and sports markets - but Medley is looking for growth north of the Sunbelt. "I'd like to see us reach $1 billion in revenue and train 1 million athletes by 2011," he says. The company is also developing various new layouts for units that can accommodate differing market sizes.

When asked about his success, Medley says, "I've surrounded myself with some of the most respected coaches in the world and developed a business that helps people from all walks of life get stronger, faster, and healthier. From my perspective, I play for a living and I love what I do."
Published: December 11th, 2007
Share this Feature
Recommended Reading:
Comments:
comments powered by

Disqus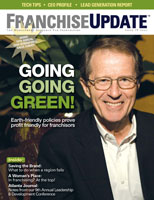 Franchise Update Magazine: Issue 4, 2007
Prisma has reinvented the marketing supply chain with an end-to-end solution that makes it easy to design, customize, order, download, print, kit,...
Atmosphere TV is the world's leading cable alternative, providing free streaming TV for businesses.