Up from Poverty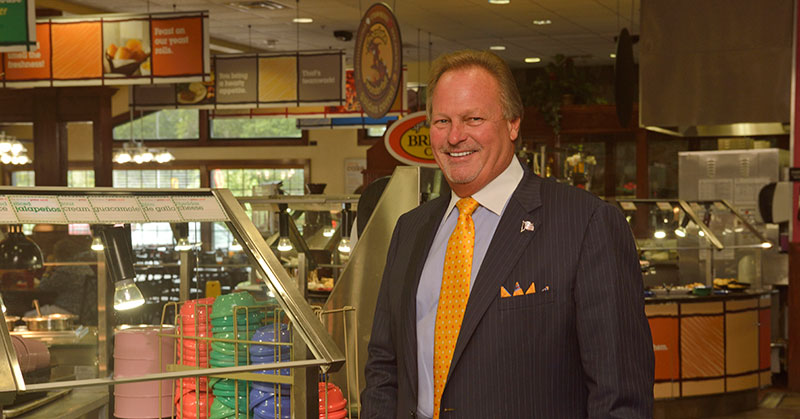 Eric Holm wants to eliminate hunger in the U.S.
Eric Holm may own 31 successful Golden Corral restaurants in Florida and Georgia and run a $150 million business, but his thoughts never stray far from the poverty in which he grew up. That's why he's been found every Thanksgiving for the past 22 years, alongside 1,200 volunteers, serving up to 25,000 free meals at the local Salvation Army.
He also is a member of the National Advisory Board of the Salvation Army, serving as chairman of the Finance and Development Committee and aiming this year--the Salvation Army's 150th anniversary year--to start raising the $220 million needed to do what he calls "changing the dynamics of intergenerational poverty."
Holm, who has been Franchisee of the Year for Golden Corral many times, well remembers when the Salvation Army fed his family on Thanksgiving and Christmas when he was growing up, and he continues to pay that kindness forward. "I do it because the need is still so great," he says. "We can fulfill that need, so we continue to do it. I think we all need to do as much as we can for as long as we can."
In his fundraising efforts for the Salvation Army's Pathway of Hope program, Holm has thought a lot about poverty in this country. "Fifty years ago, President Johnson declared war on poverty. The government has spent trillions of dollars fighting poverty and it doesn't seem to be working, because we have more people living in poverty than ever. Our goal is, instead of simply serving a meal, we want to be able to solve the problem of people needing a free meal," he says.
"To address poverty, we want to teach people job skills, how to get along in the community, how to have a better life, and be self-sustaining. Welfare has had an adverse effect. It's supposed to help people, but instead it traps them in poverty and it goes from generation to generation. We want to break that cycle."
"I've been broke two times in my life and I didn't enjoy either one of them," says Holm today. "But I didn't hang out and have a pity party. I got out and went to work and tried different things to be successful. I guess you could say I actually 'failed forward.'" Holm, who has been the highest-volume operator in Golden Corral's system for years, urges would-be franchisees (and people in general) to understand that failure is a learning tool.
Q&A
Name: Eric Holm
Title: CEO, Metro Corral
No. of units: 31 Golden Corrals, 1 Marriott Fairfield Inn, 1 Pig Stand (original concept)
Age: 59
Family: Wife Diane and three daughters, Danielle, Erin, and Erica
Years in franchising: 19
Years in current position: 19
Personal
Formative influences/events:
Growing up poor.
Key accomplishments:
My greatest accomplishments are that I have a great family and a good mid-sized business that's profitable, and that I do substantial charity work.
Work week:
60 hours.
What are you reading?
The Bible and Toxic Charity: How Churches and Charities Hurt Those They Help (And How to Reverse It) by Robert Lupton.
Best advice you ever got:
Don't worry about the past.
What's your passion in business?
Creating opportunity for others.
Management
Business philosophy:
I believe you should make money, have fun, and help others.
Management method or style:
Firm but fair.
Greatest challenge:
Growing sales and controlling costs.
How do others describe you?
As a team leader.
How do you hire and fire, train and retain?
When it comes to hiring and firing, very carefully! We use best HR practices for both hiring and firing. For hiring, we use a pre-screening service and E-Verify. We have a lot of good tools for training, including computer-based training for all positions, food safety, and orientation. We're pretty good at retaining our people, because we like to reward them with fair pay and some benefits, like time off.
Bottom Line
Annual revenue:
$150 million.
2015 goals:
To grow sales to $160 million; open two Pig Stand barbecue restaurants and one or two more Golden Corrals.
Growth meter:
We measure growth by comparing sales year-to-year and by adding new units.
Vision meter: Where do you want to be in 5 years? 10 years?
At $250 million to $300 million in sales.
What are you doing to take care of your employees?
We offer very generous and attainable bonus plans and contributions to retirement plans, as well as providing a safe, secure work environment, and a career path instead of just a job.
What kind of exit strategy do you have in place?
We have a great team of people who can take over. We've built a team so strong that if I have to step out for one reason or another, the business will survive on its own. The business is not dependent on me showing up, though I like to think it is.
2015 MVP: Noble Cause Award
Why do you think you were recognized with this award?
We've spent 22 years feeding the hungry in Orlando on Thanksgiving Day and are active on the National Advisory Board of the Salvation Army.
How have you raised the bar in your own company?
First we take care of our co-workers and then they take care of our guests.
What innovations you have created and used to build your company?
Providing better opportunities for management to be successful.
What core values do you think helped you win this award?
Giving back and helping others be successful.
How important is community involvement to you and your company?
It's our responsibility to give back to the community where we live and do business.
What leadership qualities are important to you and your team?
Respect and trust.
Published: December 7th, 2015
Share this Feature
Recommended Reading:
Comments:
comments powered by

Disqus

Multi-Unit Franchisee Magazine: Issue 3, 2015
Vitality Bowls specializes in acai bowls, smoothies, juices, salads, grain bowls, wraps, toast & panini, made with unique superfoods like pitaya,...
A business-to-business franchise opportunity for executive entrepreneurs! AlphaGraphics is now celebrating 52 years of history, and is recognized...
Cash Required:
$125,000