Wellness Growth Firms Up Bottom Lines
There are two things Marianne Byron is passionate about: business and fitness. That's why fitness is her business. In July, Byron opened a Liberty Fitness location in Duluth, Ga., in part because she's seen the downside of what a poor diet and inactive lifestyle can do. "Heart disease runs in my family big-time," she says.

But two months into her tenure as a Liberty Fitness franchisee, Byron has discovered the profit potential inside America's desire to shape up. "Initially, my interest in this wasn't financially driven," she says. "But now that I'm in it, I see some numbers that are pretty healthy, too."

Byron is not alone. More than ever, franchisees are looking at business opportunities surrounding Americans' intense desire to look, feel, and be well. The graying of the youth-obsessed baby-boomer generation accounts for much - but not all - of the success behind Liberty Fitness and other franchise concepts aimed at helping consumers get the result they want, be it a trim figure, wrinkle-free complexion, or heart-friendly diet.

"As a population, we are aging," says Mark Franklin, president of Liberty Fitness and a 23-year franchising veteran. "But the prosperous economic times we've enjoyed over the past 20 years have led many Americans to ignore their health." Government statistics routinely points to rising rates of obesity and inactivity, with 365,000 U.S. deaths occurring each year as a result of obesity-related diseases. For children, the news is scarier still: their obesity rates have nearly quadrupled over the past four decades.

Time - essentially the lack of it - is a major culprit, Franklin says. Another is Americans' tendency to fragment wellness goals, instead of approaching the challenge holistically. In reshaping Liberty Fitness, which he acquired in mid-2004, Franklin has added nutrition counseling, infrared sauna treatments, hydro-massage therapy, and yoga and Pilates classes to the 30-minute cardio and strength training workouts that were already a proven winner with Liberty's exclusively female clientele.

"We were founded as a fitness-only franchise," says Franklin. "We've refined the concept to include wellness, nutrition and fitness - all within a non-threatening environment." Legacy locations are being retrofitted to reflect the new business model, he says, and the company is relocating its corporate operations from Carlsbad, Cal., to Austin, Texas, this fall.

Liberty Fitness currently has 80 locations nationwide and is opening three to five new units per month, says Franklin. The concept lends itself well to either an owner-operator or absentee investor, he says, and franchisees include many husband-and-wife teams. Marianne Byron has the two distinct traits Franklin sees in the profile of successful Liberty franchisees. "They have a passion for fitness and they want to make a difference in someone else's life," he says.

The 30-minute workout theme is also catching on with men, with Clark, N.J.-based Cuts Fitness for Men having sold 180 franchises across 30 states and five countries since its launch two years ago. Like Liberty Fitness, says Franklin, the concept caters to the out-of-shape customer who may not be comfortable in a traditional "big box" gym. Cuts recently launched a counterpart club for women, and the company has set a goal of 1,000 locations worldwide for each concept by 2010.

Finding a happy medium
Flexibility may equal profitability for most health and wellness franchise firms. That is certainly the case for food service establishments, says Dick Larsen, who founded Nature's Table in 1977. Today, Nature's Table Cafes can be found in 60 locations in seven states. Part of Larsen's success has been his willingness to expand menu offerings to meet consumer tastes, even those that aren't, in the strictest sense, all that healthy.

"When I first started out, it was all about health," Larsen recalls. The establishment, for example, sold no sodas. After watching his customers purchase their colas at the adjacent convenience store, he decided it made sense to add carbonated drinks to the list of fresh-squeezed juices on the beverage menu. "Over the years, when you find you've got rent to pay, you have to reach a happy medium," he says. "People decide what they want for lunch in their minds. But they sit down in a restaurant and their stomachs take over."

Some Nature's Table locations have begun serving hamburgers and hot dogs, along with the vegetarian chili, garden wraps and fresh salads that have long been the chain's standard fare. "If you look at any concept out there that is pure health, it's in the minority," Larsen says. "Our theme is sensible food that tastes great."

Not that every new Nature's Table menu item is a slam-dunk. The company's introduction of "Fresh-n-Fruity," a dessert concoction of frozen yogurt atop fresh fruit, failed miserably. "It looked great, tasted great, and was priced right," Larsen says, "and we couldn't give them away."

Success at Nature's Table - Larsen declines to cite figures, but says the company is "doing very well" - has also resulted from a willingness to stake claims in out-of-the-ordinary locations. Once a mainstay of mall food courts, Nature's Table Cafes can now be found in office buildings, medical facilities, and on college campuses. Washington, D.C.-area locations at the Defense Intelligence Agency and the Pentagon have been a big hit with military and civilian personnel working there.

Look for more Nature's Table Cafes in major airports, Larsen hints, beginning soon with Atlanta's Hartsfield International. Units at Baltimore/Washington and Washington Dulles airports rake in more business than marquee fast-food names like Wendy's and Taco Bell, he says. "Airports just rule for us," says Larsen, crediting the strong response to the fact that airport patrons have time on their hands to make wise decisions about what and where to eat.

Wellness: beyond health
Americans' willingness to spend handsomely on their health and wellness springs from a desire not just to feel good, but to feel as good about themselves as possible, says Heather Rose, president and chief operating officer of Sona International. Her company's 2004 acquisition of Sona Medspas has resulted in a remodeling that includes a broader array of youth-enhancing treatments and products. Rose, a former executive with Mail Boxes Etc., admits the opportunity to develop a health and beauty franchise concept around the theme of anti-aging was irresistible. "The space very much intrigues me," says Rose, who is based in suburban Nashville, Tenn.

Initially focused on laser-based hair removal, Sona now also delivers non-invasive (i.e., knife-free) skin repair and rejuvenation treatments capable of keeping the years in check. The concept fills a large gap in a market that begins with traditional spas at one end and extends to cosmetic surgeons on the other. Sona's reorientation has been transparent to most observers. "The medical spa space is so new, there isn't much awareness of it," explains Rose. "But that's also an ideal opportunity for us."

Sona's target demographic has also broadened, now ranging from 21-year-olds concerned about acne scars to those in their mid-fifties hoping to repair decades of sun-related damage. Clients include men as well as women. "Surprisingly, 30 percent of our clientele are men, and they are our fastest-growing segment," Rose says.

Rose's company has doubled the number of Sona locations since its purchase of the chain. "We'll end the year with close to 50 open and operating," she says. Without spending a cent on international marketing, the company is responding to inquiries from investors abroad. Locations in key markets in Europe, Canada, the Pacific Rim, and Latin America will begin sprouting as early as next year, Rose says. "That will be a very key area for us in 2006."

Given the equipment and expertise involved, franchisees must come to the table with deep pockets. Rose and her colleagues look for investors with at least $250,000 in liquid assets and a minimum net worth of $750,000. Opening a Sona Medspa can call for an investment of $800,000 in some cases. Laser machines, which may be purchased or leased, run as much as $70,000 per unit. Nor are operating costs insignificant, with licensed nurses needed to administer all procedures. But investors are undaunted. Thus far, every Medspa franchisee has signed on as a multiple-unit developer, Rose says.

Healthy returns on that investment can come quickly. Treatment prices range from $160 to $600, and most clients pre-pay for a schedule of treatments that can stretch across many weeks. "You can create a very strong cash position early in this business," Rose says.

Sona has launched its own line of cosmetics and is developing nutraceutical products that will extend its brand image farther still. "Wellness is the next channel of growth for us," Rose says. The company will ultimately add "feel better" to its "look better" model. The two have always gone hand-in-hand for the company, she explains, as improvements made to a client's outward appearance inevitably yield better health on the inside, too. "Ultimately, this is all about self-esteem," she says.

Lawrence Bivins is a North Carolina freelance writer.
Published: November 15th, 2005
Share this Feature
Recommended Reading:
Comments:
comments powered by

Disqus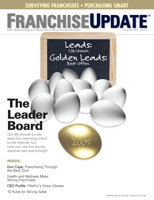 Franchise Update Magazine: Issue 3, 2005
Find the support you need to find success with your small to mid-sized business. Explore the PEO services offered by Integrity Employee Leasing.
Our franchise management software helps increase unit growth, reduce opening time, track and improve unit performance, automate financial reporting...