What Are You Saying?: Test Yourself Right Now!
How do you promote your franchise to prospective buyers? Is it something like, "We offer an outstanding program, employ highly qualified staff, use state-of-the-art equipment, deliver excellent training, and help you grow your business every step of the way?" Don't feel bad if you are guilty of this!
Many of your competitors also bombard prospects with boring, meaningless content that lacks points of differentiation and noteworthy advantages that stir, attract, and excite buyers. Consequently, today's serious prospects are forced to wade through an ocean of similar opportunities to catch the few that truly speak to their interests.
Don't chase the masses
Most buyers won't find what they want in your franchise concept, so don't try to entice them with your messaging. Your challenge is to avoid these millions of opportunity-seekers who aren't the right match for you. Obsessively focus on crafting engaging content to attract candidates who can achieve success in your franchise--real prospects who will appreciate and embrace the ownership opportunities your business offers.
Ask your pros for help
Survey your top producers to find out "what is it" about your business that attracted them. Often you'll discover key motivators you didn't realize are important to your franchisees.
I previously consulted for a retail franchise that prepares standardized legal documents for much less cost than an attorney would charge. Interviewing their successful franchisees, we discovered a key selling benefit not promoted in their marketing. Owners enjoyed a strong sense of personal fulfillment, receiving heartfelt "Thank-yous" from appreciative customers who couldn't otherwise afford the service.
If you haven't, ask your franchisees what they like about their business, what attracted them to your franchise, and how it has benefited them and their family. Include these buying motivators in your sales materials and you'll deliver a more convincing message to the right prospects.
You'll pay for the wrong message
Years back, executives from a young franchise approached me in a state of total frustration, complaining about the poor quality of candidates they were attracting and the few qualified ones who weren't buying. Their entertainment rental concept "had legs," but it just wasn't promoted properly. Their marketing program featured semi-absentee ownership, promoting owners in t-shirts, sandals, and taking vacations.
This hobby-type approach turned off serious business buyers and attracted dreamers. Too much emphasis was placed on lifestyle, with little focus on the business model. The executives simply didn't do their homework in advance and needed to reposition their message to get back on track. This was an expensive lesson, costing thousands of dollars in recruitment advertising and turning off qualified buyers who could have been royalty-producing franchisees.
How high is your score?
Does your initial message promote your franchise opportunity rather than focus on details about what your business does? Yes ( ) No ( )
Do you use the self-serving nouns "we" and "our" in your copy more than the buyer-attracting language of "you" and "your"? Yes ( ) No ( )
Does your message define your specific business advantages and how your franchisees can profit from your products, services, and brand? Yes ( ) No ( )
Does your message feature lifestyle, family, and personal benefits your franchisees enjoy as business owners in your system? Yes ( ) No ( )
When highlighting your company awards and achievements, do you translate how these have benefited your franchisees? Yes ( ) No ( )
Do you attract candidates using compelling images, videos, and testimonials of franchisees, employees, or customers? Yes ( ) No ( )
Do you turn off candidates with promotional photos of empty stores, equipment, and service vans? Yes ( ) No ( )
Does your messaging reinforce what your franchise sales execs share with prospects, or are there serious "disconnects" between the two? Yes ( ) No ( )
This article is an excerpt from Amazon.com best-seller Grow to Greatness: How to Build a World-Class Franchise System Faster by Steve Olson. For ordering information, go to www.franchising.com/franchisors/growtogreatness.html
Published: February 22nd, 2012
Share this Feature
Recommended Reading:
Comments:
comments powered by

Disqus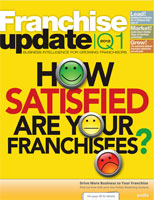 Franchise Update Magazine: Issue 1, 2012
Tiger Pistol, the world's leading collaborative advertising platform, connects the power of brands with the knowledge and credibility of their...
Clayton Kendall provides franchise communities nationwide with comprehensive branded merchandise programs leading to greater brand exposure,...