What Makes a Franchise Great for Women
If you're looking to add women franchisees--and according to every statistic, you should be (more are looking, and more have the means and skills), then you should know what women want (our apologies to the movie).

Women buy franchises for a myriad of reasons. They look for financial independence or a flexible schedule. They want to spread their entrepreneurial wings. Or they may be following a spouse into the business. But there is also an emotional component that men don't always share.

Gary Findley, who has been working with women for more than a decade, agrees. "Women seem to have much more of a passion for what they do," says Findley, former president of Curves International. "Men care more about the bottom line, not so much what they are doing."

Findley directed the fitness center chain from three locations in 1996 to more than 8,000 locations in 10 different countries in 2004. He formed the Findley Group in 2005 to assist people who want to take business concepts and develop them into complete franchise offerings for today's marketplace.

In his office in Waco, Tex., Findley listens to pitches from folks with new concepts. "We take a hard look at the person and see if we work well together. If we decide we can, then we form a partnership. If we make them successful, then I'm successful," he says. "I'm interested in seeing these women on Oprah one day."

More and more women are getting into business, he says. Many are single moms who want to do what men have done for years--control their income and control their future. He says women will excel in businesses that cater to other women. "Who knows better what women want to spend money on than the ones who control the money in their own homes," he says.

Findley is hot on a new concept he is helping two women to develop called FaceLogic. "These women saw a need in their own lives and in their friends," he says. "This is something that everyone wants. These women are passionate about helping other women, and helping other women open their own businesses."

Over the years, Findley has learned to trust the female instinct. "I won't even take on a new business until my women VPs see the pitch," he says. He also enjoys working with women because they are not afraid to show excitement, which he finds contagious.

"I've been around when women open their first franchise and the excitement, the emotion, is fantastic," he says. At Curves, he found the energy at annual conventions tremendous. "We got close to 3,000 women. They're standing on their chairs and dancing. They were so passionate and excited about what they do."

He appreciates a woman's attention to detail, too. "Men, we basically fly by the seat of our pants," he says. He even applies this logic to his personal affairs. "I don't make any decisions unless my wife's with me," he says. "She makes me take a look at the larger picture."

Says Findley, "My experience happens to be with women and it's a great place to be."

Going for it
As her family grew, Traci Swanson found the grueling hours and travel involved in her consulting career with Deloitte & Touche becoming unmanageable. Her husband was on the same career path, offering little help at home.

"It was unspoken that I would take care of the kids," says the Scottsdale, Ariz., mother of three. "But I didn't want to stay home."

When her friend, Amy Berberich, approached her about buying a franchise, she listened. Massage Envy was a new concept and the partners could get in on the ground floor. In May 2003, they were the first to sign with the new franchisor, taking three locations.

"I have always loved massage," says Swanson. "It's one of my favorite things in the world." Though she found the franchise agreement a bit intimidating, she is glad she signed and is in the process of opening three more units.

"We just adopted the philosophy that we would do everything they told us to do," she says. "I'm glad I made the move. It's challenging and extremely flexible."

With 130 employees, Swanson can take vacations and manage her businesses remotely using the Internet. She feels responsible for her employees and the mostly female clientele they serve. And she's taken on a third partner to help manage the growth.

Smart women
Author Ginny Wilmerding says that women with some business experience will do better at franchise ownership than those without, but "smart women can be swayed by their hearts, too." In her soon-to-be-released book, Smart Women and Small Business: How to Make the Leap from Corporate Careers to the Right Small Enterprise, Wilmerding devotes an entire chapter to franchising. A former corporate drone herself, she says this chapter required the most research.

"In my experience and research I found that women are not socialized to be business-focused," she says. "They don't think of business as a means to express themselves and thus gravitate toward an industry or profession. We don't think, 'I am a business person.'"

She says that education can help women overcome negative attitudes toward franchising and insecurities about running a business. "Women feel less confident about borrowing money," she says. "And it's still a sterile, male world out there, especially in banking. But, as I found in my research, there are huge numbers of women in franchising who have discovered the possibilities and go way beyond just retail and fast food franchising. Because women tend to be risk-averse, franchising offers a corporate structure that feels familiar. They know help is there when they need it."

And women tend to be less averse to asking for help. "I like taking directions," says Jennifer Barber, a KidzArt franchisee in Florida. "And I think, as a woman, I'm really good at multi-tasking. As a mother, I know how mothers think, so I can work with them better. I know how they like to work schedules and billing. And most of all, we are all crazy about kids."

You can't teach passion
At 26, Holly Hubbard isn't a mother, but she shares Barber's passion for kids and their welfare. She started working part-time at The Little Gym during college, became a corporate store manager after college, and now owns two units in the Phoenix area. Hubbard credits her success to the help and encouragement she received from the home office. And she needed it, as she had to try three times before she was granted an SBA loan.

"You can learn how to run a business," she says. "But you can't teach the passion. I feel a passion for The Little Gym; we're like a big family."

Bob Bingham, president and CEO of The Little Gym International, says it is that family atmosphere in the corporate office and in each local unit that draws his customers.

"It appeals to a lot of the same instincts as makes a great mother," Bingham says. And while married couples own the majority of the Little Gyms, the wife assumes the lead role in 60 percent. He says that owners of his concept don't need selling skills or keen business acumen. "The kinds of people who are successful with us are very outgoing people," Bingham says. "They come from all walks of life with all kinds of skill sets. But they all share a very deep love of children."

Bingham shares that passion, too. He bought into The Little Gym concept when his own children joined a local gym. He has served in this capacity since 1994, just a year and a half after The Little Gym International, Inc., was formed. Under his leadership, the company has grown from fewer than 50 gyms to more than 240 gyms in 16 countries.

Before leading The Little Gym International, Bingham had a successful career in the broadcasting industry, owning and operating radio stations in Washington, Alaska, Utah, and northern California. After selling his stations, he could have retired. Instead he wanted to make a difference in the world. He is one who can recognize passion.

"The world wasn't a better place with my radio stations," he says. In his experience, he hasn't seen a big difference in the role of women.

It's a new world, after all
What is different today is the numbers of women exploring and ultimately buying into franchising. Kathy Tito, director of product development at Franchise Solutions, says that her Franchise Solutions for Women web page has been receiving resounding acceptance from women for the past two years. She runs success stories that other women can relate to when trying to decide which franchise might work best for them

"Women are such a growing segment of franchise owners," Tito says. To date, numbers are mostly anecdotal, but Tito says they are hearing from more women than ever. She says franchising fits most women who tend to look for time-saving opportunities.

"They don't want to reinvent the wheel," Tito says. "With a franchise, you can just add water and you have a business."

Jackie Gallagher is a consultant with FranChoice and, after 20 years in franchise development in one capacity or another, says that the Internet is opening up the world of franchising to more women.

"Still, a lot of women don't have the confidence to step out of traditional business," Gallagher says. "Those who do are either single or divorced or have their spouse on board."

She says there isn't anything a woman can't do today, but most potential franchisees are looking for a comfort zone. "Women need to have more of a passion for the business, while men seem to see the bottom line a little better, regardless of what the business is," she says.

She tells franchisors to reach out to female candidates. "Anybody that is trying to grow a franchise today will welcome women. The power we have in small business is incredible."

Linda Ray is a North Carolina-based writer specializing in business and franchising.
Published: January 9th, 2007
Share this Feature
Recommended Reading:
Comments:
comments powered by

Disqus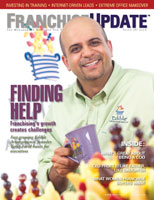 Franchise Update Magazine: Issue 3, 2006
Conferences
InterContinental, Atlanta
OCT 18-20TH, 2023
April 25 - April 28, 2023, Caesars Forum, LV. The Multi-Unit Franchising Conference is the premier annual event for the country's leading...
Our franchise management software helps increase unit growth, reduce opening time, track and improve unit performance, automate financial reporting...