What's It Gonna Be?: Finding the Development Strategy that Suits Your Brand
Despite the surging growth in franchisors using multi-unit development strategies over the past 20 years--especially the past decade--this approach is not always a sure bet for successful franchise growth, and certainly not for every franchisor. For example, the multi-unit model may make a great development tool for an established retail-oriented brand seeking heavy market penetration in a given territory, but it may not be right for a newer service-based brand testing a smaller market.
There remains a time and place for strategic single-unit expansion development models. As we learned from speaking with franchise executives from a variety of franchise brands, as well as with a veteran franchise consultant: one size doesn't fit all, and the variables affecting development strategy are almost unlimited, and change over time, even within a single brand.
Franchise development strategies and initiatives depend, at the very least, on variables that include type of concept (retail, services, etc.), segment (food, non-food, etc.), age or stage of the brand, market specifics, competitors, required investment, and of course, the franchisor's long-term vision and goals.
The good, the bad, and the ugly
Karen Spencer is founder and CEO of Fran-Systems, an Atlanta-based franchise education and consulting firm that assists new and existing franchisors with everything from sales and marketing to administrative and operational issues. Spencer, who has worked with many major franchise brands over the past 25 years, says that for franchisors seeking the most appropriate growth and expansion strategies, it's essential to fully evaluate their expansion markets and opportunities.
For example, she says, the single-unit approach can allow a franchisor to seed a market before moving on to a market consolidation plan. "This is also a good strategy for a concept with a higher investment range that's only planning to have units in major markets," she says.
The single-unit approach can sometimes move growth at a faster pace than a multi-unit strategy because, often, several single operators can open units open more quickly than one multi-operator with a schedule. Working with several single-unit operators also gives franchisors a chance to assess the stronger operators--which could come in handy for future development as single-unit owners become multi-unit operators. The single-unit approach also gives new franchisors time to learn to be a franchisor.
Spencer is quick to note that expanding through many single-unit operators can also slow market penetration. "I call this the dartboard method of selling franchises with no real strategy," she says. The sheer number of single-unit operators can also tax the support system of a franchisor, especially a newer one. And finally, single-unit operators can increase consumer marketing challenges. "There is nothing uglier than a local co-op marketing meeting with 50 single-unit franchisees in one room," she says.
By contrast, a multi-unit development model, with a larger, focused operator building out a territory, can help franchisors achieve market penetration more quickly and effectively. Additionally, she says, "You have a better chance of having a more sophisticated franchise operator, which makes support and compliance issues much easier for you." And a more sophisticated multi-unit operator usually achieves higher unit-level performance more quickly than a single-unit franchisee.
On the downside, Spencer says, the risks of a multi-unit growth strategy include selling too many unit commitments too fast--and the possibility of signing the wrong operator, who ties up a territory without any development.
To attract good multi-unit operators, she says, it's critical for franchisors to understand the advanced level of many multi-unit businesses and treat them accordingly. "It can increase stress on your franchise team if they don't know how to work with multi-unit franchisees," says Spencer. The friction generated by lack of understanding could even drive good multi-unit operators from your system. Another potential problem for franchisors dealing with large multi-unit franchisees: "There can be a higher level of disputes if the growth strategy is not correct or adhered to--for example, overvaluing a market," she says.
Of course there are times franchisors will want to use both strategies to attain the maximum level of efficiency in their ongoing development. Therein lies the importance of experience and thorough market understanding. Franchisors need to know what drives each multi-unit operator, what markets they are seeking, and how to complete the deal.
Clearly, each development strategy has its pros and cons. After hearing from Spencer, we set out to gain some firsthand perspective from three very different franchise brands.
Popeyes: Combination plate
"We don't want to pre-select candidates right out of the process simply because we 'only' do multi-unit deals," says Greg Vojnovic, vice president of development for Popeyes Louisiana Kitchen. "Our strategy is to be flexible with every candidate and situation and find out if a single- or multi-unit approach would be better."
Vojnovic says just over 25 percent of Popeyes franchisees operate 5 or more restaurants; the largest has 160. Most of the others operate two or three units, and a few are single-unit operators. It's a mix that has worked well for the brand.
Popeyes does like to recruit multi-unit, multi-brand operators, he says, because they typically have solid experience, resources, and infrastructure. To succeed with this group, he says, "Franchisors better have their act together. A lot of times, multi-unit operators will come in and try you out by opening just one unit to really find out what kind of franchisor you are before they go any further with you."
Likewise, he says it's important for his team to do their homework on the multi-unit prospect, their operating history, and their other brands. "You don't want the wrong operator to be locked in to a very large territory," he warns.
Single-unit operators also have a place in some Popeyes markets, he says. This type of operator can be highly effective and successful because they are focused on only one unit and typically are heavily involved in day-to-day operations. They also tend to be very protective of their business--which he says can be a blessing or a curse because they sometimes can be resistant to change. Vojnovic says franchisors pursuing single-unit operators should be very cautious about candidates who lack capital, and of the increased financial risk of operators having only a single location and source of revenue.
Franchise support is one of those areas that separates single- and multi-unit operators. Vojnovic says multi-unit operators generally understand the value and investment of training and ongoing support. "They may say 'This is expensive, but it's an investment and we will do it because it's necessary,'" he says. "But you have to be careful with single-unit operators who see training as more of an inconvenient expense." Also, single-unit operators usually require more franchise support than their more experienced multi-unit counterparts.
As an established brand, Vojnovic says, Popeyes can be selective about who it chooses to partner with, take time to approach each deal carefully, and by doing so ultimately reduce everyone's risk. Popeyes, he says, only approves candidates with adequate capital and previous restaurant and business experience.
"You have to look at each situation individually," he says. "There are different kinds of prospects, markets, and opportunities. We try to be flexible in everything except being successful."
Wild Birds: One at a time
When Paul Pickett, vice president of franchise development at Wild Birds Unlimited, begins sizing up a candidate, he's looking for something a little bit different. "We are an owner-operator franchise model," says Pickett. "We're looking for passionate franchisees who love backyard bird feeding."
Although that doesn't necessarily exclude a multi-unit operator, Pickett says the brand sells only one unit at a time, and that when it comes to franchisees he is more interested in quality than quantity. Wild Birds Unlimited has 275 franchise stores. "About 75 percent of our franchisees are single-unit operators; the other 25 percent have 2 or 3 locations," he says.
To be considered for an additional location, a franchisee must demonstrate success with their first location for one year, after which they can apply for a second store. To be considered for an additional location, says Pickett, the franchisee also must be financially healthy and have a track record of following the system's best practices.
"We require a formal approval process for an additional location," he says. "We need to know if they are a strong enough operator to open another." As noted, this a hands-on business model that requires each franchisee to spend a significant amount of time in the store. Second stores, he says, are usually managed by a spouse or sibling.
"Many other franchise concepts need franchisees who are smart business operators who can run a tight ship but aren't necessarily a part of the daily operations," he says. "But in our case, we need someone in the store who loves and knows all about birds and backyard bird feeding."
While the brand's single-unit operators are passionate about birds, Pickett says many need help on the business side. "Our training teaches best practices in purchasing, inventory management, marketing, and IT, and we show them how to work with and manage employees," he says. Franchisees able to blend their passion with their operational skills become eligible for additional locations.
Pickett admits the brand's single-unit development approach limits the system's ability to grow quickly. However, he adds, "We're more interested in a strong relationship with a passionate franchisee who creates energy in the store and delivers our message passionately every day." One store at a time.
Right at Home: Single-plus approach
When it comes to system development strategies, service franchisors have had their own ways. Historically, most service-oriented franchisors have grown through sales to single-unit operators or to single franchisees with exclusive territorial rights. And that's mostly how it's worked for Right at Home, a home healthcare provider.
"During the last decade since the company has been franchising, we have tried both multi- and single-unit development strategies," says Eric Little, senior vice president of development. A little over a year ago, the brand began a new development initiative: after one year of operation, franchisees hitting system benchmark performance levels and who prepare a business plan can become eligible for an additional franchise. "This slows the process down a little and helps us make sure we are all making good, smart business decisions," he says.
Little says that a single-unit approach actually can result in faster market development than a multi-unit deal. For example, if a given market can support five franchises, it would take a multi-unit operator five years or more to open all five units. Under a single-unit approach, if five separate owners work together, brand awareness and market penetration will come faster--and so will growth for each of the owners.
One drawback to the single-unit approach affecting Right at Home is broker resistance. "Some brokers like to work out multi-unit deals and simply won't work with us," says Little. On the other hand, he says, the brand has been approached by some strong multi-unit franchise players unwilling to yield to the company's slow and steady approach. In those situations, he says, "We've had to walk away from the table."
A look at the numbers reveals another reason the single-unit approach works for Right at Home. "Our franchisees average around $1 million in revenue each year. Their personal income is then anywhere from 12 to 15 percent, sometimes even more, of that. That's a healthy income that many of them are happy with," he says. That could explain why nearly 90 percent of the system consists of single-unit franchisees (the other 10 percent have 2 or 3 locations).
Little also says Right at Home gives its franchisees larger territories, compared with some of its competitors. "We give them a little extra room to really build that successful business so they don't have to operate multiple offices to create a nice income for themselves," he says. "It may sound clichéd, but we're not trying to just sell franchises. This is a relationship, and we want to take it slow and find the right players."
The strategy is working. In 2009, Right at Home awarded more than 40 new franchises, a record year for the company. He does admit that he'd love to find a way to allow high-performing multi-unit franchisees into the system right up front, "but we've just not found a way to do it... yet."
Building Multi-Unit Skills
What single-unit operators must learn to succeed
Single-unit and multi-unit franchisees are certainly not cut from the same cloth. Each brings to the table a certain set of skills, strengths, and weaknesses--something Jim Sullivan is very familiar with. Sullivan is the founder and CEO of Sullivision.com, a company that designs and delivers operations and leadership training programs for companies and franchisees worldwide. Brands he's worked with include The Walt Disney Company, McDonald's, Panera Bread, Regis Corp., Jiffy Lube, Wal-Mart, American Express, Apple, Domino's, Dunkin' Brands, and Coca-Cola.
"Ironically, the skills that make you successful as a single-unit operator rarely guarantee success as a multi-unit operator," he says. "Going from one to several units does not increase your responsibilities incrementally, it increases them exponentially, especially in your ability to manage time, priorities, people, performance, and financials."
With one unit, Sullivan says, franchisees simply tell people what to do; with two units or more, they must teach them how to think. Often, he says, awareness of this reality comes too late. A further challenge: the skills learned in mastering a single unit are not the ones franchisees need to succeed with multiple units; they must add a new skill set (see chart). And franchisors can--and should--help if they want their single-unit franchisees to succeed in operating multiple units.
"Most franchisors don't know how to teach and develop the skills of multi-unit leadership to their franchisees," Sullivan says. "It's too often 'sink-or-swim' development." Most franchisees faced with uncertainty and challenges they didn't expect default to becoming "unit-managers-on-steroids" since that's all they know. And it exacerbates the problem by increasing the rate of burnout, frustration, and failing performance.
Sullivan says franchisors and franchisees should carefully study the differences outlined in the accompanying chart and make certain they first have solid expertise in the competencies listed on the left-hand side as single-unit operators. They should then assess if they possess the competencies listed on the right-hand side. If not, he says, they should invest in books or multi-unit leadership kits (like his) that will help them acquire these skills. These competencies, he says, have been carefully mined by researching the best practices of nearly 1,500 multi-unit leaders, and provide an effective roadmap of success for franchisees seeking to grow from one to many stores successfully.
Single-Unit Operator

Multi-Unit Operator

Doer

Delegator

Tactician

Strategist

Service driver in the unit

Servant leader across the territory

Makes a great schedule

Develops a dream team

Hands-on control

Indirect influence

Asset supervisor

Sales, revenue, and info manager

Manages a shift

Manages a brand

Builds sales/skills in the unit

Builds sales/skills across territory

Learns on the job

Synergizes learning across the team

Information receiver

Information communicator

Independent

Interdependent

Works the plan

Plans the work

Controls

Governs

Source: Adapted with permission from the book "Multi Unit Leadership: The 7 Stages of Building High-Performing Partnerships and Teams" by Jim Sullivan.
Published: June 1st, 2010
Share this Feature
Recommended Reading:
Comments:
comments powered by

Disqus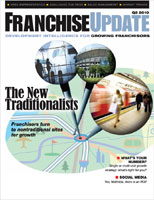 Franchise Update Magazine: Issue 2, 2010
Franchise Update Media (FUM) is the trusted resource for the franchise industry. For 30+ years, FUM has been the leader in providing valuable...
Sociallybuzz, founded in 2009, is the #1 Social Media Marketing Agency to help franchisors and franchisees increase their revenues, drive sales, and...