Whither Brick and Mortar? Mall Vacancies Mean New Opportunities
When I started in franchise real estate nearly 30 years ago, brick-and-mortar retail locations weren't just for shopping--they were destinations. They gave people something to do when we didn't have the Internet or social media to entertain us 24/7. And they gave franchise brands prime spots for real estate investment . There was no piece of real estate quite as prime as one across the street from a popular mall or shopping center.
Fast forward to August 2018, when the U.S. hit a 10-year high in closed-down retail square footage. Recent years have seen the shuttering of former behemoths such as Sears, Toys R Us, Payless ShoeSource, and many more--leaving huge vacancies in once-booming retail centers and changing the way other retailers, including franchise brands, need to look at real estate options.
While the future of brick-and-mortar stores continues to evolve, here are a few things for franchise real estate teams to consider.
New retail opportunities
The closure of many brick-and-mortar retail locations is causing developers and retail landlords alike to reconsider what their properties need to look like to keep up with the changing economy. I've seen former shopping centers turned into offices for municipalities, and even one that has been proposed to transform into a cricket stadium. Developers and property owners are having to get creative with how they address the voids today's economy has left them.
For many, such as Simon Property Group or Brookfield Properties Retail Group, which own some of America's most profitable malls, this means conducting strategic, surgical demolitions on malls to transform them into lifestyle centers, complete with mixed-use tenants including apartments, hotels, and office spaces. This presents an interesting challenge for franchise real estate professionals. On one hand, this process of "de-malling" cuts back significantly on available real estate in markets of all sizes. With less space being designated for retail in these new lifestyle centers, the market becomes much more competitive--and that much more expensive too.
On the other hand, it's causing many brands to reconsider what their "traditional" space looks like. With Huddle House, for example, we've just recently debuted a new store footprint that provides a smaller, 2,000-square-foot building with fewer seats, but the same warm environment our fans have come to know and love. This smaller footprint allows us to pursue real estate opportunities our brand wouldn't have been able to fit into previously. It's important that franchise brands adapt to fit the market and its changes--or face the risk of losing out on potentially lucrative opportunities.
Changing trade area dynamics
Once upon a time, it was considered a home run to secure a piece of real estate across from a mall or large shopping center. Today, however, you might be better off considering a site near an Amazon distribution center or a Walmart. The changing brick-and-mortar landscape has limited retail opportunities in markets of all sizes, forcing a shift in franchise trade areas along with it.
Now, possibly more than ever, franchise real estate teams need to put much more careful thought and consideration into where their next target areas should be. While it may no longer be desirable to be inside a retail shopping center, what about in front of the new grocery store where the Sears used to be? Consider what is motivating your target demographic to shop at actual retail locations instead of online. How can you get their eyes on your brand while they're at or on their way to that retail location?
That being said, it does take a good amount of time, energy, and resources to determine what your new trade areas should look like. To get a firsthand idea of the habits of your target demographics, consider investing in more robust economic studies, or have your team spend more time with boots on the ground in the areas you're considering for growth. You may need to spend more time in the analyzation process than in years past, but the result can mean the difference between success and failure for your brand.
As the future of brick-and-mortar retail continues to evolve, there are a number of opportunities franchise brands should keep an eye on. From the prospect of entering new types of retail spaces to reconsidering where you draw your business from, franchise real estate professionals and the brands they represent must continue to evolve to stay ahead of the curve and secure the next local hot spots.
Carl Jenkins is senior director of real estate at Huddle House. Previously, he spent more than 28 years in commercial real estate roles for Advance Auto Parts, McDonald's, and Panda Restaurant Group, where he supported both corporate and franchise development.
Published: July 27th, 2019
Share this Feature
Recommended Reading:
Comments:
comments powered by

Disqus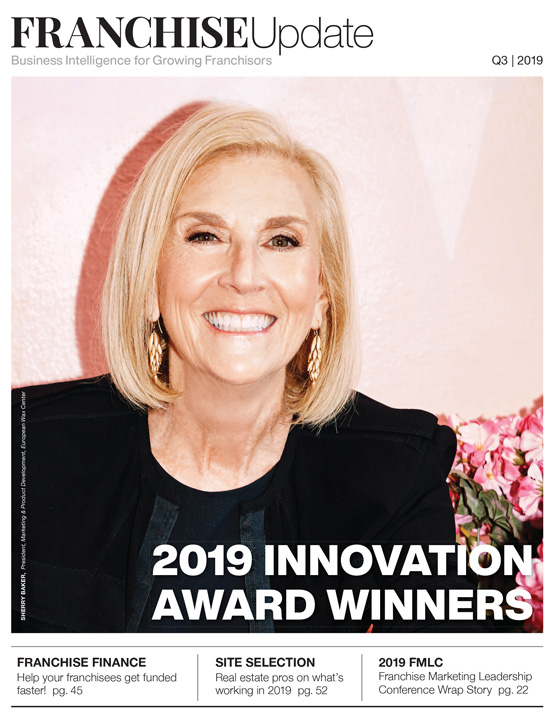 Franchise Update Magazine: Issue 3, 2019
Conferences
InterContinental, Atlanta
OCT 18-20TH, 2022
From lead generation to increasing sales, Hot Dish Advertising is the pro at getting your message in front of those who matter most--consumers...
Oct. 18-20, 2022. Atlanta, GA. FLDC is an exclusive event for franchisor CEOs, Presidents, COOs, CDOs and Development Executives. The conference...