Women at The Top: Cheryl Bachelder
Cheryl Bachelder
CEO, Popeyes Louisiana Kitchen

System revenue: $2.3 billion
No. of units: 2,225
Public or private: Public since 2001
Growth plans: 13-15 percent in long-term earnings
Founded: 1972
Began franchising: 1976
Years with company: 7
Years in franchising: 16-plus
International locations: 456
How has your life experience made you the leader you are today?
My leadership approach was developed by my first mentors--my parents. In our home, every dinner table conversation was a leadership lesson. We would talk about our experiences that day, and with our parents' guidance we would find the lesson in that experience. My father was a manufacturing executive responsible for leading plants. He would come home at night and tell us about a decision he made that day and, most important, "how" he made that decision. He taught me that leadership is about the values that show up in your daily decisions.
Role models?
As I gained experience and responsibility in the workplace, my father was my most important role model, and he was also my advisor. He helped me think through important decisions, asking me the tough questions a leader must wrestle with on behalf of the people they serve. My father passed away five years ago, but his voice is still very active in my daily decisions. He would always close our conversation with, "Do the right thing, no matter what the consequence."
Management gurus or books that have deeply affected you:
I am an avid reader and learner--and that means I love books. I love finding books, buying books, hearing about books, and reading books. Anyone who has worked with me can attest that if you get a gift from Cheryl, it will probably be a book! From all of my books on leadership, there are two thought leaders who have heavily influenced my approach. First, the essays of Robert Greenleaf, a middle management leader at AT&T who authored the ideas that are called "servant leadership." He put on the table the premise that leaders who serve the people and the enterprise--not themselves--are the best leaders. Service above self--that has become my mantra for leadership. Second, in 2001, I was greatly influenced by meeting Jim Collins, author of Good to Great. This is a research-based book that concluded that the CEOs who put the best interests of the people and the enterprise ahead of themselves had the best financial performance results. Collins called this Level V leadership. I would call it proof that servant leadership drives superior results.
Has mentorship made a difference in your professional and personal life?
To be honest with you, my worst boss was the most important mentor of my leadership life. Until you have conviction about what bad leadership is, you can have no conviction about what good leadership must be. When I analyzed the actions of my worst boss, it made me decide what kind of leader I wanted to be going forward. And it made me certain that I must aspire every day to be a great leader for the people entrusted to my care. I'm imperfect, and like everyone else, self-interest gets in my way. But I want to get up daily and chase a higher standard: that of serving the people and the enterprise well at Popeyes. When I do that, I am a better leader.
Female leaders you admire:
In the restaurant industry, Sally Smith at Buffalo Wild Wings has been an important role model to me. She was one of the first female CEOs in our business, and I have learned a great deal from watching her approach. First, I found we had things in common: our Midwestern roots, our love of work, and a common hobby--playing games. This helped me gain confidence that I could lead effectively. Then, watching her in business settings, I appreciated her understated approach. She is always neat and professional, but never showy. Her words are measured and thoughtful. She is very smart, but importantly, when she speaks with you she focuses on bringing your insights to the conversation. She is a balanced leader--in competence and character traits. I don't think it's an accident that her company has a long, sustained track record of high performance.
Advice for young female CEO aspirants:
My advice to women leaders is simple, but very hard to do: I want you to bring your authentic self to the table. Each woman is created with unique capability. Her work and life experiences develop her for leadership. Her personal values govern how she leads. I encourage women to know themselves well--their strengths, their values, their experiences--and then offer those assets to their workplace. That is bringing your best to work, for the benefit of the people and the enterprise. My observation is that, too often, women are trying to be somebody else. Women get a lot of feedback, some of it not very helpful. For example, I can think like a man, but I can't lead like one. I can adjust my ineffective behaviors, but I can't leave who I am at home. So I need to work in a place that wants my talent and my values--and helps me bring them to life in a way that helps the organization. If you don't want my talent and my values, or don't need them, please let me know so I can work somewhere else. It is just too stressful to work in a place that doesn't want the authentic you.
Leadership style:
My leadership style is a strange combination of very demanding and very caring. I think the leader has a responsibility to stretch the people and the organization to reach ambitious goals. The leader sets the vision and inspires people to chase the vision. That means setting a very high bar--expecting a lot of people and revealing to them capabilities they didn't know they had. But at the same time, I believe the leader must care deeply for people--knowing them well, having empathy for them, listening to them. I buy in to that philosophy that John Maxwell often quotes: "People don't care how much you know until they know how much you care." Demanding standards plus caring conversations leads to the best performance outcomes in my experience.
Was becoming CEO of an organization part of your professional plan?
I honestly never had a conscious plan to be a CEO, but I did have a very conscious desire to lead. Some of that probably stems from being the oldest child in my family. When I was 9 years old, I was the executive producer of the musical my cousins performed at our family reunion. When I was 14, I ran a service club at my high school that raised money for charity. When I was a junior in college I served as president of my sorority. As I grew older and wiser, I realized that leadership gave me great joy because leadership is bringing talented people together to accomplish great things. That was my career plan.
What do you love most about being CEO?
My favorite thing is discovering the unique purpose and principles of the leaders I work with each day. I love learning about people and helping them learn about themselves. I love seeing the "ahas" when people figure out how to access their best talents and best selves for the company. At this stage of my career, I am motivated to help develop the next generation of leaders for business. And I am very blessed to be able to do that every day in my role as Popeyes' CEO.
How much of your time do you spend at that, and what are you doing to spend more?
Today most of my time is spent developing leaders. Once I have set our business strategies in place, my full-time role is to help people bring those strategies to successful results. And that means growing their capability as leaders.
What do you like most about what your brand/legacy represents?
I love walking into work every day and seeing the Popeyes Purpose and Principles on the hallway wall--and then going through the day watching the purpose and principles come to life in our leaders as they make daily decisions. If I can help leaders discover and shape their personal purpose and principles for leadership and then apply them to their daily decisions, I will have advanced their leadership journey. And then one day, they too will be in a position to develop future leaders. That is my deep-rooted conviction--that leadership is a stewardship--of both the business and the people. If you are a leader, the goal must be to become a better leader and develop better leaders. If I work on that, I can make a difference. You can, too.
Published: June 19th, 2014
Share this Feature
Recommended Reading:
Comments:
comments powered by

Disqus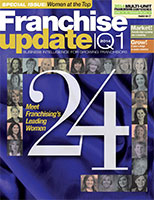 Franchise Update Magazine: Issue 1, 2014
Tiger Pistol, the world's leading collaborative advertising platform, connects the power of brands with the knowledge and credibility of their...
919 Marketing Co. is a national content marketing, PR and social media agency serving franchise brands. Our proprietary social relations approach...