Women At The Top: Dina Dwyer-Owens
Dina Dwyer-Owens
Chairwoman and CEO, The Dwyer Group

System revenue: $840 million
No. of units: 1,600-plus
Public or private: Private
Growth plans: $1 billion in sales by year-end 2015; acquire established franchise systems that complement our current services
Year founded: 1981
Began franchising: 1981
Years with company: 32
Years in franchising: 32
International locations: 300 (approx.) 8
How has your life experience made you the leader you are today?
I literally grew up working in the business before it became a holding company for multiple franchised service brands. By the time I was 13, I was learning all about sales and customer service at a car wash my father owned. From there I went on to work in almost every aspect of our company. From cleaning carpets to franchise sales, I learned by doing. I also had the privilege of being raised by parents who expected the best from all their children. My mother grounded me in my faith, and my father instilled a strong work ethic to (as we like to say) "re-earn my position every day in every way." Of course, I can't overlook the great lessons I inherited as a head cheerleader in high school. Whether it had to do with fundraising, creating agendas for pep rallies, managing a team of high-spirited girls, or speaking in front of large groups and inspiring the student body, faculty, and families, I embraced those invaluable skills. And in many ways, I call myself the head cheerleader of The Dwyer Group today for some of those very same skills.
Role models?
My father always told me that whatever your mind can conceive and believe you can achieve--and demonstrated that by achieving 99 percent of his personal targets. He also had me listen to positive motivational tapes from amazing leaders like Zig Ziglar, Paul Meyer, Brian Tracy, etc. He would pay me an extra allowance if I listened to a program six times and could answer his questions. He also put me to work at 13 to make sure I started to apply all these lessons. Then there was my mother, who grounded me in my faith. By studying the Bible I learned that Jesus Christ is the best role model of all time. Through his example, I aspire to be a servant leader as well--and it's a work in progress every day.
Management gurus or books that have deeply affected you:
One of the leaders at the top of that list would be the beloved Ken Blanchard. Everyone knows him for his best-selling books like the The One Minute Manager and Raving Fans and for the fantastic speeches he gives to millions of people around the world. And I have the great pleasure of serving on the board of directors for his Lead Like Jesus organization, where his message is to inspire and equip people to become servant leaders. Of course, that speaks to me in so many ways since the nature of our business is in the service sector, and also because I consider my faith a great source of strength in being the leader I am today. Zig Ziglar was another great inspiration and helped me become a positive thinker. He wrote the foreword to my book Live R.I.C.H., which remains a great compliment to how I want our culture at The Dwyer Group to deeply affect others too. Finally, as a teenager I attended Dale Carnegie's How To Win Friends and Influence People program, which really helped me appreciate relationship building at an early age.
Has mentorship made a difference in your professional and personal life?
Beyond the fantastic teachers I've already mentioned, there are numerous people in franchising who have really affected my life and continue to do so today. Through my professional membership in the IFA and my service as a Past Chairwoman, I am surrounded by great leaders who share best practices in business and in life, and I am eternally thankful for those friendships. But here's an added perspective about mentors and mentoring. Mentors for me come in all walks of life, and most of my mentors have not been formal relationships. I am a constant learner. I watch what successful, giving people do. Then I ask questions and work hard to follow their lead. Many of those people are on my team and in my family. By having me listen to those leadership tapes as a teenager, my father provided me with many mentors. I was surrounded by great inspiring minds like Zig Ziglar, Stephen Covey, Paul Meyer, Earl Nightingale, Napoleon Hill, and of course Don Dwyer.
Female leaders you admire:
My mother, Theresa, is one of the strongest and most admirable women I know. She taught me how to be kind to all, one of the greatest lessons anyone can learn. She also taught me the precious role of being a good mother with her devotion to raising me and my brothers and sisters. I value my own station in life as a mother and the priorities that I give to my faith, my family, and my career in the right order by her example.
Then there is Mother Teresa. I admire her challenge for us to always be our best. There is a gift in spirit and in service she will always embody that speaks volumes about the influence one person can have on so many others.
My sister Debbie Hood, chief administrative officer for The Dwyer Group, is one of the smartest, hardest-working women I know. Whether it involves organizing the most complex aspects of our company or making time in a busy schedule for service to the school board, leading food drives, organizing donations and supplies after the explosion in the city of West, Texas--you name it, and she takes the lead in bringing people together to get things done.
Mary Thompson, president of Mr. Rooter, also is an inspiration. She sets a high bar of excellence in life and continues to make me a better leader. Her roles as a wife, a mother, a retired U.S. Marine, a leader for our VetFran program, the "Mrs." behind Mr. Rooter, a volunteer for overseas disaster relief work, and every other role she embraces make her a one-of-a-kind individual.
Advice for young female CEO aspirants:
I subscribe to the idea and the power that comes from being one's true, authentic self. And that applies to anyone, whether you aspire to be a great parent, a strong spouse, a leader in your community or, yes, even a CEO. You cannot be an expert at all things, but you can be true to those talents and skills you possess. Then surround yourself with mentors and role models you admire, and learn from them. There is always room to grow, and you don't nurture yourself solely from within. Last, surround yourself with a great team. I am a better CEO because of the incredible members on my team than I could ever hope to be without them.
Leadership style:
I like to call myself the head cheerleader of the company. I champion our mission, vision, and values and believe you can never over-communicate those parts of the business and the impact it can have on the corporate culture you lead. I am also a fan of interaction. That can be with newsletters, videos, face-to-face team meetings, annual reunions, and every opportunity I have to connect with our associates and the entire franchise family. For example, I teach a "Design Your Life" class that promotes goal-setting and is attended by anyone who joins our home team or becomes a franchisee. From the person in our mail room to the franchisee who gets to be their own boss, everyone should define a pathway toward things they want to achieve. I have a lot to cheer about.
Was becoming CEO of an organization part of your professional plan?
When my father died at the age of 60 without a formal succession plan in place, we learned the great importance of succession planning and company leadership the hard way. I most certainly had great mentors, including my father, who prepared me in so many ways to be the person I am today. But the role and the responsibilities came much sooner than any professional plan.
What do you love most about being CEO?
Our mission is "to teach our principles and systems of personal and business success so that all people that we touch will be able to live happier, more successful lives." There's nothing better than being part of that mission and seeing that happen across our team on a regular basis. I give credit to our operationalized Code of Values as the road map to pursue that mission every day. I call it Living R.I.C.H. (following the themes of respect, integrity, customer focus, and having fun in the process). Being the CEO who gets to champion that message isn't a job, it's a gift.
How much of your time do you spend at that, and what are you doing to spend more?
About 50 percent of my time is invested in teaching and promoting values. We start every meeting of three or more associates by first reviewing the Code of Values. I write a weekly newsletter that focuses on living our values. I conduct interviews and radio shows almost weekly. I present the values to new franchisees every month at basic training. And almost every week I conduct presentations on how to build success in your life and business with a proven code of values, giving speeches to audiences that range from franchisees and their team members worldwide to Fortune magazine's Growth Summit.
What do you like most about what your brand/legacy represents?
We're in the business of helping people have a better quality of life and just happen to use franchising as our vehicle. What a great business to be in!
What role does diversity play in your management team?
Our corporate team is very diverse. More than 50 percent of our team members are women. Approximately 7 percent of our franchisees are women, yet more than 50 percent of our franchisees are operated by husband-and-wife teams. Four percent of our front-line service professionals are women, and we are on a mission to get that number up to 50 percent. I recognize this is a lofty goal, but "whatever the mind can conceive and believe it will achieve."
If you are expanding overseas, does being a woman affect growth?
We have not run into any challenges at this point.
Published: April 24th, 2014
Share this Feature
Recommended Reading:
Comments:
comments powered by

Disqus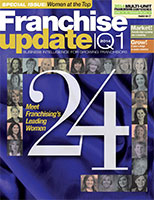 Franchise Update Magazine: Issue 1, 2014
Location3 Media is a digital marketing agency that delivers enterprise-level strategy with local market activation. Founded in 1999 and located in...
UMI has over 23 years of experience supporting fast-growing multi-unit brands. From strategic planning to design, execution to analysis, UMI...