Big Blue Swim School Franchise Opportunity
Financial Information:
| | |
| --- | --- |
| Net Worth: | $1,500,000 |
| Franchise Fee: | $75,000 |
| Total Investment: | $1,825,500 - $3,687,000 |
| Royalty Fee: | 6% |
| Advertising Fee: | New Pool Opening Marketing Fee ($50,000) |
Available Markets:

United States: AL, AZ, AR, CA, CO, CT, DE, DC, FL, GA, ID, IL, IN, IA, KS, KY, LA, ME, MD, MA, MI, MN, MS, MO, NE, NV, NH, NJ, NM, NY, NC, OH, OK, OR, PA, RI, SC, TN, TX, UT, VT, VA, WA, WI
Big Blue Swim School focuses on creating Big Moments for children ages six months to 12 years old. In purpose-built facilities designed to create a safe, welcoming environment for families, their teachers work with kids to develop swim skills that include stroke, breath, and propulsion, creating confident swimmers and building important life skills like courage, hard work, and perseverance. Their lessons encourage children to face their fears and build self-assurance – giving students the tools they'll need to face life's challenges through childhood into adulthood.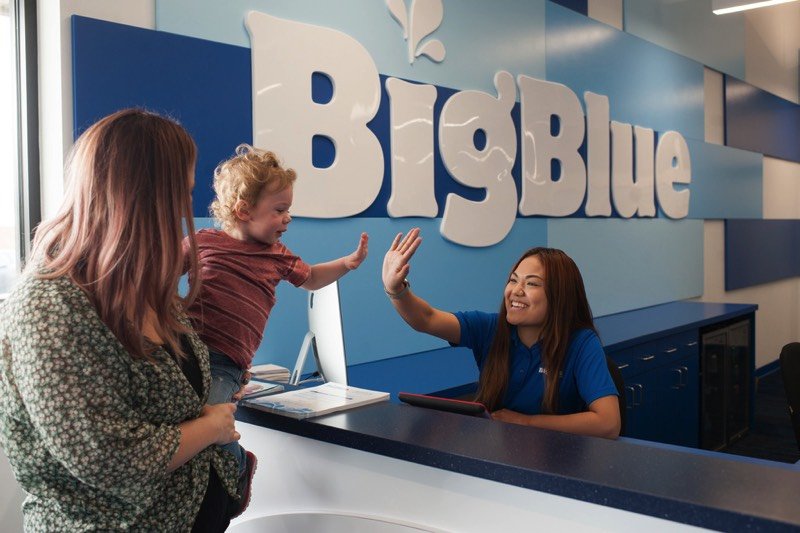 Trained under their proprietary teacher-training program, Big Blue's instructors strive to lead every student to a Big Moment during every class, while teachers, managers, and parents work together to focus on each child's progress. Lesson Buddy, the company's robust back-end office support and proprietary software – designed and developed for the ease of the owner, staff, parents, children, and facility – allows families to easily follow that progress and connect with teachers and Big Blue staff.
An attractive, scalable franchising opportunity, Big Blue was founded by former competitive swimmers John Lonergan and Chris DeJong. It's being financed by Level 5 Capital Partners, founded in 2009 by Fortune 1000 technology executives and dedicated to backing exceptional entrepreneurs in the health, wellness, and family markets.
Function of the Franchisee:
Manage the metrics, accounting, and all general business management activities
Work with Franchisor to execute all local pool marketing activities
Assist with building a strong community and culture with employees
Be a strong steward of the brand in the community
Prospects and Candidates:
Executive Power Couples looking to make a difference in their communities
Private Equity and Angel Investor Groups looking to generate high-net returns
Candidates with strong people management and cultural management skills
Candidates with a strong financial acumen background
Candidates with a love of children and swimming
Candidates with a desire to make a difference in local families' lives
No Barracudas!
Candidates with $600K minimum liquidity
Candidates with $1.5M minimum net worth
Request Information
Looking for more information about Big Blue Swim School? Take a moment to fill out our quick information request form.