Gigi's offers a low-cost, low-risk and scalable bakery
franchise that features gourmet cupcakes and bakery treats
Gigi's Cupcakes has grown from humble roots in 2008 near Nashville's Music Row to become one of the most sought-after gourmet cupcake and bakery franchises in the country. With franchise locations across the U.S., our rapid growth and robust business model elevate the fun business of helping people celebrate life events into a great franchise model with lower occupancy and build-out costs than you would expect.
Cupcakes have been an American mainstay for decades and an early episode of HBO's Sex and the City propelled the gourmet cupcake to national popularity. Americans' national obsession with cupcakes went on to spawn the Food Network show Cupcake Wars. Cupcakes are a major part of American culture, and there is unmet demand in every community for a quality provider of gourmet cupcakes and other baked goods.
Topped with our signature swirl and backed by more than 300 proprietary recipes and flavors, a Gigi's cupcake is a work of art in the truest Nashville style. If you haven't experienced one of our cupcakes, you haven't really had a gourmet cupcake. Our passionate franchisees make people smile, and our cupcakes are the talk of the room at any event.
"I was talking to a couple who eventually opened a successful franchise in Chicago," says Alan Thompson, VP of Franchise Development of Gigi's, who was Gigi's landlord at her first bakery location in Nashville. "The husband was skeptical about cupcakes and asked if they were a fad. Before I could answer, his wife jumped in and said: 'No, they are not a fad. Cupcakes bring happiness, and anything that makes people happy is never a fad.'"
Our Cupcake Franchise: A Nashville Original From Humble Roots
Gigi's was founded by Gigi Butler, a singer and songwriter who dreamed of becoming a country music star. The original Gigi's bakery opened in 2008, within walking distance of Nashville's Music Row district, and is still a bustling location where Gigi can still often be found behind the counter greeting customers with her signature Southern charm.
At age 32, a decade after she had arrived in Nashville, Gigi was cleaning houses by day and singing songs in honky tonks by night. Her dream of a successful music career was slipping away. She was cleaning a client's home when her brother called. That call changed her life.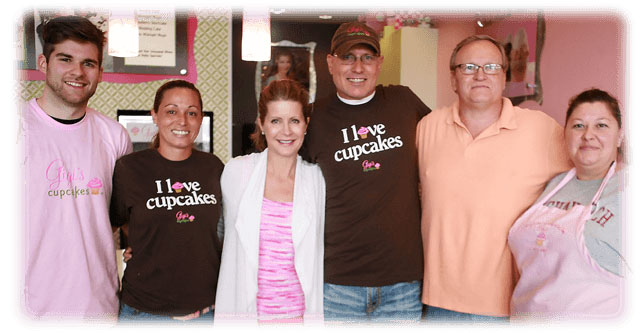 Calling from New York City, he had just stood in line for two hours to buy a red velvet cupcake from a NY Bakery -- the cupcake that was made blazingly popular by a now-famous Sex and the City episode. He knew Gigi made amazing cupcakes; she had been baking gourmet cupcakes on the side using her family recipes, while applying her own artistic style to the decorating.
"Your cupcakes are way better than these," he says. "If people will stand in line for two hours to buy what I just had, imagine what they might do in Nashville if you opened a shop!"
She began selling her cupcakes to local businesses, and, with help from her family, she opened her first Gigi's storefront on Broadway -- just steps from Nashville's legendary Music Row. Alan was so skeptical that a cupcake shop could do well that he asked her to pay three months' rent in advance. When she opened the doors and began displaying her artistic creations, the line spread out the door and around the corner, exceeding both of their wildest expectations. The Gigi's cupcake quickly became the talk of Nashville.
"I couldn't believe you could do so well selling cupcakes," Alan says. "People would come from far away just to buy one, and they began buying everything she baked. I took a few dozen to a church function, and that's all anyone talked about for weeks. We realized right off that Gigi's was something special, and it's been an amazing success since. That first store still has a line outside the door."
Gigi has become the queen of gourmet cupcakes and has been featured on many national TV shows, including CBS' Undercover Boss. Her celebrity status has helped propel many other entrepreneurs chasing dreams to follow in her footsteps.
Now is a great time to invest in a Gigi's cupcake and bakery franchise. Our same-store sales are increasing year over year, we have powerful national buying power -- which lowers your operating costs -- and we've leveraged technology to help you tap into the lucrative celebration business far beyond the four walls of your franchise. For anyone with a passion for making people smile and a love of gourmet cupcakes, Gigi's is an amazing and affordable franchise opportunity with a high potential ROI.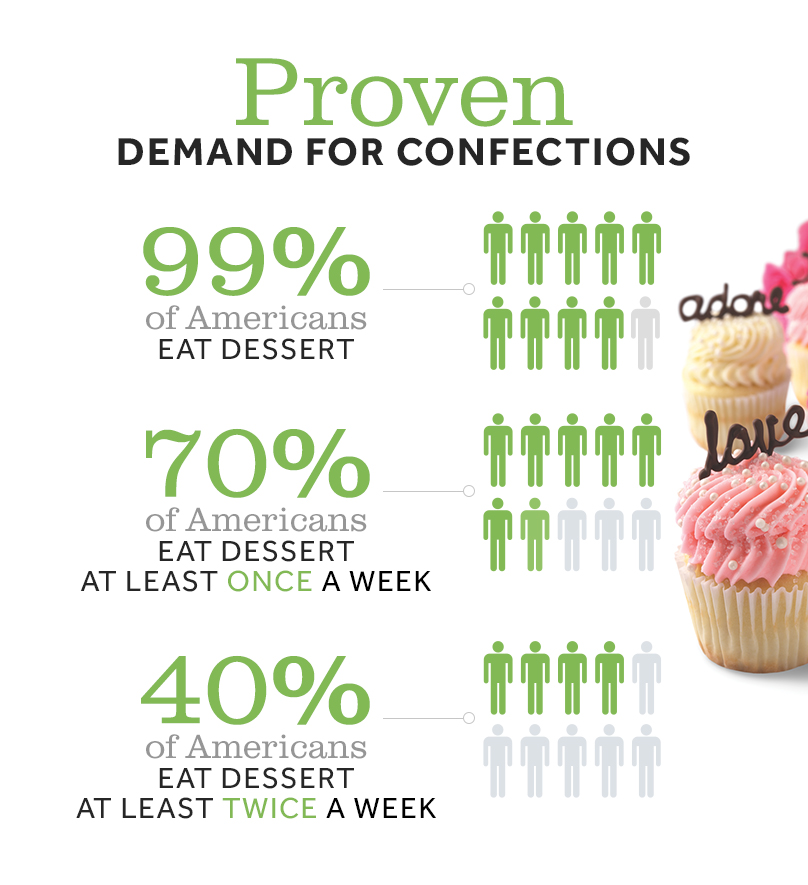 Increasing Market For Gourmet Cupcakes
Cupcakes are here to stay; Americans eat over 770 million of them a year. There even is a National Cupcake Day, but for Gigi's customers every day is a reason for celebration -- with cupcakes.
In today's fast paced world, people don't have time to bake from scratch. They still want the celebratory feel that cakes bring, though, and our cupcake and bakery franchise offers the convenience, variety and individual portions that make cupcakes an easy choice.
Gigi's changes its menu monthly, and its signature flavor names are delightful to say. Although the convenient cupcake is our signature treat, we also offer a diverse menu designed to satisfy a variety of sweet-tooth cravings, such as mini-cupcakes, personal cheesecakes and fresh-baked cookies. The Gigi's product team constantly refines the menu, and we now even offer gluten-free treats, which appeal to the 30 percent of adults that consumer research firm NPD Group says are interested in avoiding or cutting down on gluten in their diets.
Our reported sales are just a fraction of the growth potential for the cupcake industry. Several factors boost franchisees' potential for growth and success: company leadership steeped in franchise experience, technology advances to enhance the customer experience and proprietary recipes and strong branding.
"When people think of celebrations, they think of cupcakes. I would challenge anyone to find a better cupcake in the United States," says Alan. "Our team has run multiple billion-dollar-a-year franchise systems, and we are building the infrastructure for a true national brand. A lot of creativity, love and passion go into each and every one of our treats."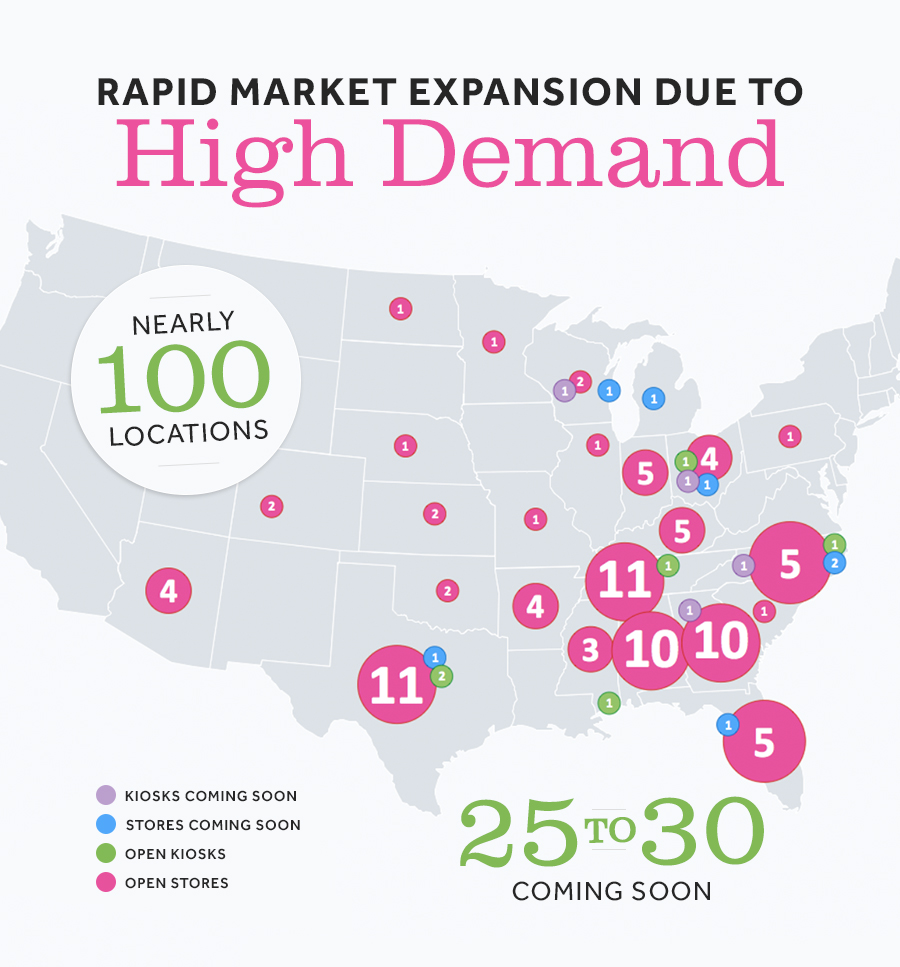 How To Become A Gigi's Cupcakes Franchise Owner
Gigi's is an attractive franchise that offers much lower food and labor costs than traditional food franchises. We are poised for growth with attractive territories available nationwide for single and multi-unit operators. We experienced double-digit System Sales Growth in 2015. How did we attain that?
A simple, and successful, business model. The Gigi's business model provides many off-premises opportunities, such as event catering, B2B sales and satellite store, kiosk and food truck expansion. Gigi's has more than 300 proprietary and proven recipes, and Gigi's franchisees do not need prior bakery experience. Staffing needs are simple, with three main employees needed: a baker, a decorator and a customer service representative. We have the purchasing power to help secure direct manufacturer pricing for our cupcake franchise owners.
Technology infrastructure. Gigi's is investing heavily in its technology infrastructure, with a revamped and easy-to-navigate website and an upgraded app, which will include a remote delivery option. The new digital delivery option will make it even more convenient for customers to order from Gigi's and allow us to greatly improve our rewards system, increasing repeat sales and generating revenue.
Low operating costs. A Gigi's Cupcakes franchise has much lower costs than average food businesses of similar size and the typical QSR in the franchise space. Space buildout costs are typically lower because more expensive features found in restaurants, such as large grease traps and hoods, are not usually required. Food costs for running a Gigi's are also often around 5% lower than the average food business, greatly increasing margins for the franchisees.
Training and support from a powerhouse leadership team. Gigi's leadership has many years of combined experience leading national, multi-unit franchises. Our executive team has run billion-dollar-a-year franchise systems, and we are building the infrastructure for a true national brand. Our owners go through extensive training to learn the Gigi's way, and our marketing support ensures that the grand opening process is a success and that owners have all the support they need. "We want to make the life of our franchisees as easy as possible," says Gigi's Director of Franchise Development Mickey Skelton.
Stellar brand recognition. Gigi's appearance on Undercover Boss in 2015 helped elevate brand awareness. Gigi's signature swirl, beautiful packaging and over-the-top customer service are all part of the Gigi's way. Social media has driven brand recognition, with fans flocking to our bakery franchises. We want people to think of Gigi's when they celebrate, and we want them to celebrate when they see the Gigi's signature box.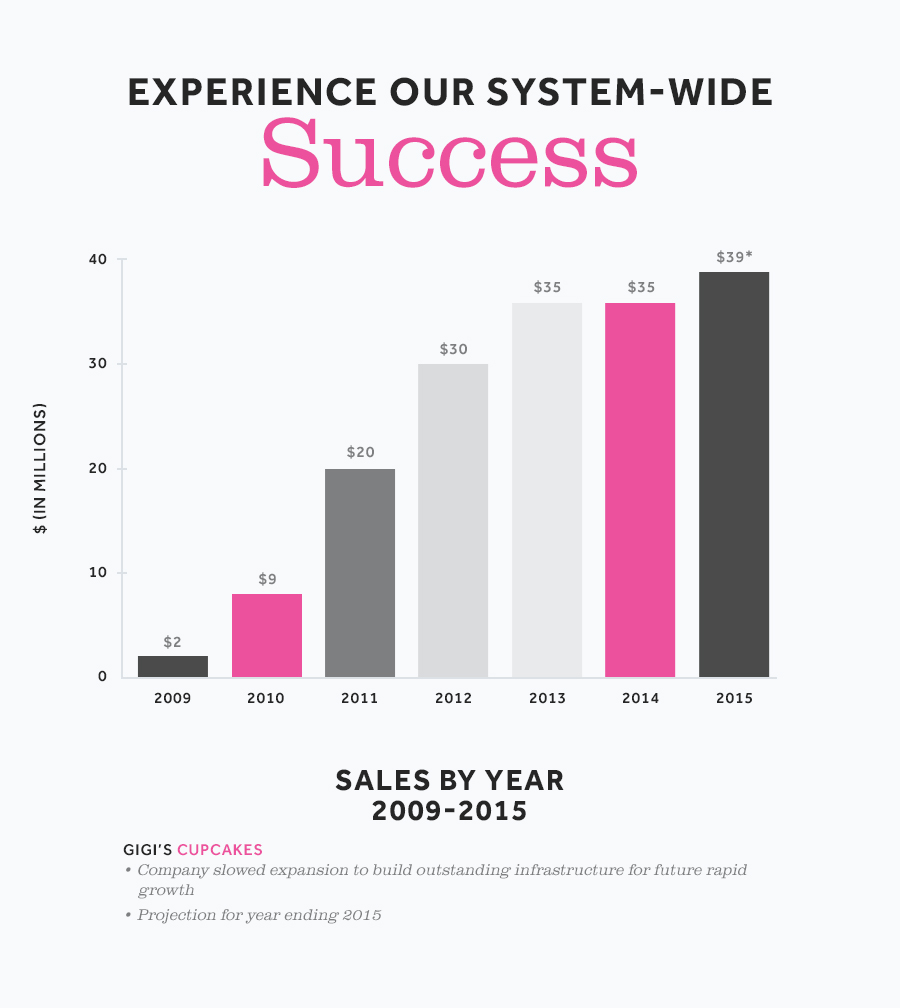 Cost And Fees Of Owning A Gigi's Cupcakes Franchise
With an initial average investment of $300,000, including the $35,000 franchise fee, for a Gigi's Cupcakes franchise, the nation's fastest-growing bakery franchise offers a low-cost investment opportunity with a high potential return. Potential franchise owners typically need $100,000 in liquid capital and a net worth of approximately $250,000. Locations featuring our new store design with refrigerated enclosed cabinets and updated POS systems are experiencing explosive success right out of the gate -- million-dollar-plus revenues in the first year of operation -- making now the time to bring the Gigi's signature swirl to your community. We are looking for business owners, particularly multi-unit operators, who are passionate about Gigi's. The market for gourmet cupcakes is largely untapped!