Ideal Image Franchise Opportunity
My experience is unique. I worked in a local utility company in Long Island & know what it means to do the daily grind working for someone else. After 17yrs I decided to work for myself. I came across this quote: 'If you don't build your dream, someone will hire you to build theirs.' I realized that this was true in my own life: every day I was working so hard—not to realize my own dreams, but to make my employer's dreams come true. That is when I knew it was time for me to start my own business. After research into franchises, interviews, & tons of online research; I felt prepared to take the plunge and join the Ideal Image family. Today, I have built that dream into 3 of the most successful Med Spa centers in the country. One of the biggest benefits of owning an Ideal Image franchise is having an executive team with years of experience available to give advice, bounce ideas off of, and get assistance from. This support has really help make my success possible. Ideal Image has given me the chance to make my own dreams come true as the owner of my own business, and provided a more than comfortable lifestyle for me and my family.
I purchased my first Ideal Image territory in September 2004, and have been profitable every year since. My financial success is directly attributed to the support and backing from our parent company. They set up my stores & helped identify, hire and train my staff. Their sales and treatment model was simple to understand and implement. Their computer software gives me minute by minute updates on every measurable metric of my business, and I can access it anywhere I have internet service. I profited every year since 2004, even during the down economy in 2008 and 2009. This proved to me that the vanity business is a solid investment. Ideal Image is a proven brand that others try to emulate, but they never succeed. I have seen several Ideal Image wannabes, and have seen my competitors come and go because they simply don't have the corporate backing and support that we have.

Financial Information:
| | |
| --- | --- |
| Cash Investment: | $500,000 |
| Net Worth: | $1,000,000 |
| Franchise Fee: | $50,000 |
| Total Investment: | $694,485 - $1,347,858 |
| Royalty Fee: | 7% |
| Advertising Fee: | 4% National, 2% Local |
Available Markets:

Canada: AB, BC, MB, NB, NL, NT, NS, ON, PE, PQ, SK, YT
United States: AL, AK, AZ, AR, CA, CO, CT, DE, DC, FL, GA, HI, ID, IL, IN, IA, KS, KY, LA, ME, MD, MA, MI, MN, MS, MO, MT, NE, NV, NH, NJ, NM, NY, NC, ND, OH, OK, OR, PA, RI, SC, SD, TN, TX, UT, VT, VA, WA, WV, WI, WY
Our Mission Is To Help
Our Clients Look And Feel Their Best, Naturally
At Ideal Image, we believe that confidence changes everything. Ideal Image is the nation's leading MedSpa, preforming more non-invasive aesthetic treatments than any other company in the United States. Started by two chiropractors 18 years ago, Ideal Image has been delivering clients the real results that help them look and feel their best. At Ideal Image, our clients work with a team of highly-trained medical professionals and Skin, Face & Body Specialists to develop personalized treatment plans consisting of FDA-approved/cleared, gentle-touch procedures that deliver natural looking results without the need for invasive surgery. Ideal Image has 140+ company-owned and franchise locations throughout the United States and Canada.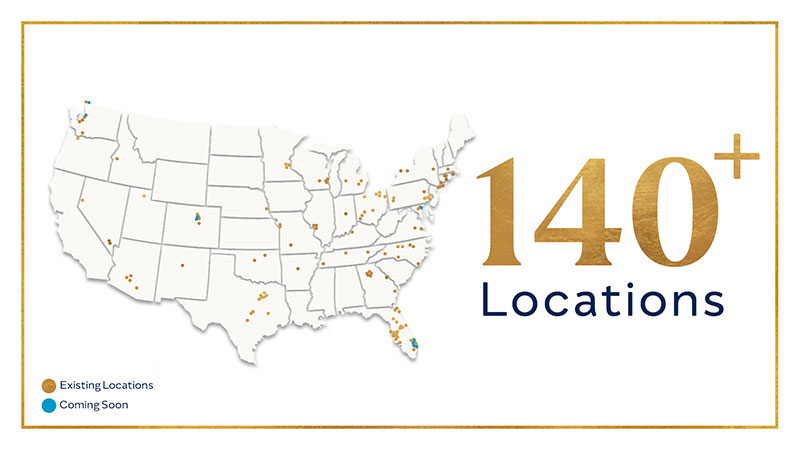 We offer clients a full suite of skin face and body services from laser hair removal to Botox and facial fillers, CoolSculpting fat reduction, and restorative anti-aging services for the face. Ideal Image uses the most advanced technology and services to provide long-lasting, natural results that help people show off their confident side.
We back up our services to our clients with a Lifetime Guarantee and 0% financing options to make it easy to get started!
Why Buy An Ideal Image MedSpa?
Join The #1 Team In The Industry With An 18-year Track Record Of Success
Be Part Of The Fast Growing $7 Billion Aesthetics' Industry
Unique Medical Driven Business Model That Delivers $2+ Million Average Unit Volumes *
White Glove Franchise Support, Training & Reporting Programs To Help Grow Your Business
Expert Marketing & Lead Management Programs To Expand Your Business
Purchasing Power With All Major Manufacturers And Supply Chain Vendors
Turnkey Opportunities Available Around The United States
This web page does not constitute a franchise offering or an offer to sell a franchise. A franchise offering can be made by us only in a state if we are first registered, excluded, exempted or otherwise qualified to offer franchises in that state, and only if we provide you with an appropriate franchise disclosure document.
Request Information
Looking for more information about Ideal Image? Take a moment to fill out our quick information request form.