When you think of dry-cleaning companies, you may picture those old-fashioned shops with clunky, coin-operated laundry machines, but a lot has changed in the last decade. OXXO Care Cleaners brought new techniques to the industry, integrating hand-ironing, 24/7 pickup and dropoff, and eco-friendly cleaning solutions that replaced the harsh chemicals traditionally used for dry cleaning. But what do OXXO's unique innovations mean for the $10 billion laundry and dry cleaning industry?
Why OXXO Care Cleaners®?
OXXO Care Cleaners® is an innovative new garment care concept that is all about convenience and sustainability. This same day dry cleaning franchise offers convenient 24/7 drop-off and pickup same day dry cleaning in an eco-friendly setting, refraining from the use of harsh chemicals across all of its service offerings. As a eco-friendly green cleaner business, our solutions offer great value to every client we service.
With nearly 40 locations in the U.S across Florida, Texas and New Jersey and nearly a dozen more international stores, OXXO Care Cleaners® is on a clear path toward continued expansion. We're different than any other dry cleaning and laundry concept out there and we have over 50 years of combined experience to prove it.
OXXO Care Cleanings provides same day dry cleaning services. Thanks to our green cleaners team, our business will remove all clothing stains swiftly, delivering a crisp finished product back into your hands in no time.
Established Concept - Dry Cleaning Business
With nearly 40 locations across the United States and nearly a dozen International sites, OXXO Care Cleaners® is one of the fastest growing established 24Hr pick up dry cleaning franchise concepts in the world.
What separates OXXO Dry Cleaners from anyone else is our commitment to the environment and customer service combined with many years of experience in the franchise industry. We're the leading global environmentally-friendly eco wash dry cleaning organization with a commitment to all of our franchisees. In fact, unwavering dedication to our franchisees is perhaps the most important factor in planning for the future success of OXXO Care Cleaners®.
Franchise Opportunities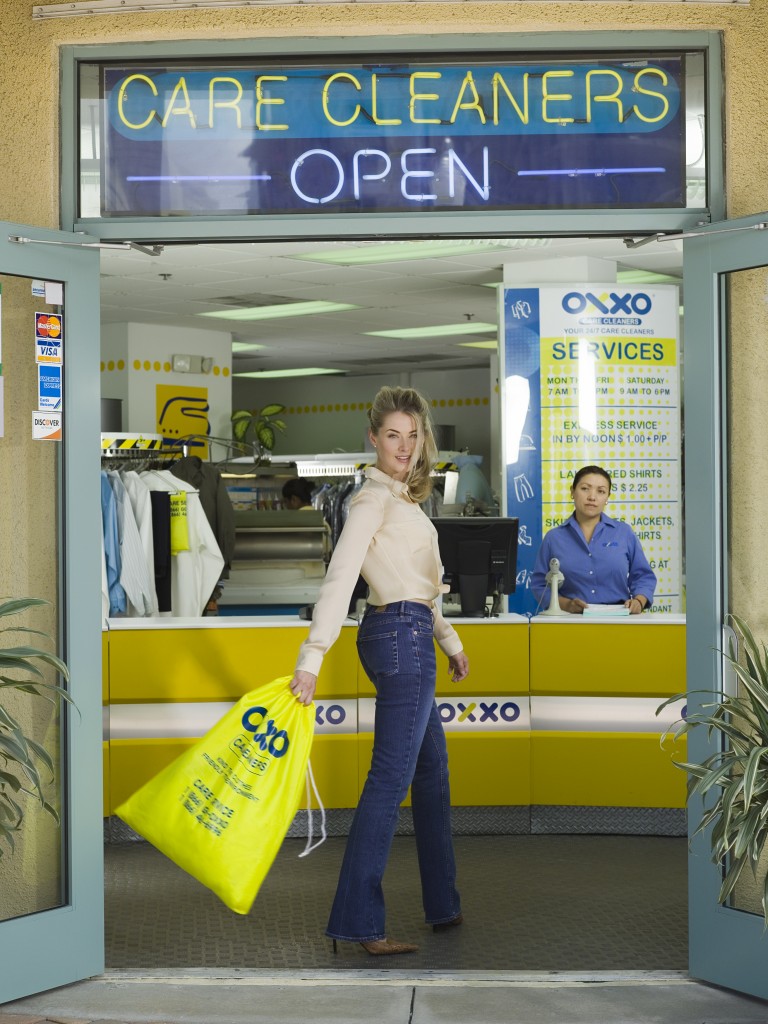 OXXO Care Cleaners® offers three different Business Models to fulfill the needs and investment of potential Franchisees. These models have been designed to cover areas as small as one single Plant Store up to an extension equivalent to a County, State or even a Country.
1. Plant Stores, Drop Stores, ATM Franchise Agreement
For those candidates to acquire just one store, we grant licenses to operate an environmentally friendly Plant Store where drycleaning and laundry is done in premises. This Plant Stores feature a 24-hour pick-up system. OXXO Stores, which do not do the cleaning on the premises, are known as Drop Stores. We also offer exclusive Unmanned OXXO Care Cleaners units where customers can drop off and pick-up cleaning and laundry by themselves 24/7. Franchises for Drop Stores and for ATM Units are granted only to existing franchisees operating at least one Plant Store.
2. Multi-Unit Development Agreement
We offer to qualified persons the right to develop a number of Stores within a specified exclusive development area in accordance with a Development Schedule under an OXXO Multi-Unit Development Agreement. The development area and number of stores to be opened (usually based on 1 store per 15,000 population) will be set forth in the Multi-Unit Development Agreement.
3. Area Developer Agreement
We also offer to qualified persons the right, within a specified geographic area, to acquire franchises to operate Stores and to solicit and service franchisees in the development area. These rights are granted pursuant to our Area Developer Agreement. Area Developers are responsible for identifying, training, servicing and supporting franchisees in the development area. The number of Stores that must be opened in the development area is negotiated between the Area Developer and us.
Industry Expertise - Green Cleaning Franchise
Dry cleaning super center OXXO Care Cleaners® is one of the best franchises and the leader in the eco-friendly dry cleaning industry with a 24/7 drop off and pick up system. Ranked by Entrepreneur Magazine as one of the top 500 franchises in the United States, we're continuing to revolutionize the way dry cleaning and laundering is done.
At OXXO Care Cleaners®, every green cleaning franchise ensures each item is cleaned onsite in a comfortable air-conditioned atmosphere. Our unique process makes us one of the best franchises and separates us from ordinary dry cleaners. We use steam irons and specially designed shirt ironing equipment that are very easy to use instead of steam presses. No boiler room or industrial steam pressing are considered in this type of operation.
OXXO Care Cleaners® is one of the best franchises for anyone interested in starting a dry cleaning and laundry business. As a dry clean super center, OXXO Care Cleaners® is currently operating nearly a dozen stores internationally and nearly 40 stores in the United States with locations in Florida, New Jersey, and Texas.
Request More Information
Are you interested in the opportunity of owning your own dry cleaning store? Fill out the request more information form to find out more about this fantastic laundry business franchise.