Arby's Franchise Opportunity
There was one location we wanted, and there was competition for it, and the landlord had to make a decision between us or some other brand. Before I could make a deal, I had to get approval for the location. So I called the ARG real estate department, which was very busy, and they sent somebody out the very next day. I was very happy. They approved the site, we got the location, and we have that restaurant under construction right now...and when we have construction challenges, I call (Senior Director of Construction) Tom Huch, who I know is extremely busy doing so many remodels. He is always helping me. One restaurant we just picked up from another brand was in a very, very small location. I told Tom, that this is a very challenging project, and he's helping me every step of the way
(CEO) Paul Brown is a super individual, very unassuming, very focused, very professional. He hit the nail on the head when he met with (franchisees) about his plans and said, 'You know this is about a brand, this isn't about going out and trying to be somebody else,' which we've done so many times. At the time when our abundance of high quality proteins were out of sight, and it looked like it would be a difficult path forward, he came out with 'We Have the Meats®,' and he's brought on a superb leadership team. We've taken on the monster with the price of proteins and made it a win-win for everybody. The new building design, the new Delight production tables that allows our footprint to be smaller, and the experience for our guests inside the restaurants -- it's all been very, very innovative, creative, and bold.
Financial Information:
| | |
| --- | --- |
| Cash Investment: | $500,000 |
| Net Worth: | $1,000,000 |
| Franchise Fee: | $6,250 - $37,500 |
| Total Investment: | $271,950 - $1,773,000 |
| Royalty Fee: | 4% |
| Advertising Fee: | Minimum of 4.2% |
Available Markets:

Canada: AB, BC, MB, NB, NS, ON, SK
United States: AL, AK, AZ, AR, CA, CO, CT, DE, DC, FL, GA, HI, ID, IL, IN, IA, KS, KY, LA, ME, MD, MA, MI, MN, MS, MO, MT, NE, NV, NH, NJ, NM, NY, NC, ND, OH, OK, OR, PA, RI, SC, SD, TN, TX, UT, VT, VA, WA, WV, WI, WY
Arby's is the second-largest sandwich restaurant in the U.S. and America's largest drive -thru sandwich franchise* with more than 3,500 restaurants across eight countries. We feature a blend of high-quality proteins and innovative, crave-able sides such as Curly Fries and Jamocha shakes.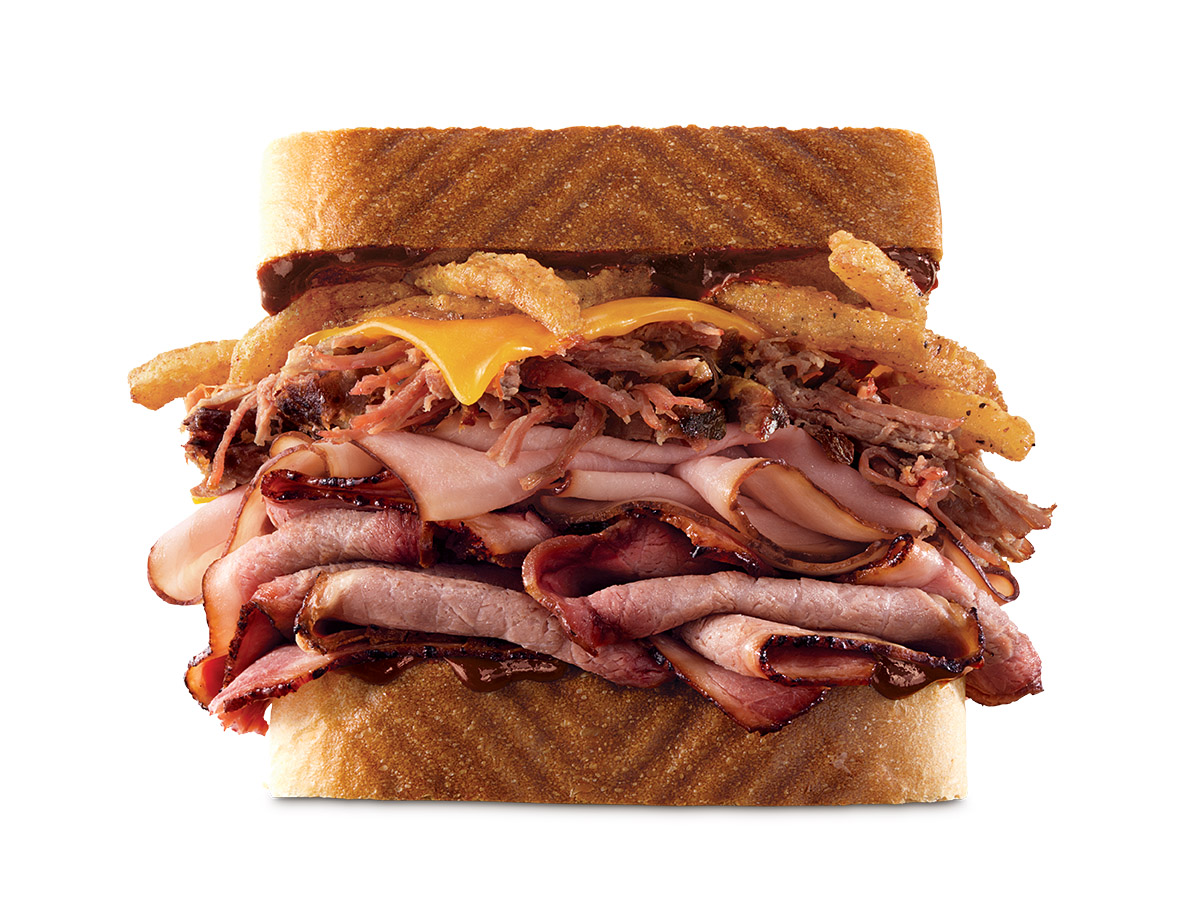 Arby's premium selection of sandwiches served at QSR drive-thru speed gives us a competitive edge with quality menu items and affordable prices. With drive-thrus representing roughly 65% or more of a store's revenue, we have engineered our drive-thrus for flexibility.
About Arby's
It all began in 1964 with Leroy and Forrest Raffel when they opened a sandwich shop in Boardman, Ohio that served hot, freshly sliced roast beef sandwiches as fast as anyone could flip a burger. A year later, the first Arby' franchise opened.
Best known for our classic roast beef sandwiches, Arby's has also introduced menu items including Market Fresh® Sandwiches, gyros, and a variety of salads and sandwiches with less than 300 calories.
Arby's is part of the Inspire Brands family of restaurants which also includes Buffalo Wild Wings, Rusty Taco, SONIC Drive-in, and Jimmy John's. Backed by the power of Inspire, Arby's is able to leverage the company's combined resources to provide its franchisees with support across all areas of the business, from marketing and advertising to 3rd party delivery vendors.
About Inspire Brands
Inspire Brands is a multi-brand restaurant company whose current portfolio includes more than 11,000 Arby's, Buffalo Wild Wings, SONIC Drive-In, Rusty Taco, and Jimmy John's locations worldwide. The company was founded in 2018 and is headquartered in Atlanta, Georgia.
Franchise Criteria
Arby's requires that prospective franchisees meet the following criteria in order to own and operate an Arby's store:
Liquid Capital: $500,000
Net Worth: $1,000,000
Franchise Fee: $6,250 to $40,900
Initial Start Up Costs Range: $628,950- $2,205,600
Royalty Fee: 4%
Advertising Fee: 4.2%
Multi-unit restaurant operator experience
Franchise Support
Once you become an Arby's franchise owner, our team is here to support you throughout the whole process. We provide best-in-class franchise support, including restaurant development planning, design & construction, operations training, marketing & branding, and supply chain expertise.
*Arby's has more drive-thru restaurants in the U.S. than any other QSR Sandwich franchise brands as of 2019. Based on Restaurant Trends data. Results exclude Burger/Chicken franchises from Sandwich category.
Request Information
Looking for more information about Arby's? Take a moment to fill out our quick information request form.