2006 STAR Awards identify best practices in franchise recruitment
Everyone's heard of mystery shopping. It's that practice where an unknown "customer" checks up on a business when they're not looking. Mystery shopping can uncover successful practices and, unfortunately, embarrassing deficiencies. But the good news is that the collected information can be used to help those operations and procedures that need improvement and correction. The data also can provide affirmation for those practices companies are performing well.

Expansion and growth drive franchising. Thus, creating leads and identifying prospects is an essential part of the corporate franchise operation. Franchise executives understand the importance of effective marketing, lead generation, and recruiting, and spend significant amounts of time, human resources, and financial resources to develop systems that help them optimize their recruiting.

Six years ago, Franchise Update began evaluating franchise lead-generation and recruitment efforts and best practices industry-wide. The result is the annual STAR (Speaking To And Responding) Awards, which recognize outstanding achievement in these areas.

Researchers in this annual study employ a standard list of criteria that are evaluated by mystery shoppers who contact franchises by phone and through the Internet. Posing as a prospect, these mystery shoppers phone franchise 800 numbers and document how long it takes to get franchise information and reach a sales representative. The shoppers log onto franchise web sites to analyze online content, accessibility, site readability and ease of navigation, online request forms and applications, and most crucially, the amount of time it takes to make contact with a franchise representative.

Every franchise company that registered for the 8th Annual Leadership & Development Conference, held this past October at the Ritz-Carlton in Atlanta, was mystery shopped to evaluate its franchisee recruiting practices. On the telephone side, 113 franchises were mystery shopped; 101 were also shopped through their web site. This year's winners were as follows:

STAR Awards - Overall Winners:
1st Place - Handyman Connection
2nd Place - Volvo Rents
3rd Place - TRC Staffing Services

STAR Awards - Telephone Winners:
1st Place - Handyman Connection
2nd Place - Wild Birds Unlimited
3rd Place - Steak-Out

STAR Awards - Online Winners:
1st Place - Spring Green
2nd Place - Comfort Keepers
3rd Place Handyman Connection

Handyman Connection - Overall 1st Place and Telephone 1st Place
Just three years ago, Handyman Connection, based in Cincinnati, Ohio, was tied up in legal disputes and wasn't even franchising. "Things finally settled down during 2004," says Scott Oaks, director of franchise development for Handyman Connection, "and we conducted an extensive survey of our existing franchisees to help develop a solid prospect profile." He says from that point, the company became more focused on who it was trying to reach and how best to reach them. Oaks says they also hired a consultant to help them plan growth strategies. Today, there are 110 franchise owners covering 165 markets in the U.S. and Canada. System-wide sales topped $73 million last year.

"We determined that the lifestyle that Handyman Connection offers franchisees is a very important part of the recruiting equation," says Oaks. They also determined that they were looking for "business managers not hammer and tools guys." Another strategic angle for the company was to work more strategically to build the brand, which ultimately builds value. All of this information was considered, and the company revamped and launched its new web site about a year ago. The new initiative focused on increasing search engine optimization, and utilizing Internet portals such as franchisegator.com.

But beyond that, the company's web site now provides the information to make it easier for prospects to determine if the Handyman Connection would be a good fit for them. There are testimonials, FAQs, listings of available markets, and a full franchise application. "We want to give people enough information on the web site to literally qualify themselves," says Oaks. When prospects complete the online application, they receive auto-emails and are given an initial call-usually within 24 hours. Other emails follow, as does an information packet.

Oaks says the company gets between 150 and 200 leads monthy; about 70 percent of the leads come through their web site. The other 30 percent are attributed to the phone, referrals, and word of mouth.

It was a two-fisted STAR Award for Handyman Connection this year, as the company also nabbed the top award in telephone recruiting. Oaks modestly says, "I don't think we really do anything special with our phone recruiting, we just simply make it a rule to get back to all prospects." Indeed, interaction with prospects is a big part of the process for Handyman Connection. Incoming calls are forwarded directly to Oaks, and he says it's not uncommon to spend 45 minutes on the phone with a prospect. "It's not just us asking them qualifying questions, we take the time to answer all of their questions as well." He says they always try to get back to prospects the same day, even if that means staying until 7 p.m. that night.

Oaks says they are looking into new technology tools for tracking their leads, and that they are planning to hire another sales person next year.

"We use a low-pressure, high-touch approach," Oaks says. "We want to reach every prospect. If they've taken the time to look us up and seem interested, we need to respect them enough to respond."

Volvo Rents - Overall 2nd Place
Asheville, N.C.-based Volvo Rents is a little more selective than most franchise organizations when it comes to recruiting. "We have a capital-intensive requirement that is usually only feasible and attractive to big investors," says Ed Benizzi, director of sales, North America. As a result, the company takes a different approach to identify these niche leads.

Volvo Rents has been franchising for only about five years and has 67 franchise units spread throughout North America. Benizzi says they receive anywhere from 80 to 90 leads per month. Most of the leads are driven by advertisements for well-heeled readers of such publications as the Wall Street Journal and Barron's. But, he says, trucking industry conferences and trade shows are another strong tool for attracting the attention of qualified prospects.

Those who contact Volvo Rents through its web site and complete a short pre-qualification form will receive a follow-up email or phone call the same day. Benizzi says that as many as 30 percent of the incoming leads are not going to qualify financially. For those who do, he says, "Our goal is to get back to those prospects within an hour."

A two-person sales department is the linchpin of the recruiting operation. "We have two people who do a fantastic job making that first impression on the phone," he says. "They are genuine, positive, encouraging, and they really make the prospects understand how important they are to us." He says they average 32 minutes per call with prospects.

"That's an important time on the phone. We're giving info and getting info," he says. "And importantly, we're not selling, we're qualifying."

All captured data is entered into a web-based contact management system where it can be tracked and proper follow-up assigned and managed with daily and weekly reports. "We like to say we follow the candidates from birth through growth," says Benizzi.

TRC Staffing Services - Overall 3rd Place
For most of this decade, TRC Staffing Services did not even franchise. But when the company decided to start again about two years ago, they turned their focus to the Internet. "We use five of the portal services and a third-party company that does 'e-blasts' for us," says Brad Chesin, senior vice president of TRC Staffing Services.

That outside vendor, he says, uses email lists of human resources managers throughout the country and promotes TRC to those individuals through systematic marketing emails. The technique is providing results: Chesin attributes about 70 percent of his leads to the e-blasts approach.

Once directed to TRC's web site, prospects can review FAQs, examine available markets, and request information (through a quick pre-qualifying form). Chesin says it's not uncommon to get 400-500 leads a month, although only a fraction of those wind up qualified. "We probably get 25 qualified leads each month," he says.

For those prospects who call the company's 800 number, each call comes into the main office in Atlanta, where Chesin and his staff try to personally catch each one. "We have a rule: if we miss a call, we must attempt to contact that person before sundown that day," he says. It's part of his philosophy that everybody deserves a response.

"We've been successful using the Internet and related technology," says Chesin. "But I think franchisors should not be afraid to try it all-print, Internet, brokers, whatever." TRC currently has 19 company-owned stores, 30 franchise units and annual sales of $300 million. He encourages others to frequently attend franchise industry conferences where they can identify trends and learn more about successful recruiting techniques.

"Recruiting is probably a little easier for us because we're still relatively small," he says. "We try to spend a lot of time on the phone with each individual. It's the beginning of a relationship." One of their goals, he says, is to make a good first impression with everybody they talk with-because even if that prospect doesn't work out now, they might later. And, he points out, they may refer an acquaintance to TRC because of the professional and punctual treatment they received.

Spring-Green - Internet 1st Place
"We were third place in the Internet category in last year's STAR Awards," laughs James Young, president of Spring-Green, "and I joked that I wanted to be first place next year...and we were."

The Plainfield, Ill.-based company, with 69 franchisees in 114 territories in 23 states, has invested a great deal of thought and planning in its Internet tools. The company relaunched its franchise development web site last year. Strategically, they keep a separate web site for end consumers, and another for prospective franchisees. "We felt like it was important to make the web site relevant to the right target," says Young. "That's why we created a separate URL for lawn customers and another for franchise development."

Getting prospects to the web site is half the battle. That's why Spring-Green uses franchise portals like franchisegator.com and franchisesolutions.com. The company also invests in search engine optimization and understands the importance of meta tags, which help search engines index web sites (see glossary, page 41). As percentages, Young estimates 40 percent of leads arrive from the portals, 20 percent by phone, 20 percent from "organic" listings (such as Google, Yahoo, and MSN), and another 20 percent through pay-per-click advertisements.

Young says a web site should put your best strengths forward. "We try to use imagery to convey who and what we are and what we do. We want the prospects to be able to see themselves in our brand," he says. Streamlining the site, filling it with good content, making it easy to navigate, and having it all funnel down to a call to action are imperative components, he says. "However, you don't want to give too much information-just enough to whet their appetites. You want a call to action, you want a conversation." He refers to this approach as "an invitation to have a conversation."

Like many, Spring-Green uses a short pre-qualifier form that asks some basic questions and lists some minimum criteria. "When we get leads we make at least two phone call attempts within the first 24 hours," he says. And he's found that if they can't reach a lead within five days, they were just tire-kickers.

For qualifiers, follow-up emails go out. Young can track those, tell when they were opened, what the prospects read, and what links they may have followed. A contact management system keeps track of the candidates and where they are in the process.

Young says it's important to continually test and re-test the lead generation and recruitment tools and techniques you're using. "We're constantly looking outside of what we do each day to determine if there's something we can do better," he says.

"At the end of the day, you want good leads that convert to sales."

Each of the winners in this year's STAR Awards agrees that, just as in football, fundamentals are what make them successful. Getting your message out effectively, delivering the right information, and quickly getting in touch with prospects are all necessary fundamentals in successful franchise recruitment.
Published: March 27th, 2007
Share this Feature
Recommended Reading:
Comments:
comments powered by

Disqus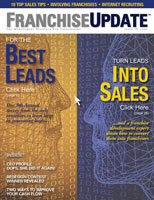 Franchise Update Magazine: Issue 4, 2006
Conferences
InterContinental, Atlanta
OCT 18-20TH, 2023
Our franchise management software helps increase unit growth, reduce opening time, track and improve unit performance, automate financial reporting...
UMI has over 23 years of experience supporting fast-growing multi-unit brands. From strategic planning to design, execution to analysis, UMI...