2013 Annual Payments Review: Digging Into Trends and Looking Ahead
For the third consecutive year, FPN is reviewing the previous year's sales trends in the franchise space. While not encompassing all of franchising, FPN does have real data on the 150-plus franchise systems that endorse us for our various products and services, which gives us a good snapshot of trends in franchising and the economy in general.
In a year when the economy has been sputtering along with sales fairly flat, the holiday sales period was critical, as always, to merchants looking to end the year strong. November saw same-store sales growth of 4.5 percent over 2012, but in December that gain dropped to 2.9 percent over 2012.
Black Friday got things moving on a positive note, with most analysts reporting in the +3.4 percent area over 2012. But with a short selling period (Thanksgiving was late and Chanukah was early), many consumers seem to have made most of their purchases in the first two weeks after Black Friday.
Small Business Saturday (which for the first time welcomed franchise-owned businesses from chains smaller than 100) and Cyber Monday were also up 4.8 percent. Then things seemed to level off, with Christmas week flat against 2012, and the previous week down 2.4 percent.
One interesting development is what people were actually doing on Christmas Day, once all of the presents were opened and the Chinese food delivered: they were shopping on their mobile devices! If you received a new smartphone or tablet as a gift, the chances were pretty good you were using it on Christmas to shop: 48 percent of all online traffic that day was holiday shoppers, up 28.3 percent over the previous year; and actual purchases made were up 29 percent over 2012.
Although smartphones drove 28.5 percent of the total traffic (compared with 18 percent for tablets), more people were actually making purchases from their tablets: 19.4 percent, more than twice the 9.3 percent from smartphones. Tablet users also spent an average $10 more per purchase than smartphone users.
Apple still seems to own the commerce piece of the mobile buying pie. Of all purchases made, 23 percent were made from an Apple device, with only 4.6 percent from Android users.
Breaking it down
Let's look at some of the segments in the franchise space for 2013 as a total. (Please remember that the numbers below are just a snapshot of what was presented using credit or debit cards; FPN does not gather information on cash or paper checks.)
| | | |
| --- | --- | --- |
| Sector | 2012 | 2013 |
| QSR | +16% | +12% |
| Dessert | +28% | +15% |
| Services | +9% | +11% |
| Restaurant | +7% | +8% |
| Home healthcare | +5% | +3% |
| Salons | Flat | +2% |
The leader again in 2013 was the QSR sector, which was still being driven by the dessert segment (which I broke out into its own category again this year). The dessert segment was also the leader in actual number of new units and percentage of new units opened in 2013. Fine dining and casual seemed to have stabilized last year after several difficult years.
The salons sector (hair salons, tanning, spa, and massage) continues to lag a bit, but is showing some signs of growth. The services industries continue to grow, driven primarily by mobile processing, as technicians in the field are rapidly adopting new technologies that allow payments to be made in the home or at a job site by swiping a credit card on a smartphone or tablet.
Compare all these figures with what will likely be a GDP of around +2 percent for the year.
Prepaid cards, as a percentage of all payments, were up 7 percent over 2012 and continue to outperform all other payment types. Credit card payments were steady at 4.9 percent, debit payments slowed a bit from the previous year to 6.2 percent, and checks continued to drop at 4.9 percent.
Technology continues to drive payments. Mobile of course is the biggest driver of new payments acceptors, and I look for mobile to become even "more mobile" in 2014. For the past few years, we have all been focused on taking payments from smartphones and tablets. Those methods will no longer be considered leading-edge, but more the standard. I would look to smart watches, and whether a winner emerges in the mobile wallet app space.
But not to worry: all of this new technology will not mean huge changes in the back office of how payments are accepted, just in the method of interaction with your customers.
Tom Epstein is CEO and founder of Franchise Payments Network, an electronic payments processing company dedicated to helping franchisors and their franchisees improve system performance, increase revenue, and reduce expenses. Contact him at tomepstein@franchisepayments.net or 866-420-4613 x1103.
Published: May 22nd, 2014
Share this Feature
Recommended Reading:
Comments:
comments powered by

Disqus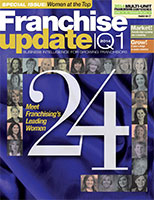 Franchise Update Magazine: Issue 1, 2014
Conferences
InterContinental, Atlanta
OCT 18-20TH, 2022
Our franchise management software helps increase unit growth, reduce opening time, track and improve unit performance, automate financial reporting...
Bring Order to Your Business. All-in-one management, print, and design solutions at your fingertips, on one platform