2020 Mega Growth MVP Award Winner Shirin Kanji Builds for the Long Term
Shirin Kanji, the 2020 Mega Growth MVP winner, is president and CIO of Impact Properties, which operates 74 Rent-a-Center, 2 Neighborly brands, 2 Marriott, 1 Hilton, 1 Hyatt, 5 Carstar, and 3 BurgerFi locations. At 41, he's been in franchising for more than 15 years. He began franchising with Rent-a-Center in 2015 and became the brand's largest franchisee in just 3 years.
Kanji is quick to point out that Impact Properties is a family business. "Our goal is to build long-lasting businesses across a diversified portfolio of industries that can leverage our long-standing business operating and franchise model execution capabilities," he says.
Impact recently developed a new Hyatt Place and Conference Center hotel that provides the first professional grade event space in the Wesley Chapel market of Florida. He's also worked on an AC Hotel (Marriott) as part of downtown Jacksonville's revitalization efforts, along with another hotel development project to build a Marriott Courtyard hotel near the Mayo Clinic. Impact Properties has won Marriott's Design of Excellence Award for hotel development and been awarded the Key to the City in Tampa for a groundbreaking hotel development project helping to revitalize an urban core.
Kanji, who firmly believes Impact's biggest asset is its people, says they are the key determinant in the company's long-term success. That's one reason he's made it a point to offer more flexible work schedules, increasing pay rates and benefits, and incentive compensation packages across the board.
PERSONAL
What are you reading? Favorite business books? How To Be Idle: A Loafer's Manifesto by Tom Hodgkinson was a fun read on how to slow life down and how society's perception of relaxing has changed through the years. Fascinate: How To Make Your Brand Impossible To Resist by Sally Hogshead (revised & updated) was a refreshing take on the marketing/ad side of business relevant for all brands and services. The Unbanking of America: How the New Middle Class Survives by Lisa Servon was an illuminating take on changes in the financial services landscape from the actual customers' perspective.
What's your passion in business? Giving our people the tools and resources they need to succeed in their careers and watching them flourish in that journey.
MANAGEMENT
How close are you to operations? Given the breadth of our portfolio, we have been very mindful of how we structure our support and allocate resources in the company. For us, it's important to allow our field-level management to do what they do best without getting in the way – but also at the same time provide the guidance and support they need as obstacles arise. It's taken some time, but we've gotten into a good rhythm that prioritizes clear and direct communication with a focus on specific key priorities for each respective business unit. Our goal is to chip away at these bite-sized priorities on a weekly and monthly basis before adding anything new to the mix. This enables us to stay close to operations at a granular level and have a true pulse of what is going on in each business… without getting in the way or risking the dreaded "micromanaging" that can occur as businesses scale.
COVID-19
What have been the biggest impacts of Covid-19 on your business? As with all businesses, it has been a very challenging period for us adjusting to the operating impacts from Covid-19 across our portfolio of industries. Ultimately, we have arrived at a service model that takes care of our customers and team members to provide each the utmost safety, while also delivering the convenience and experience each expects. This of course is a fluid situation and will likely change in the months ahead. Our senior management team and field-level leaders have done a great job being adaptable and doing the best given the situation.
BOTTOM LINE
Annual revenue: $100 million.
2022 goals: 10%-plus same store sales increase at the portfolio level.
Growth meter: How do you measure your growth? Same store sales comps and EBITDA growth.
Vision meter: Where do you want to be in 5 years? 10 years? As a family business our vision is always long term. As a result, we strive to partner with the best brands in their respective industries and build out our markets to scale for long-term success.
What are you doing to take care of your employees? In the current environment, we have been aggressive in improving our compensation programs to retain and attract the best for our collection of businesses. This has included offering more-flexible work schedules, increasing pay rates and benefits, and incentive compensation packages across the board.
What kind of exit strategy do you have in place? We are fortunate in that as a family business there is no "exit" in the traditional sense. Our goal is to build long-lasting businesses across a diversified portfolio of industries that can leverage our long-standing business operating and franchise model execution capabilities.
MVP QUESTIONS
Why do you think you were recognized with this award? There are many strong multi-unit franchisees out there growing their respective businesses at a high level. It's an honor to receive this recognition among that company. We have been fortunate to have partnered with the right brands for many years now and been able to develop a great team that keeps our customers happy on a daily basis. That's all we can ask for given the circumstances of the past few years.
What core values do you think helped you win this award? Something my father and the other long-standing members have always instilled in me and our entire organization through the years is that we always start with the customer and work our way outward from there. As a business owner and operator, our customer is our team members at the field level. If we can take care of them by providing meaningful careers with upward mobility, regular training and skills development, and great benefits and compensation packages, there is no doubt they will be able to execute the franchise business model at a high level. Once we can get this part right, only then can we really take care of our customers that come into our locations expecting great service each and every day.
How important is community involvement to you and your company? As a family business, we strive to embed ourselves within each community we operate in as we plan to stay there for the long term. This can range from supporting local charities and community organizations to hosting back-to-school supplies giveaways and fundraisers in our stores. Some of our best community involvement ideas have come from our field-level team members, and we love participating in these events.
Published: September 9th, 2021
Share this Feature
Recommended Reading:
Comments:
comments powered by

Disqus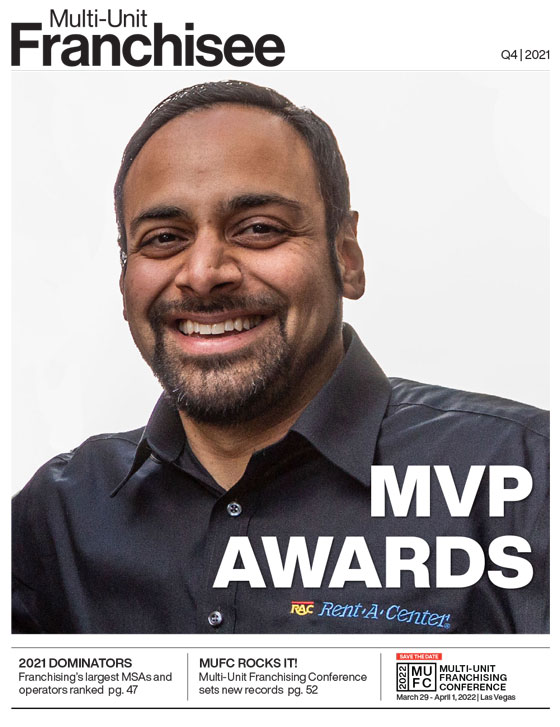 Multi-Unit Franchisee Magazine: Issue 4, 2021
High AUVs + 8-hour operating days in a food category that's not oversaturated = an eggs-straordinary life.
There's nothing quite like the perfect cup of coffee. It wakes you up and gets you on the right path. Now, you've got the chance to build a lifestyle...
Cash Required:
$150,000