5 Leadership Strategies To Foster Employee Satisfaction During Covid-19
The Covid-19 pandemic has been a challenging time for most businesses. Franchise leaders know this better than most, as they've been required to display continuous flexibility and a willingness to overcome even the most difficult challenges. Whether it's forced closures of gyms, converting parking lots into outdoor dining spaces, or adopting a revised delivery model, nearly every franchise has felt the impact of this pandemic.
But just as we've seen organizations change to fit this new normal, business leaders also have had to evolve to best support their employees during this time. Simply put, the happier and more well-managed your workers, the better service they provide to your customers on a consistent basis. While there's no rulebook for leading during a pandemic, the following strategies can help to mitigate challenges, while opening new avenues for worker satisfaction.
1) Communication. This is often repeated but cannot be overstated: During a time of misinformation and doubt, communication is absolutely key. For franchise leaders, consider instituting weekly updates in the form of email or video messages on what you're seeing with the impact of Covid-19, your outlook on the future, and actions the business is taking to adapt. By sharing what you are thinking and seeing, you open the lines of communication for employees to express any concerns or challenges they are having as well.
2) Transparency. Of equal importance is the need for transparency. At Snagajob, we provide the entire organization with full visibility into our weekly operating and financial metrics, as well as opportunities to ask questions about how the business is performing. Don't be afraid to be up front about any challenges the business is facing and the reality of the current situation.
3) Time off. Workers have been logging longer hours and picking up shifts to make up for wages lost during the outbreak of Covid-19. As a result, it's imperative that franchise leaders look to reduce burnout and support their employees' mental health wherever possible. To achieve this, consider providing additional paid time off (or even closing shop for a specific day) to give employees a much-deserved break and opportunity to recharge.
4) Connection. Happy hours and other in-person activities might be out of the question, but that doesn't mean employees won't appreciate a chance to connect and bond as a team outside of their daily routines. At Snagajob, we launched our own SnaggerU "Home" Edition, featuring classes building on the diverse talents of our colleagues on topics such as grilling, yoga, and cooking. While this might not be achievable for all organizations, I'd encourage leaders to look for opportunities to safely foster teamwide connection outside of regular working hours.
5) Flexibility. This has been an incredibly hard time for all workers, especially those supporting families while working in the challenging conditions of the pandemic. Recognizing that many employees are juggling work while their kids are at home, consider providing flexible scheduling options. Each worker's situation is different but, when possible, a willingness to adapt to their availability and needs not only will help create happier employees in the short term, but enhance recruiting and retention in the long run.
In adversity lies opportunity
One of my favorite quotes is, "In adversity lies opportunity." This pandemic has created a seemingly endless list of new problems to tackle. However, as I've told my team here, it has also provided equal opportunities to overcome these challenges and become more effective leaders.
Each day, our customers and their workers are on the front lines accomplishing critical and difficult tasks, while still dealing with fluctuating regulations, changing consumer expectations, and an overall lack of consistency in their day-to-day operations. More than ever, these employees need effective and coordinated leadership to help enhance their work lives, improve morale, and support them during a time of great uncertainty and stress.
Leading with empathy and compassion will go a long way with employees and ultimately help sustain your business, now and in the future.
Mathieu Stevenson is CEO of Snagajob. For more information, visit snagajob.com.
Published: September 22nd, 2020
Share this Feature
Recommended Reading:
Comments:
comments powered by

Disqus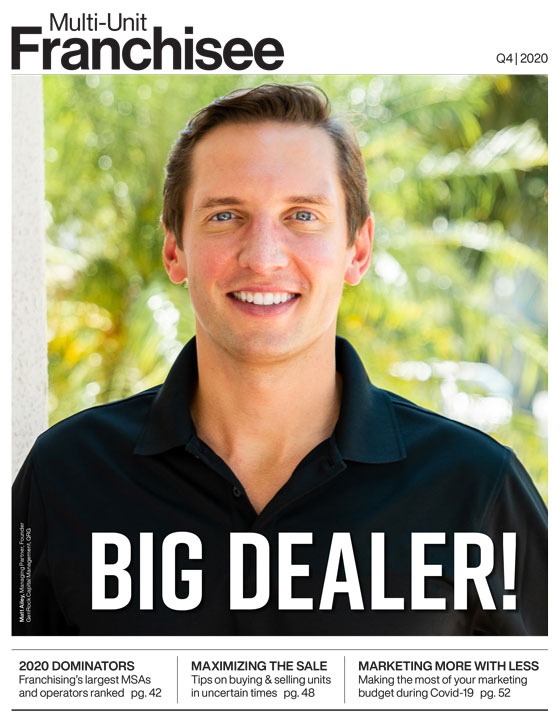 Multi-Unit Franchisee Magazine: Issue 4, 2020