99 BIG Franchisees: Jeff Rogers
Work Hard, Play Hard

Name: Jeff Rogers
Title: CEO
Company: Heartland Food Corp.
No. of units: 248 Burger Kings
Years in franchising: 30+
Years in current position: 2

For a man who values family so highly, Jeff Rogers has accomplished a lot in the world of business and franchising. He's been at the top of his class in advertising, winning numerous awards; a turnaround specialist advising troubled companies (more awards); and has taken the helm at more than one struggling franchise company, where he worked his magic to transform a loser into a winner (yes, more awards, including 1997 Turnaround Entrepreneur of the Year from Inc. magazine, IBM, and Deloitte.)

So what's his "magic"? Hard work, compassion, playing by the rules, and expecting the best from himself and his employees could sum it up.

Rogers began his career in the marketing and advertising business. He soon moved into franchising as chief marketing officer at IHOP and then Bonanza. Soon after joining Bonanza, he was named CEO and president of the 350-unit, financially troubled chain. In five years, Bonanza grew from 350 to 650 units, doubled average unit comp sales, and was listed on the NYSE, and was sold to Metromedia.

After some short-term turnaround assignments with other Texas-based restaurant companies and local nonprofits, Rogers was hired by the creditor's committee as CEO/president of the bankrupt Pizza Inn, where he oversaw development of a $130 million Chapter 11 reorganization with full recovery for all parties, including shareholders. He stayed with the company for 12 years as controlling shareholder, expanding the chain from 280 to 550 units in 22 states and 18 countries before selling his ownership position.

His proven talent for turnarounds led Rogers to join Corporate Revitalization Partners, where one of his projects was to assess troubled Burger King multi-unit franchisees for the Texas Pacific Group, Burger King's parent. This assignment led him to Heartland, where, in December 2003, the company purchased 248 Burger Kings out of Chapter 11. Recruited as president/CEO by Heartland's chair, Al Cabrera, to run the company, along with Steve Wiborg as COO, Rogers worked his magic again: In the third week of operation, Heartland recorded its first positive comp sales week since 1999, and has continued its winning ways. In 2005, he received the Burger King Brand Leadership award from among 11,000 franchisees.

Modesty and printer's bills prevent us from going on at length, so let's hear what Jeff Rogers has to say about his career in his own words:

Biggest mistake? Waiting way too long to learn how to balance work with the priority of family; now trying to make up for lost time with my kids.

Smartest mistake? Having a couple of drinks with the chairman of the company I worked for long ago (I was a junior executive) and being naive enough to tell him I wanted to be president someday. He sent me back to MBA school, tested my determination for two years, and named me president the day I completed grad school.

Management method or style? Complex: partly into details while trying to teach others to delegate. Most important, setting a work culture based on accountability, honesty, and self-respect.

How do you do it? If you are willing to work alongside your employees at all levels, can relate on a level of equality, motivate and reward, and have some fun, business works.

How will you continue to do it? Success equates to opportunity for growth for any employees who can apply themselves. We capitalize on that belief and reality. Our company is filled with committed and confident men and women who like to win.

How do you hire and fire? Be inclusive when making the decision to hire staff personnel so their co-workers will buy into their success. Store staffing decisions are made by our extremely talented COO, Steve Wiborg, and his ops management team. Although most believe otherwise, all terminations are taken very personally. But if warranted, it is a job you cannot delegate.

How do you find good people? Good people attract the same. A competitive environment, sharing success, giving recognition, and most important, paying people what they are worth sets the stage for employee stability and allows for careful selection of new staff. A culture of mutual respect, free of drugs, discrimination, and harassment keeps good people. We develop them through training and constantly challenge them to develop additional skills and work experience for their own career development.

How do you train them? In addition to the basic required job skills of the position, we preach people skills and use our own experience to mentor them to new responsibilities and achievement.

How do you retain them? People skills and customer relations are our focus daily and in formal training sessions. We try to relate without egos to share goal-setting skills and explain why what we ask them is essential. Our staff knows we appreciate their contributions to our success.

How close are you to actual operations? Can I make a Whopper? Sure. But just being in the stores, especially ones far from the home service office allows them to know me better and me to see their needs, achievements, and pride in the job they do. This business depends on our store staff's execution of customer satisfaction; we need to know how support them in that job.

How does size of franchise matter? Well, anyone who doesn't mention more money the bigger you are should be given a lie detector test. In addition, my personal job satisfaction is based on our growth pace, both in units and sales, and creating a business where people want to come to work. At the end of the day, however, the company's financial success in meeting or beating our investor's expectations is the direct benefit of growth in size.
Personal
How do you spend a typical day? Walk-around management. I get involved in all aspects of the business. Eighty percent is on the phone, but every day is different. I reinforce mentoring and training of key people to execute and provide support for them. If I go to the stores it's to make the restaurant's employees get to know and be more comfortable with the company. I just completed a training class with 25 new employees and talked basically about how to succeed in your career personally, and what this company expects in terms of culture and integrity--things like that. Basically talking to people, whether it's in person, on the phone, or by email.

Favorite activity? Making my wife's and children's lives secure and fun. (Corny, but eventually everyone discovers that golf isn't in that same league.)

Exercise? If you saw me, you would know that is not at the top of my priorities, unfortunately.

How would you describe your personality? I have a complex personality, in the sense that I try to put myself in the position of the situation and the people I'm dealing with, and attempt as much as possible to relate directly to them. I've been known to have a very good sense of humor as well as to be a fairly strict disciplinarian on certain business fundamentals. I know how to have a great time, I know how to dive in on problems and get them solved, and I know how to step up to the plate when the company is facing tough issues and not shirk responsibility. I'd describe myself as a good leader.

Advice? My father would teach me that there are some people who don't want to grow in a career. They're very happy having a balanced work and home life, and you shouldn't disrespect them just because they pump gas or just because they have any job. You have to identify the people who are really committed to wanting to grow, and make sure you're not forcing people into your stereotype that you perceive yourself to be.

Greatest challenge? Keeping a "team" feeling among staff, not allowing individuals to succeed at someone else's expense. Teaching staff to be willing to do what it takes, even if it means helping a swamped payroll department stuff envelopes with W-2's! (Yes, I do it.)

What do you do for fun? Do I have to admit I am old enough that I have three grandkids I love? Finding escapes with my wife free of stress.

2006 goals? Aside from the obvious standard financial goals that we set for ourselves, I try to avoid being satisfied just meeting, not beating, any goals set.
Published: April 4th, 2006
Share this Feature
Recommended Reading:
Comments:
comments powered by

Disqus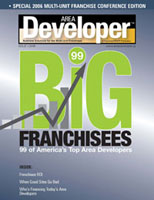 Multi-Unit Franchisee Magazine: Issue 1, 2006
Demand for The Bar Method continues to grow as more people discover the benefits of a barre-based workout and feel the empowerment after each...
Cash Required:
$125,000
At Nautical Bowls, we combine healthy, fresh superfood bowls with an uplifting atmosphere, giving you energy to life a full life! Our goal is to...
Cash Required:
$100,000