99 BIG Franchisees: Tommy & Donna Haddock
Sticking with what works
... and keeping up with Bojangles growth

More than 26 years ago, North Carolinians Tommy and Donna Haddock bought their first Bojangles' franchise. Things worked out so well, with him taking care of store operations and her working on insurance, workers comp and other "bureaucratic red tape," that they've never felt the need to try another franchise organization.

In 2006, they have 36 Bojangles' units and about 1,500 full- and part-time employees within an 80-mile radius of the Research Triangle Park region of Piedmont North Carolina. They plan to continue opening an average of two new units per year for as long as the busy area enjoys chicken and biscuits. "I think that, as fast as this market's growing, every new unit we open, we're always going to be several stores behind," Tommy says.

When the Haddocks started with Bojangles', they were young and so was the franchise.
"It's just worked for us, and it's a concept that hasn't changed a lot. We do the same things we did 26 years ago; we just try to do them better," says Tommy.

Solving people problems has been key to the success of Tri-Arc Food Systems, Inc. "We have lots of long-term employees who have found careers with us--not just jobs. We have done a good job in helping our people buy into our system of management, and our managers earn equity through our commission system," he adds. "The thing we strive for most is really keeping the lines moving. No one likes the term 'fast food' anymore, but we're trying to keep the 'fast' in our food or the 'quick' in quick-serve."

Chicken and biscuits must be in the blood: The couple's son Justin, at about the same age as his father was, just became an area developer, signing on to open six restaurants in northern Alabama by the end of 2009. "He knows more at his age than I did," grins Tommy, who admits he's technologically challenged. And Justin also has had the advantage of watching his parents, whose units average about $2 million in annual sales, do it very well. "Well, the thing about teaching," drawls Tommy," is that sometimes you teach what not to do, as well as what to do."
Published: April 4th, 2006
Share this Feature
Recommended Reading:
Comments:
comments powered by

Disqus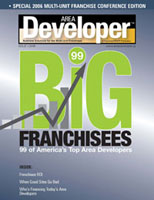 Multi-Unit Franchisee Magazine: Issue 1, 2006
Make your mark on the billion-dollar esports industry while making a positive impact as a franchise owner!
Cash Required:
$50,000
On a mission to provide the most exciting Nashville Hot concept in the fast-casual space, The Budlong combines timeless southern flavors with...
Cash Required:
$150,000