MOD Squad: She Saw a Need and Created a Brand (Twice)
Ally Svenson, co-founder of MOD Pizza with her husband Scott, is no stranger to starting and growing a business. When she lived in London in the 1990s, she missed her Seattle coffee--so they founded Seattle Coffee Company in the U.K., eventually selling it to Starbucks. Back home in Seattle she searched for "fast, affordable, real" food for her on-the-go family of four active boys. Not finding anything that met her expectations, she and Scott founded fast casual brand MOD Pizza in 2008. Today, with more than 100 locations, the dynamic duo is set to go back across the pond to the U.K., part of their plan to open more than 100 new stores per year. As the saying goes, "If you see a niche, fill it."
Name: Ally Svenson
Title: Co-Founder, Head of Brand
Brand: MOD Pizza
System-wide revenue: $60+ million (2015)
No. of units: 16 franchised, 108 company-owned
International units: None, expanding into the U.K. in 2016
Growth plans: Open 100+ stores annually for the foreseeable future
Public or private? Private
Year company founded: 2008
Year started franchising: 2013
Your years in franchising: Since September 2014
Starting Out
What inspired you to start your business?
Scott and I have four active boys and we are always shuttling them around to sports practices and other activities. Like so many busy families, we struggled to find options for fast, affordable, real food while on the go. We saw a need that we were sure was shared by other families like ours, and we were inspired to offer pizza in a way that no one had before. Once we launched MOD in 2008, our employees and communities really started to embrace our brand, and we have all become quite motivated to share the MOD culture in new communities throughout the country.
What's the best and worst advice you got when starting out?
The worst advice was probably hearing, years ago, that if nobody else was doing it, it probably won't work. One of my favorite bits of advice is that you can't do everything, but you can do anything.
What has been the best and the hardest thing about being an entrepreneur?
When we started our first business, Seattle Coffee Company in the U.K., we both left our stable jobs and jumped into the world of entrepreneurship--so exhilarating, yet terrifying at the same time. At that point, failure was not an option. With so much at stake, this can be one of the most difficult parts of the journey. The pressure can feel immense. However, it taught us how incredible things can be accomplished when you decide failure is off the table. Seeing your vision become a reality and then watching it grow beyond your wildest expectations is the best part of the entrepreneurial journey. And growing a business is a journey, so it is important to stop and enjoy it along the way!
What were you doing before this and how did it prepare you for starting your business?
In the '90s Scott and I founded Seattle Coffee Company in the U.K. We had been living and working in London, and I spent a lot of time yearning for the coffee experience we had back in Seattle. After bemoaning the fact for several years, we decided to take the plunge and do it ourselves. I left my job in publishing and we opened the first Seattle Coffee Company location in Covent Garden in London in 1995. Scott and I built the brand, slowly, from scratch and grew to 69 locations throughout the U.K. We were preparing to take the company public when we were approached by Starbucks, which acquired our business in 1998. We remained involved with Starbucks for a couple of years before returning to Seattle.
     Just before starting MOD with Scott, I was busy raising our four boys, along with being involved in multiple community organizations. The year before we started MOD, Scott and I were deeply involved with Hopelink, an amazing organization based in the Seattle area that assists families in crisis and gets them on the road to achieving self-sufficiency through various services and programs. It was one of the most inspiring and eye-opening years of our lives, and it certainly affected our decisions when building MOD. We knew that we wanted to build a company that makes a positive difference in lives--for both our employees and the communities we serve.
     We also have been fortunate to have some amazing key employees and advisors who joined us and who have helped us tremendously along the way. MOD has taken on a life of its own, due largely to the incredible contributions and influences of many special people.
Why did you choose franchising?
Initially we weren't considering franchising. But we were fortunate enough to have some incredibly experienced friends around us as we were building the business who advised us to take a serious look at it--guys like Paul Twohig (president of Dunkin' Donuts U.S. and Canada, former SVP of Starbucks) and Jim Alling (CEO of TOMS Shoes, former president of Starbucks International). Once we knew that the MOD concept was sustainable and scalable, we took our time to find the right leader for this part of our business, and we were lucky to have John Dikos join us as vice president, strategic partnerships. We knew we wanted to keep the number of franchise partners limited to all being able to sit around the table together. Second, we knew we would need strong philosophical alignment around what's important to the MOD ethos and culture. Last, in 10 years, we would want each of them to say that partnering with MOD was the single best decision they made for their organizations. It's a big goal, but something we think is achievable. Our partners we have helping us grow MOD are truly incredible. We spend as much time together as schedules allow, and we always enjoy seeing them. We were together here in Seattle just a month ago and it felt like family. We're very fortunate to have each of them.
Growing The Brand
How did you grow the brand at first? What changed as you expanded?
We consciously grew the brand very slowly in the first few years, taking time to fine-tune the concept and the customer experience. When we opened the first MOD, fast casual pizza did not exist. So not only were we building a new business, we were creating a new category. We were very committed to learning and understanding everything about the opportunity. Once we were sure the concept was valid, we began building our teams to support the rapid growth we are now undertaking. Today, seven and a half years later, we have many competitors and fast casual pizza is now one of the hottest concepts in fast casual dining. We are moving full steam ahead with our growth, both in the U.S. and internationally. Last year we grew from 31 locations to 92, and in 2016 we anticipate adding an additional 100 stores in the U.S.
How did you transition from founding a brand to leading a brand?
Scott leads our business on a day-to-day basis. My role is gatekeeper for the brand, and I try to make myself available to provide perspective, support, and advice for Scott and anyone in our organization as we continue to grow and evolve.
How would you describe your leadership style?
I hope (and certainly aspire!) to be a servant-leader. My goal with MOD (and my family) is to help support the people around me to be the absolute best version of themselves.
Personal
What does your typical day look like?
6-8 a.m.: Up to prepare big breakfasts, lunches, sports bags for the three boys (our oldest is away at college) and drive carpools.
9 a.m.-2 p.m.: Meetings at the office or conference calls from home. My time is split between brand and marketing, PR, store design, meeting with potential candidates, and executive meetings.
3 p.m.: School pick-ups and sports drop-offs begin. 4 p.m.: Swing by MOD to pick up pizzas and salads and take a few moments to connect and catch up with the MOD Squads.
7 p.m.: Join Scott for the tail end of dinner meetings with new potential partners. 8:30 p.m.: Finish homework, start bedtime routines, try to wrap up unfinished business from the day.
What are your top 5 favorite things to do?
Be with my family, talking and connecting with a loved one or a dear friend, making a difference or helping someone, witnessing kindness, love.
3 key words to describe yourself:
Grateful, caring, loved.
How do you maintain a work/life balance?
My greatest focus is to make sure that the people who are important to me know and feel how much I love them. Focusing on that dynamic helps me create my work/life balance.
Are you involved in any female entrepreneur organizations?
Not currently, but only because I don't have enough hours right now between my work, family, and volunteer commitments. However, this is definitely something that I would love to commit to in the future--one in college, three to go!
Was being female an advantage or disadvantage for you in building your company? How?
I am a mother of four active boys, so in many ways I am one of our target demographic. Having the lens of a working mom has been helpful as we've evolved the brand. I am also used to the world of juggling various deadlines and responsibilities. In many ways, MOD continues to feel like a family business, and Scott and I want to keep it that way. As a result, MOD has evolved into a lifestyle brand. Our boys and their friends act as a focus group for MOD on a regular basis!
Have you found specific advantages or disadvantages to being a woman business owner?
Our business has always been a "team effort" with many contributors. I feel lucky that I've been able to bring my perspective as a woman to the table, surrounded by many other perspectives. I believe our business (and every business, for that matter!) needs a female perspective. I also believe that MOD wouldn't exist without Scott. We are a team!
What has been your biggest challenge as a woman entrepreneur?
Finding enough time each day to juggle the challenges and opportunities of work with the needs of our active family at home.
What do you think is the biggest issue for women in the workplace?
Finding the right balance and coming to terms with the compromises required to strike this balance. I feel so lucky to be surrounded by a great and supportive network. The absence of this would really challenge my ability to make a mark at work.
Lessons/Advice
What in your opinion, is the key to your company's success?
Our people. That is our number-one focus and certainly our "secret sauce." We know that if we take great care of our people, they will take care of our customers and the business will take care of itself.
What's the most important lesson you've learned so far?
Personally and professionally, it all comes down to the people you surround yourself with. At the end of the day, there is simply nothing more important than the people and relationships in your life.
If you could do one thing differently, what would it be?
I feel so lucky and grateful for everything in my life. My only regret is not taking enough time to really slow down and enjoy important moments. I'm working on getting better at this now!
What's the best piece of advice you have ever been given?
Take time to enjoy the journey.
What advice would you give to other women considering starting their own franchise brand?
Make sure you care deeply about what you are doing and surround yourself with amazing people who inspire you. Remember, you can't do everything, but you can do anything!
Future Goals
What would you like to achieve in the next 5 years?
Continue to prioritize and help MOD create as many great opportunities as possible for as many people as possible!
What's coming up that you're excited about?
We will be launching the MOD brand in the U.K. this year. Obviously, the U.K. holds a special place in our hearts, so this will be kind of a homecoming for us. And it will be exciting to go back to the place where we "cut our teeth" professionally, and where we found so much inspiration for the MOD brand.
Published: June 16th, 2016
Share this Feature
Recommended Reading:
Comments:
comments powered by

Disqus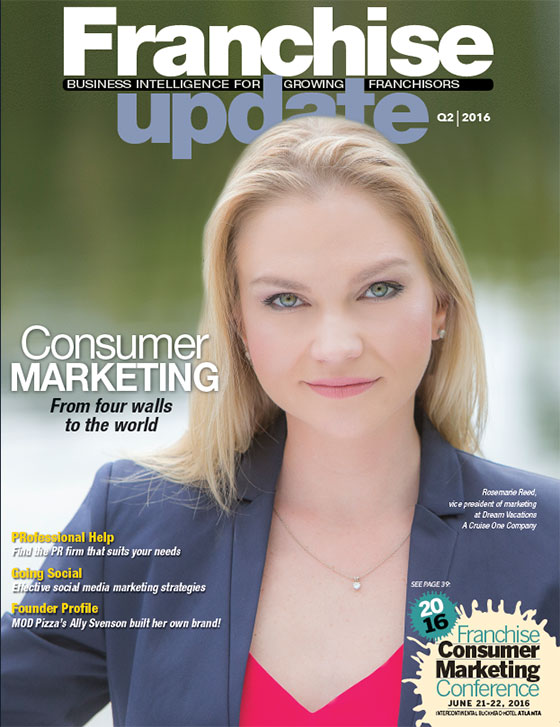 Franchise Update Magazine: Issue 2, 2016
Conferences
InterContinental, Atlanta
OCT 18-20TH, 2023
BoeFly drives growth by delivering financially qualified candidates increasing lead-to-franchisee conversion, and helping franchisees secure...
Oct. 18-20, Atlanta, GA. An exclusive event for franchisor CEOs, Presidents, COOs, CDOs and Franchise Development Executives.