A Tidal Wave of Talent
Will you be ready for the next generation of franchisees?

Over the last year or so, the folks at Franchise Update have started to spot some curious trends around young people entering the franchise community.

Conferences and events seem to be attracting younger faces, franchise systems are producing younger franchisees, multiunit owners are getting younger, and many of the new franchisors are in their twenties and thirties as well. There are even a handful of teenagers poking around. Have you noticed it too?

As I wrote in the last issue of Franchise Update, a whole new generation--known as the Millennials--is entering the workforce like a tidal wave… and the entire global talent pool will never be the same. Neither will the franchise industry.

The good news is that many franchise systems are ready to open their arms to the next generation. According to the 2007 Franchise Sales & Lead Generation Survey, 60.9 percent of franchisors said that they are "very interested in being able to attract high-caliber young talent in the coming years" (with only 4.5 percent not being interested at all). What's more, 80.8 percent said that their franchise is "a good opportunity for younger people to consider."

The big question is, What are they doing about it? Better yet, what are you doing about it? As FRANdata continues to report that "the pool of qualified prospective franchisees the industry has historically relied upon is shrinking," are you actively tapping into the next generation of talent? Don't worry, if you need some help, I have a plan for you.

In the process of building YSN.com and the first global human capital marketplace to help young people find the opportunities that suit them best, I've had the chance to work with many of the smallest entrepreneurial ventures to the biggest of global brands on this exact challenge. While there are tons of great possibilities and paths you can explore, the best routes always seem to boil down to three fundamental steps: Understand, Brand, Recruit. Allow me to explain.

Understand--While young people clearly represent the next frontier in new talent, it does take some effort to understand them. They are definitely curious creatures, who think, act, and work very differently than any generation before them. Start reading up on them. Have someone come speak to your company about the trends. Hold a workshop for your younger staff and franchisees. Consider conducting a focus group. Just get to know them better before you formulate your strategy to pursue them.

Brand--Regardless of how much money, time, or energy you've spent on branding, it may not be enough if you haven't fully articulated your "employer brand," or your "franchisor brand," let alone how you should position yourself to capture the attention of this new generation of talent. And once you have your positioning down, consider focusing your marketing efforts largely in the online or new media world. Online profiles, blogs, podcasts, video clips, viral videos--those are the new media young people pay attention to. Just try to reach them through a newspaper these days and you'll see.

Recruit--Work on building an ideal candidate or prospect profile that is specific to a teen or a twenty- or thirty-something. For a rough example: "Single, college educated, 5+ years after graduation, active in your community, demonstrable leadership experience, history in hospitality a plus…" and so on. Then get very targeted with your marketing. Challenge yourself to uncover new sources where you can tap into almost perfect candidate pools. It is possible. It's also the smartest way to maximize your ROI.

Jennifer Kushell is the president and co-founder of YSN.com--Your Success Network, the first global marketplace that connects young ambitious people in over 100 countries with opportunities to launch their careers. If your organization is interested in new, innovative, and dynamic ways to reach this generation, contact her at jennifer@ ysn.com.
Published: June 22nd, 2008
Share this Feature
Recommended Reading:
Comments:
comments powered by

Disqus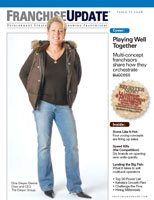 Franchise Update Magazine: Issue 2, 2008
Franchise Update Media (FUM) is the trusted resource for the franchise industry. For 30+ years, FUM has been the leader in providing valuable...
In 2022 Empower Brands emerged when Lynx Franchising and Outdoor Living Brands united. Empower consists of JAN-PRO, Intelligent Office, FRSTeam,...