Accelerated franchise growth outstrips supply
2006 is a good year to be in the franchise recruitment business. That's because it's a good year for franchising. As franchising heats up, the demand to fill positions also intensifies----and so does competition for GOOD people to fill them.

For larger firms, it's becoming tougher (and more expensive) to find qualified executives to lead them through their next stage of growth. Smaller firms unable to compete on salary alone can offer equity to entice top talent--or try a new option: outsourcing their franchise development department. Medium-sized firms may find themselves caught, well, in the middle, unable to match salaries or unwilling to offer equity.

But large, medium, or small, all of these companies need people, not only at the top, but throughout the organization. It seems everybody's hiring these days. And for the executive with the right set of skills and experience, this is a good time to be in franchising.

Franchise Update asked three franchise recruitment experts to slow down, take a deep breath, and tell us what they're hearing from franchisors.

Where the action is
"If I had to look at the top jobs in franchising today, probably the one that has remained consistent from five years ago is franchise development experts," says Doug Kushell, president of Franchise Search, in Nyack, N.Y. For Kushell, the active disciplines in franchising today are COOs, CFOs, and directors or VPs of real estate.

"Companies are always interested in franchise sales and development experts who can either take a younger company and grow it on an accelerated pace; or who can take a large company that perhaps is no longer having the growth it would like to experience, and bring in a development expert who can implement that type of program," he says.

Says Lois Marshall, president of The Marshall Group, Carmel, Calif.: "In the last year, the three top positions would be CEO, president, or chief operating officer; one of those three, but a leader. Second would be sales, and third would be marketing. It's been a long time since marketing has been such an important position for companies to fill."

"We're very, very busy. Franchising is a hot investment now," says Nancy Estep-Critchett, president, Sterling Global Executive Search, Sarasota, Fla. In the last 24 months demand has soared in the area of sales--at a senior level--with companies seeking executives with strategic as well as tactical strengths, she says.

"Five years ago, over 70 percent were operations- and marketing-oriented. Franchises were not selling as aggressively as they are now," she says. Then, franchisors primarily sought people who could help them increase the bottom line of their franchisees through operations, support, and marketing. "We've seen a huge change from that to now," she says.

Accelerated expectations
More fuel for franchising's recent fire comes from equity firms with a surplus of ready cash. These investors have "discovered" franchising and are placing bets on startup concepts, much the way venture capital firms did on dot.com firms in the late 1990s. And with their help, three things have changed in franchising: 1) startups and smaller brands possess the resources to fuel growth at a more rapid pace than in past years; 2) larger brands can offer first-rate executives top dollar; and 3) regional brands can fund national expansion as never before.

"Franchising is a hot thing in the equity and investor world," says Estep-Critchett. One indicator is the increasing appearance of venture capitalist and private equity firms at IFA and other franchising conventions and conferences. These groups are looking to enter franchising either by investing in a franchise organization or by acquiring them outright--as well as looking for up-and-coming concepts to back.

"Because of that I think there are a lot of newly funded brands. I've worked with more startups in the last 24 months than I ever have," says Estep-Critchett. "New concepts, freshly funded, almost always are looking to bring on a senior development person, or a VP of franchise sales. Then they hire a senior generalist, a CEO type," she says.

Younger companies, says Kushell, are seeing and hearing more about franchising success stories and want to duplicate them. "Perhaps yesterday they would have been content with a more conservative growth curve. That's changed a little bit today," he says.

"If somebody feels they want to be more aggressive in their growth, that's fine, as long as they recognize the importance that goes beyond just sales," he says. "There's a reason there must be a blueprint for proper management. If you sell a couple hundred locations and can't get them open, then there very well could be some problems."

Supply down, demand up
"It is an employees' market right now," says Marshall. "Employees are calling the shots, and they're making decisions based on what's best for them, not just the company. They're negotiating equity or a part of royalties--something to give them long-term substantial earnings."

On the sales side, she says, "Franchise salespeople are being recruited at a rate I've never seen before." And they're in short supply. Many have moved on to more lucrative management positions, while others have become brokers or consultants. Some have even become part-time or temporary sales executives, hiring out through an outsourcing agency (see sidebar).

"There is a tremendous amount of demand, especially in franchise sales," says Kushell. "That is a challenge sometimes for the newer companies--they recognize that they need an experienced person, but the checks and balances are a little bit off in terms of their ability to pay or come close to what fair market is."

While many larger systems are beginning to offer top executives a piece of the action (if only reluctantly) in order to retain them, for smaller or startup brands, this approach could be the only way to attract top-flight talent.

"If a smaller company is willing to give some equity, that's a big plus for their ability to be able entice somebody who has the seasoning and the skill set in sales," says Kushell. "There is no question there's a very strong demand for experienced talent in that area." Still, he says, very few companies, in his experience, are doing this.

This summer, Marshall had nearly two dozen sales positions to fill. "It's just very, very difficult to find someone who can go out there and build a company ethically." Compensation was generally in the $80,000 base plus $20,000 to $30,000 bonus range, though one company offered $150K/$150K. Another was looking for a "very senior executive" (a chief development officer) at $250,000.

Marshall just completed a comparison of compensation for sales executives. Total earnings (including bonuses), she says, are at least 25 percent higher than last year. "They're getting much better incentives. There are very few people who can fill these roles."

Estep-Critchett hasn't seen salaries rising as fast, but she sees them pushing higher. "There are not a lot of great sales executives out there. I have to tell my clients to ask for more."

Increased demand, of course, creates problems in keeping top talent on board. "Finding the right people and retaining them has never been so important," says Marshall. "You get good people, and the grass is always greener; someone's always going to offer an extra $50,000 to $60,000."

The challenge for franchisors today, more than in past years, is finding ways to keep their best people--without breaking the bank. One way, says Marshall, is to find ways to tie them in beyond salary: "if not stock, then royalties, or extended bonuses." Keeping that additional compensation linked to longevity is also smart, so that if an executive thinks of departing for greener pastures, they'll leave much of that cash behind.

CFOs and COOs
CFOs. "We've seen more activity in this area with venture capital groups playing a more active role with franchise companies," says Kushell. When a franchisor signs a deal with an equity group, often both parties will agree on the need to bring in a highly experienced finance person. "You have a couple of parties that have made an investment with this company, so we've seen stronger activity in this area." Also, he says, "We have companies that are adding experienced CFOs to get them to the level they need to be to perhaps go public."
COOs are in demand from companies of all sizes, says Kushell--again, driven by the desire for accelerated growth:

Smaller franchises: They have grown the concept as far as they can as entrepreneurs and want to take it to the next couple of levels. "Bringing in somebody at the COO level who's had experience at growing a franchise system makes a lot of sense to these companies."
Larger franchises: They are "very excited with what's going on with the industry and no longer want to grow at 25 or 30 units a year; they're looking for 75 or 100 plus. They need the experience of someone who has done that before."
Tired franchises: "A franchisor recognizes their program is somewhat stagnant, and they need to bring in somebody who can rejuvenate it and get it in a state so they can grow on an accelerated path."
The leadership level
For Marshall, the big action is at the top: CEOs, COOs, and presidents. "The pool of executive-level talent throughout the industry is very hard to locate: proven, reliable, ethical talent."

In many cases, the search is for a position at a company where the founder or owner-operator has led the brand to several hundred units. There are several motivating factors for this type of search. Most revolve around 1) the creation of an exit strategy for the founder, and/or 2) equity investors seeking to build the firm, either to sell it or to do an IPO. No matter what the reason, it will require a high-level executive.

The growing participation in franchising by venture capital and private equity firms creates another need for top talent. "Many times they don't know the franchise industry, so they will hire the expertise they lack," says Marshall. For example, an equity firm buying a large retail company will want someone who understands both franchising and retail. Bringing in the right CEO, president, or COO to build the organization can achieve the goals of both investors (ROI) and founder (exit).

"The founders are usually pretty astute people: they've led the company to a position of 300 to 400 units, and they can still lead it forward," says Marshall. "But maybe they've reached the peak at where they can expand the company, taken it as far as they can. So they need someone who's run a company, maybe a much larger company, who can look at the organization and say, 'Here's a plan to build this company.'" This is professional management replacing entrepreneurial management.

With the hiring of professional management, founders have several options, including retiring, staying on board and running global, or stepping back and becoming chair. "But if they want to go the next step and sell the company or do an IPO, they'll have to stay on board for a number of years as part of the deal, because they've been running the company," says Marshall.

On the marketing side, she says, companies are looking at positioning themselves to 1) attract potential franchisees, and 2) market to consumers. "They want the brand built well and are looking for top marketing people," she says.

Another driver for marketing positions: "Private equity firms and venture capitalists, when they make a huge, absolutely enormous investment, want a return on that investment, so they build the brand. They want to be the best brand, the one you think of first in their industry." Also, franchisors are obligated to market for the franchisees through the marketing fund. They want bang for the buck, and they need qualified marketing executives to achieve this.

Don't forget real estate!
If you sell a lot of franchises, they'll require support in the field. But first many (if not most) will require bricks and mortar--which explains the surge in demand for real estate and related positions in this era of aggressive expansion. These functions include site selection and identification, lease negotiations, legal, and more.

"With several companies on an accelerated growth push, there is a tremendous need to identify prime locations and get these franchisees up and open," says Kushell. "A lot of companies are opening several hundred locations a year, and therefore need a team of talented real estate professionals." Last year was a busy year for Kushell in this area.

International, too
Franchisors also are starting to look to the international market again, says Estep-Critchett. This area had slowed in the past several years, with international activity ceasing completely for some franchises after 2001. In the past 24 months, she says, "We're starting to see an increase in international hiring." This usually involves the sale of large areas outside the U.S., or a mid-size company needing its first VP or international director of franchise sales.

Marshall isn't seeing that in her business. "Over the years I've seen a lot of global placement," she says, with at least two searches per quarter over the past 30 years. But in the past year she's seen very little in the way of global searches. In fact, she's been looking to Europe for franchise executives ready to return home and lead an expansion-minded brand in the U.S.

What's ahead?
"There's no reason to feel that with the amount of new franchise companies coming into the arena that they will not need assistance in the franchise development area and the operations area, whether director of operations or higher level," says Kushell. "I think that is going to remain pretty consistent."

"What would cheer me," he says, "is if we see more positions in field operations and training--which go hand in hand with making sure that the franchisees are successful and have the right programs as they go through their different phases of being a new franchisee to being a more mature franchisee. That increases the odds of the franchise system being successful."

Sounding a mildly cautionary note, he says, "It's a very exciting time for a lot of franchise companies, and I give them a lot of credit for recognizing the needs they have to continue growing in what they feel is a sensible way."

Says Estep-Critchett: "I feel like franchising is going to be the next dot.com investment. Everyone wants to be part of franchising. I see a lot more stories [about franchising] in the Wall Street Journal getting closer to the front page."

Good news for franchising... as long as companies remember the fundamentals and don't get carried away. (Remember the dot.com crash of early 2000?) It's never a slam dunk, even for the best brands. (Remember Krispy Kreme?) Cautionary note to high fliers: Hire right, remember the fundamentals.
Published: January 16th, 2007
Share this Feature
Recommended Reading:
Comments:
comments powered by

Disqus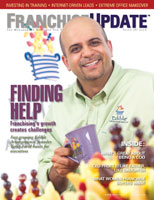 Franchise Update Magazine: Issue 3, 2006
Find the support you need to find success with your small to mid-sized business. Explore the PEO services offered by Integrity Employee Leasing.
More than 15 years of passion and fascination with the franchise system. Thanks to having met many Franchisees, today I can help new ones and those...