Air Tinsley: Former Pro Basketball Star Scores in Franchising
George Tinsley has been a part of Kentucky Fried Chicken/KFC for more than three decades, so long that he had the opportunity to work alongside the brand's now-legendary founder, Harland "Colonel" Sanders, for three years.
That was back in the mid-1970s after Tinsley completed a short professional basketball career in the American Basketball Association (ABA). The Louisville native was a standout for the Kentucky Wesleyan college basketball team that won NCAA Division II championships in 1966, 1968, and 1969. He was a two-time All-American and was named the Most Outstanding Player in the 1969 tournament. Following his college career, he was selected in both the NBA and ABA drafts. He chose the ABA, where he played for the Oakland Oaks, Washington Capitals, Miami Floridians, Kentucky Colonels, and New York Nets.
After his ABA career ended in 1972, Tinsley spent several years as a teacher and coach in Louisville. Destiny came calling in 1976 when the Louisville-based Kentucky Fried Chicken brand was searching for a training director. This was Tinsley's entrée into franchising--and how he met and worked with Sanders, who had retired but was still working with the brand in a public relations role.
"I got the fever for the restaurant business right then and there," says Tinsley, who went on to spend 8 years as a KFC executive before switching sides and becoming a franchisee. In 1984, he and his wife Seretha opened their first KFC in Auburndale, Fla., then a second in 1986 in nearby Haines City, and have excelled as franchisees ever since.
Since then he has grown his portfolio beyond KFC to include additional brands. The Tinsley Family of companies now operates more than 60 units at street and airport locations that are anchored by Chili's, Wendy's, KFC, Pei Wei, P.F. Chang's, Shula's Bar & Grill, Cigar City Brewing, and Comfy Cow. His brands dominate at Tampa International Airport, Miami International Airport, and Louisville International Airport.
It's the airport angle that has really differentiated Tinsley in his markets. Just last year, his company was named subtenant in a new 8-year contract to expand restaurant service at Louisville International Airport. HMSHost is the primary holder of the nearly $110 million contract. Together, the two companies operate 11 dining venues at the airport.
Business is business, but Tinsley also understands the importance of community involvement. That's why his organization has been actively involved with the chamber of commerce and school district in Winter Haven, Fla., where the company is based. He and his Seretha have a long and admirable history of participation in giving back to their communities.
At 70, Tinsley recognizes that transition is near. His son George II is actively involved in the organization and looks to be the company's face of the future.
"We intend to continue growing our company and preparing for my son to take over," says Tinsley. Meanwhile, the company he started in 1984 with a single KFC and two employees (himself and Seretha) is well positioned to continue soaring in the airport market--and beyond.
Name: George Wm. Tinsley, Sr.
Title: President, CEO
Company: PenGeo Inc., Tinsley Family Co., Tinsley Group, GWT Consulting, Tinsley Bridgeman LLC
No. of units: More than 60 at street and airport locations, anchored by Starbucks, Chili's, Wendy's, KFC, Pei Wei, P.F. Chang's, Shula's Bar & Grill, Cigar City Brewing, and The Comfy Cow. (We just closed a TGI Fridays we had for 23 years when our contract in the Tampa Airport ended).
Age: 70
Family: Seretha S. (wife), Penni D. (daughter), George Wm. II (son)
Years in franchising: 33 as a franchisee, 8 at KFC Corp.
Years in current position: 33
Personal
First job:
My very first job was in a chicken processing location in the East End of Louisville.
Formative influences/events:
Growing up as an adopted child, raised by an elderly woman who had one leg and could not read or write. The communities I lived in influenced me with survival instincts. Coaches, teachers, ministers, and community centers were my early mentors.
Key accomplishments:
There are so many things that I am thankful to have accomplished, it would take a book to describe them. Graduating from college and receiving so many honors while there, as well as honors after graduating, has probably been the highlight. My professional life as an athlete and business person comes very close. Last, having a wonderful family tops it off. The Almighty has blessed me more than I deserve.
Biggest current challenge:
We are developing three different airports with 20 different restaurants, along with closing down and remodeling 9 locations over a one-and-a-half-year period.
Next big goal:
Continue to grow and transition our business to my son and his leadership team.
First turning point in your career:
We lost our very first KFC restaurant in a fire. We were able to rebuild on site and double the business.
Best business decision:
Choosing a great location for my first KFC restaurant.
Hardest lesson learned:
When purchasing a business and not replacing the leadership team for purposes of building in my personal philosophy. We lost this business in 2 years.
Work week:
6 days.
Exercise/workout:
5 days a week, minimum.
Best advice you ever got:
Work hard and trust your instincts to go along with your professional training.
What's your passion in business?
I am passionate about my employees and my guests. They go hand and hand. I am also very respectful and obligated to the communities we do business in.
How do you balance life and work?
This is extremely hard, because I love what I do and I love my family.
Guilty pleasure:
Taking work home.
Favorite book:
The book of life, where I build a new chapter every year about "Turning Obstacles 2 Opportunities."
Favorite movie:
I like action suspense movies. No favorites here.
What do most people not know about you?
That I love challenges.
Pet peeve:
I hate negativity.
What did you want to be when you grew up?
A motivational speaker.
Last vacation:
Australia.
Person I'd most like to have lunch with:
Former President Obama.
Management
Business philosophy:
Lead by example of excellence and don't look back over your shoulder.
Management method or style:
Open communications.
Greatest challenge:
Life is full of challenges that I always attempt to turn into opportunities.
How do others describe you?
Leader, positive motivator, and inspirational.
One thing I'm looking to do better:
Learn from previous mistakes.
How I give my team room to innovate and experiment:
Always welcome their input, even when I know the answer or where I want to go with the problem.
How close are you to operations?
Very close, with hands-on relationships.
What are the two most important things you rely on from your franchisor?
Resources and leadership with the brand excellence.
What I need from vendors:
Top-quality service and timely delivery.
Have you changed your marketing strategy in response to the economy? How?
Externally, led by the brand. Internally, we blend national and local advertising with belief in the focus of the marketing theme.
How is social media affecting your business?
Social media has been a tremendous help with getting positive messages and experiences out of a loyal base. It's less expensive than traditional marketing when you need to get something out quickly and specific to your group.
How do you hire and fire?
We hire and you fire yourself. We have great tenure for our employees, therefore turnover is very low in most cases.
How do you train and retain?
We use the old school four-step method with new wrinkles added to the follow-through.
How do you deal with problem employees?
They usually eliminate themselves.
Fastest way into my doghouse:
Disrespect and poor attitude. Rudeness to guests and to teammates at work.
Sports & Business
What skills/experience from sports have carried over to operating a business?
Athletics and competition taught me how to be prepared and execute a plan of action. I learned how to turn a loss into a win and how to deal with tough losses.
Which do you find more competitive, sports or business?
Business, because you are a leader, and sometimes you only get one shot at success.
Why did you choose franchising as an investment option?
Franchising has a developed operations plan of success and multiple resources to assist you when needed.
How did you transition from sports to franchising?
Given my career path, it was fairly easy from the preparation standpoint. It does not hurt to work alongside the founder of KFC for 3 years, to learn from the bottom up. Having worked with hundreds of millionaires in the business, the blueprint was there.
What was your greatest achievement in sports, and what has been your biggest accomplishment as a franchisee?
In sports, my greatest honor was being inducted to five Halls of Fame and winning 3 NCAA Championships. In franchising my biggest accomplishments include being named Franchisee of the Year by KFC and TGI Fridays, and having the top sales volume for TGIF 9 years in a row.
Bottom Line
Annual revenue:
NA.
2017 goals:
Continue to grow our business in a smart fiscal manner, while looking for new opportunities.
Growth meter: How do you measure your growth?
Year over year, and by our community involvement where we do business.
Vision meter: Where do you want to be in 5 years? 10 years?
In 5 years, I want to be able to relax and allow my son and his leadership to expand our brands.
How is the economy in your regions affecting you, your employees, your customers?
All positive at this time. With the new leadership in government there is some uncertainty, but I remain positive.
Are you experiencing economic growth in your market?
Yes.
How do changes in the economy affect the way you do business?
Minimum wage changes always affect business. Also, medical policies affect business.
How do you forecast for your business?
Budgets versus actual, projected growth versus last year.
What are the best sources for capital expansion?
Banking, venture capital, and outside investors.
Experience with private equity, local banks, national banks, other institutions? Why/why not?
In the restaurant business, and particularly in the airport restaurant business, financing is a challenge. Therefore traditional banking is very difficult to accomplish. We look for creative ways to get things done by partnership investments and a mixture of all of the above.
What are you doing to take care of your employees?
All sorts of things, such as scholarships, savings, personal assistance, and educational opportunities.
How are you handling rising employee costs (payroll, minimum wage, healthcare, etc.)?
We have to bite the bullet because we cannot pass these costs on to customers.
How do you reward/recognize top-performing employees?
We reward monetarily, by acknowledgements with plaques, and by growth from within.
What kind of exit strategy do you have in place?
Transition to family is the main objective.
Published: June 23rd, 2017
Share this Feature
Recommended Reading:
Comments:
comments powered by

Disqus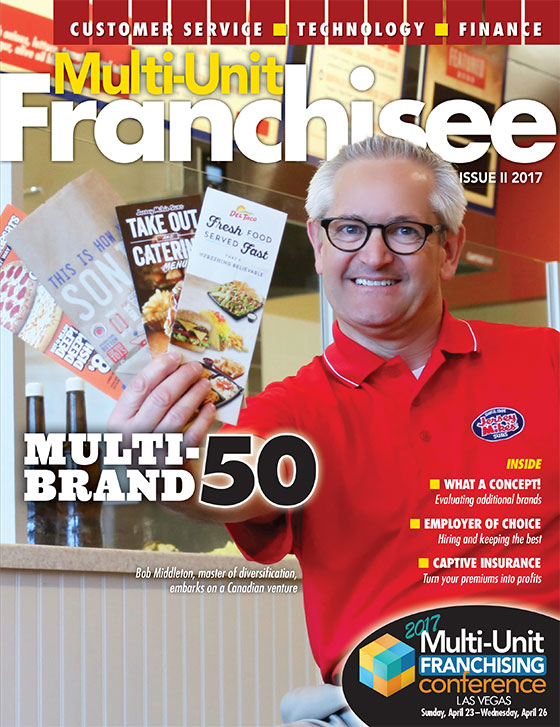 Multi-Unit Franchisee Magazine: Issue 2, 2017
The hottest new franchise is here (literally 150°). Perspire has developed, formulated and tested the most superior infrared sauna studio model...
Shakeaway is a unique global company with stores popping up all over the world! Get involved in this fun, fast growing and profitable franchise now...