An Ounce of Prevention
Reduce employee theft and boost your bottom line

After my workshop on loss prevention and security at Franchise Update's Multiunit Franchising conference this past April in Scottsdale, attendees made their desire clear for more information on the topic--and for specific tactics they could employ to improve profitability. After all, every dollar not lost to employee or customer theft (or some other form of controllable loss), falls directly to the bottom line.

Studies show annual losses from employee theft in the retail sector cost owners between $20 billion and $40 billion annually, a figure that continues to rise each year--and that as many as 30 percent of the businesses that fail in a given year are harmed by losses caused by crime from employees or outsiders. Major steps in reducing these types of losses can begin in two major areas: 1) site selection and 2) hiring.
1) Site selection
Few real estate agents and commercial developers put crime prevention at the top of their list when chasing tenant leases. But clearly, the die is cast when a business chooses a location. Real estate agents tout "location, location, location" to promote a good site, but this also holds true for an area's likelihood for crime--including employee theft, since businesses often recruit from the areas they serve.

Businesses most vulnerable to crime (inside or out) traditionally have a large volume of cash transactions, stay open later at night, and have fewer customers and employees on the premises--such as convenience stores and QSRs. Whether your business is a higher-risk target or not, there are steps you can take to reduce the operating risk at any location.

The best and least expensive resource is simply visit to the local police before choosing your site. Find a local precinct and ask to talk with the Patrol Commander or Crime Prevention Officer for the area. Most police departments can make available a Calls for Service report that logs all police activity at a particular address. Although this report may also include crimes or incidents related to traffic stops in front of or near that address, careful questioning can provide good insight to the general crime trends, and what a new business locating in the area might expect.
Second, talk to neighboring businesses and their owners. Nothing beats a bit of local knowledge. From a marketing perspective, such a visit can also provide the opportunity to look for synergies and joint efforts for cross-promotions or grand opening specials for the new business.

Finally, walk or drive the area with an eye on the neighborhood. Take a digital camera so points of interest can be documented for review. Be aware of excessive amounts of graffiti or "tagging" that might indicate gang influence or general lawlessness. Look for vacant storefronts, homes, or other abandoned businesses. The rent might be affordable, but is this really the kind of place you want to start a new business?
2) People
No matter what your business, you'll need to hire at least a few associates. Investing time and a reasonable amount of money to carefully screen and then train new employees can reap benefits that contribute to the success of the business venture for months and years.

Most experienced business owners have had their share of oddballs and bad hires. Some may even admit to relying on gut instinct--rather than proven screening practices--when hiring. And if national statistics hold true, more than half of those new employees will have stolen or caused loss in the workplace.

Smart businesses go through the basic steps to complete an application, the I-9 form to verify work eligibility, and a tax-withholding document. But how can you determine if the information on the application is truthful--or whether the applicant even is who they represent themselves to be?

First, don't be unduly influenced by your need to just hire a body to fill a shift opening. Is this the person you want representing your business to your family, friends and neighbors--much less your customers? Styles and trends of individuality can sometimes influence candidate selection, so give some thought to the business significance of things like tattoos, piercings, hair coloring, etc. While businesses must be equal opportunity employers in every respect, personal preferences can be an influencing factor. How much of an influence is up to you.

Candidate screening begins with carefully selected questions that the law allows employers to ask during the interview process. Pay close attention to how the applicant answers those questions. Nonverbal communication and body language may vary for many legitimate reasons, but evaluate the applicant's responses to questions carefully. Do they maintain good (but not forced) eye contact? Are they shifting uncomfortably or crossing their arms or legs defensively? Do they appear truthful, sincere, and engaging?

Verify their past employers, and if they're no longer in business or otherwise unreachable, consider the employee more carefully. People may move and businesses fail, but as a prospective employer you'll want to make certain that the candidate before you didn't cause or contribute to that process!

Develop additional personal references beyond those the applicant provides. Ask the listed references for one or two other people that may know the applicant, preferably in a business context. If the listed reference is a past employer, ask if they can recall any of the applicant's previous jobs. In today's litigious society, past employers are often reluctant to say anything negative for fear of liability, but at least be willing to give them the opportunity to share their thoughts openly and truthfully with open-ended questions, such as: "Is there anything else you can tell me about this person?"

If the candidate will handle cash or valuables, or serve as a "key-holder" to the business with opening or closing responsibilities and the alarm code, a more in-depth screening may be in order. Make certain that your application form contains the requisite "consent" language that permits a more extensive background check or "consumer report" to be conducted.

A Yellow Pages or Internet search for "Background Checks" or "Employment Screening" will yield any number of businesses that specialize in this area. Background checks such as social security verification, criminal history checks, driving records, and even credit checks may be appropriate types given the type of job skills required and responsibility of the position. Although such reports are not without cost, they can be justified if the job requires a college degree or other specialized certification such as a CPA or teaching credential.

Based on more than 2.5 million background checks it performed, ADP Screening & Selection Services reports that more than 40 percent of applicants materially misrepresented (corporate-speak for "lied") about their backgrounds--nearly half regarding their level of education. Remember, a signed employment application is a legal document, and in most states falsification can be grounds for termination--even if the employee has performed well in their job duties.

Finally, take advantage of human resource tips and literature available from professional associations, business groups, the franchisor, and the local Chamber of Commerce.

Rollie Trayte is a Scottsdale, Ariz.-based security consultant and former director of loss prevention for ConocoPhillips/Circle K stores. Gary Widman is president of Lekson Video Technologies, a supplier of security products and services.
Published: August 18th, 2008
Share this Feature
Recommended Reading:
Comments:
comments powered by

Disqus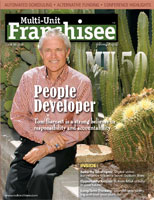 Multi-Unit Franchisee Magazine: Issue 3, 2008
With 500+ restaurants in development worldwide, Wayback Burgers is America's favorite hometown burger joint and one of the world's fastest-growing...
Cash Required:
$200,000
Want to become a part of one of the country's fastest-growing industries? Check out Central Bark's doggy day care franchise opportunities!
Cash Required:
$200,000