Annual Mystery Shopper survey celebrates
"Franchise development simply requires a solid process, it's really not rocket science." That's what Steve Olson, publisher of Franchise Update Media Group, said as he opened his presentation of this year's Mystery Shopper Survey results at the company's recent Franchise Development & Leadership Conference in Atlanta. It's true. A consistent system of quick response and lead qualification can separate the wheat from the chaff and ultimately lead to more sales, more quickly.

Franchise Update has been annually and anonymously "shopping" franchise companies to assess their lead generation and recruiting efforts with respect to the telephone, and in more recent years, the Internet too. Every franchise organization registered for the Franchise Development & Leadership Conference gets a mystery shopper visit. This year's study evaluated 113 franchise companies by telephone, and of those, the 101 that were also using web sites.

The researchers examined such criteria as which companies answer prospect calls in person, how long it takes to return a prospect's call, and how long it takes for the prospect to receive an information packet. On the Internet side, the researchers looked at web site content, accessibility, readability, ease of navigation, effective use of technology, and overall site presence. All of the results were tabulated, the numbers were crunched, and the top scorers were rewarded with the Franchise Update STAR Awards.

Telephone survey: call and response
Year after year, research has supported the finding that prospective leads that come from phone calls continue to be one of the best sources of qualified prospects. Chances are, if they're picking up the phone to call you they've done some research and are at least somewhat serious about franchising. The phone may be old school, but it gets results.

Other results from this year's study may raise a few eyebrows.

Mystery shoppers found 40 percent of the franchises' sales staff available on the first call. Twenty-three percent returned the "prospect's" call within 24 hours, with another 14 percent calling back within three days. Amazingly, 23 percent of the franchises didn't return the initial call - at all - after three days. "That's a sure indicator of a poor response system in place," says Olson. At that level, he says, franchises are unquestionably losing sales and improvement is a necessity.

There were some positive indicators. For example, during the qualification process, of those who did answer the incoming call, 94 percent captured the prospect's name. Another 71 percent of franchise representatives asked the prospects where they had heard of the brand. Sixty-eight percent recorded the prospect's address, while 89 percent got their phone number. Email addresses were captured in 68 percent of the cases. These are fundamental necessities.

But as Olson was quick to point out, the other side of that coin was the fact that 29 percent did not ask for the source of inquiry, 32 percent did not get an address, and 32 percent did not record an email address. "Franchisors have simply got to capture this information consistently," says Olson.

The study also measured the telephone qualification process in more depth. The researchers examined how the conversation was controlled, and they gauged the enthusiasm and attitude of the franchise representative on the other side of the phone. "We've definitely seen advances over the years in what's taking place during the telephone qualification process," says Olson. Yet there's still room for improvement. For example, 34 percent of franchises did not qualify financing, 53 percent did not qualify a start time, and 41 percent did not qualify the prospect's experience (see charts, lower left).

Olson emphasized that franchises must do a better job of tracking incoming leads and properly following up. "Clearly, those who track this information are reducing expenses, saving dollars and more quickly landing qualified prospects," he said.

Online survey: click-click, anyone home?
Web sites have truly become a significant part of the lead generation process in franchising. The Internet can be a great source of information for potential franchisees. But the sites need to be easy to navigate, friendly to use, and offer the right informational tools. This year's mystery shoppers examined five categories for online web site usability.

Several essential components have been identified that should be included on every franchisor's web site. They all made up part of the judging criteria and include the following: Company History, Benefits of Franchising, Available Locations/Territories, Investment Required, Frequently Asked Questions, Testimonials, and Process Clearly Defined.

The biggest surprise in this part of the study, according to Olson, was that 61 percent of the sites evaluated had no testimonials available. "This was simply amazing," he says. "Seeing what franchise owners have to say and subsequently talking with franchise owners is a critical part of the process for prospects." Also surprising, one out of four (26 percent) franchise web sites did not identify the required investment - an essential for qualifying leads.

One pivotal piece of any online recruiting presence is a basic inquiry form. Prospects need something to fill out. It brings them into the game. Researchers looked to see if an online inquiry form was available and whether or not it contained information probing the prospect's desired area or territory, financial qualifications, the source of lead, and the time frame. Unfortunately, 29 percent of the sites did not have an inquiry form. More than half (53 percent) did not outline financial qualifications, nearly half did not request the source of lead (48 percent), and a full 59 percent did not request the prospect's time frame.

"To me, the lack of a basic inquiry form was the most shocking finding of this year's study," says Olson. "The fact that nearly a third of the franchises don't even have an inquiry form on their web sites blows me away."

One of the most frightening finds in this part of the study was the fact that nearly one in four qualified inquiries were never answered by the franchises. "In franchising, the first to the door wins," says Olson. He strongly emphasized how rapid follow-up and lead tracking are critical to growth and success. "Every lead should be contacted within 24 hours."

Other trends
At the beginning of Olson's presentation, he emphasized the importance of utilizing search engine optimization. "You've got to do this because, otherwise, prospects are not going to find you," he says. In Olson's view, franchises need an IT person on staff, or at least a third-party technology vendor to take care of this critical function. Of the franchises evaluated for the study, 25 percent were not being listed in the top five when searched for on the organic web sites (google.com, yahoo.com, and msn.com).

Also, said Olson, while it's important for web sites to be easy to use, they should still maximize advanced technology tools: audio and video streaming, virtual tours, and more. This, he says, helps make a visit more interactive and engaging for prospects.

In an interesting non-scientific live study conducted during Olson's presentation, attendees were electronically polled on the topic of search engine optimization. They were asked whether or not they purchased keywords to increase their rankings on the so-called organic sites. Executives from more than 180 brands were on hand, and only half indicated that they purchased any keywords; and 57 percent of them said they were unsure if purchasing those keywords was worth the cost. "Obviously, to franchisors, the jury is still out on whether or not this is a cost-effective tool," Olson observed.

So franchise development may not be rocket science... but it does require effective execution of several fundamentals. Savvy franchises would be wise to take heed of the findings in this study and make changes and improvements soon, wherever necessary.
Published: April 10th, 2007
Share this Feature
Recommended Reading:
Comments:
comments powered by

Disqus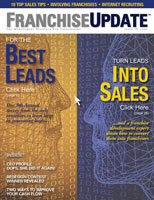 Franchise Update Magazine: Issue 4, 2006
UMI has over 23 years of experience supporting fast-growing multi-unit brands. From strategic planning to design, execution to analysis, UMI...
Slick Marketers is reinventing franchise marketing with a hyper-customized and ultra-localized marketing approach with measurable results and growth...