"Auto" Pilot: Building people and profits for 35 years
Name: Steve Sanner
Title: President
Company: JTM Automotive
Units: 50 Jiffy Lube, 6 Tuffy Tire & Auto Service, 5 Mighty Auto Parts
Age: 60
Years in franchising: 35
Years in current position: 35
Steve Sanner was 25 when he and partners, Jay Greenfield and Jack Niggeman, purchased nine Jiffy Lube locations in the summer of 1985. He didn't know much about the automotive service industry, but he was a quick learner and determined to build a successful company. Together the trio built or acquired more than 30 stores in their first 3 years.
Sanner likes to tell the story of how, early on, he learned of nine 10 Minute Oil Change stores for sale in Fort Wayne, Lafayette, and Kokomo, Indiana, and Lexington, Kentucky. By all appearances it was a great opportunity. "The owner didn't want to wait for bank financing and offered the stores to me for $1 million if I could buy right then," says Sanner. "So I called Jiffy Lube, who referred me to Bill Welcher, an executive at Pennzoil and a big supporter of Jiffy Lube. We called him, explained the situation, and he only asked one question: 'How long will it take you to pay us back?'"
Welcher told Sanner to meet their private jet at his airport to pick up a check for $1 million. "We consummated the deal, got our bank financing, and returned the money to him within 45 days," says Sanner.
There have been more big-time deals for Sanner. Like the one in 1999 when he acquired 34 QLubes, making his company the unquestioned top Jiffy Lube franchisee in Indiana. Today Sanner's JTM Automotive includes 50 Jiffy Lubes, 6 Tuffy Tire & Auto Service shops, and 5 Mighty Auto Parts franchises. He says he likes the synergy between the brands, noting that each serves a complementary niche in the auto services market. The brands are fans of his too: In the past 5 years, he's been named Franchisee of the Year by all three.
Sanner is a big believer in hiring the right people, giving them the training and tools they need, and letting them get the job done. In fact, one of his company's founding principles is what he calls "Growing People Through Work." This involves constant training, providing a path of self-improvement, and making people better than they were when they started working for him.
"We teach classes in financial literacy and developing a can-do attitude. Everyone who works for us has a personal banker and a personal attorney to help as needed," he says. "We offer tuition reimbursement, first-time home buying programs, interest-free loans for anyone who gets in a financial jam, and rewards for coaching youth sports teams or giving back in other ways."
The formula has been working. JTM Automotive has had 9 consecutive years of record sales and profits. Even with the Covid pandemic, Sanner believes the company still has a long- shot chance of making it 10 years in a row, the goal that's driving him every day. "How cool would that be?" he says.
PERSONAL
First job: Caddie at Aronimink Golf Club.
Formative influences/events: A great friend was diagnosed with ALS at age 34. He never whined and never asked, "Why me?" He simply fought like hell for 19 years, accomplishing so much, even as he lost the use of his body. He lived by the mantra "It is what it is, deal with it." The lessons I learned from him have made me a better person, a better husband, and a better father. They have also affected my children deeply. Whenever they were going through tough times, I would remind them, "Matt White never whined, so unless you want to trade places with him, I suggest you figure it out, deal with it, and overcome the challenge." There is no better lesson for all of us to learn.
Key accomplishments: Building a great family with my wife of 31 years and our four children. Career-wise, it was incredible to be named both Jiffy Lube and Tuffy Franchisees of the Year in 2016, followed by being named Mighty Franchisee of the Year in 2017.
Biggest current challenge: Continuing to adjust and adapt to the Covid world, given the strong structure and procedures ingrained in us as franchisees over the years. Old dogs need to keep learning new tricks!
Next big goal: Achieving annual profitability at every individual store, shop, and warehouse we operate. We are getting closer, but we haven't reached 100% yet.
First turning point in your career: The acquisition of 34 QLubes in 1999 solidified our Jiffy Lube business as the unquestioned leader in Indiana and positioned us for two decades of growth, and counting.
Best business decision: Becoming partners with Jack Niggeman and Jay Greenfield in 1985.
Hardest lesson learned: Sometimes there are deals that just cannot come together no matter how much sense you think they make, and you have to be willing to cut bait and walk away.
Work week: Whenever and wherever.
Exercise/workout: Walking on the golf course, playing paddle tennis and pickleball.
Best advice you ever got: Never Give Up.
What's your passion in business? I love helping people take good care of their vehicles, and I love seeing our people Grow Through Work. Our legacy will be all the members of our team who built happy and productive lives alongside us.
How do you balance life and work? Working crazy hours has allowed me to be there for my family. I was able to coach football, basketball, and baseball. I rarely missed any of the kids' games. We took great family trips and we found many ways to say "Yes." At the same time, my guys aren't surprised to get emails at 2 a.m. Tuesday or 6 a.m. Sunday. We joke that we usually only work half days—since 12 hours is half a day. Modern technology has made it easier to pick which 12 hours we work each day.
Guilty pleasure: Graeter's Black Raspberry Chocolate Chip ice cream.
Favorite book: All-time: A Man in Full by Tom Wolfe. Recent: Propeller: Accelerating Change by Getting Accountability Right by Tanner Corbridge, Jared Jones, Craig Hickman, and Tom Smith.
Favorite movie: Too hard, I could list 100! "Stripes," "Mr. Holland's Opus," "Hoosiers."
What do most people not know about you? From 1976–78 my dad and I were Baltimore Colts season ticket holders. I moved to Indianapolis in 1985, the year after the Colts arrived here, but for completely unrelated reasons.
Pet peeve: People who say "No" too quickly. I like people who work to find a way to say "Yes" to opportunities that arise. Even though the right answer may ultimately be "No," it should never be the first answer. Plus, when people know you will always make a serious effort to say "Yes," they will present you with more opportunities!
What did you want to be when you grew up? A great father. So far so good, I hope.
Last vacation: Israel.
Person I'd most like to have lunch with: My grandfather—as long as he agrees to come down here. I am not ready to go up there yet.
MANAGEMENT
Business philosophy: Have fun making money. Take care of your people and they will take care of you. Do the right thing when no one is looking.
Management method or style: Set the goals. Train your people. Trust your people. Stay out of their way unless they need you.
Greatest challenge: Successful, consistent implementation of Jiffy Lube Multicare across all service centers, allowing us to add maintenance services such as tires, brakes, tune-ups, and minor repairs to our existing line. This is the future for our business as we work to become the "one-stop shop" for all your vehicle's maintenance needs.
How do others describe you? Some combination of the following: Bigger-than-life storyteller. Frustrating to debate. Refuses to give up. Rarely on time. Occasionally harsh and out of line. Teaser/smartass. Innovative. Big heart. Loves to laugh. Passionate. Loyal. Competitive. But hopefully, they would all describe me as a Great Family Man.
One thing I'm looking to do better: I have to take better care of myself.
How I give my team room to innovate and experiment: I believe that someone with great passion for an average idea of their own will succeed far more often than if I give them a great idea that they don't completely buy into. Having said that, I remind our people that if they run with my idea and it doesn't work, we share the blame; while if they ignore my idea and go their own way, there will only be one of us to blame, and it won't be me. So they had better make their idea work… and they usually do!
How close are you to operations? I set the course and I stay very close to the daily results, but I have never been completely hands-on, training out in the shop. Our greatest strength is the quality of people we have on our team. Our mighty COO has over 35 years of experience. Our Jiffy and Tuffy leadership team averages over 20 years in our JTM family. The newest member of our Ops team has been with us for 9 years. We have been blessed with an awesome group of committed professionals.
What are the two most important things you rely on from your franchisor? All three franchisors do a great job of providing high-quality training. We also take full advantage of the Jiffy Lube Fleet Program to drive business to our bays. Mighty and Tuffy are close-knit, "family style" franchisors who truly care about the success of their franchisees and are always available to help us achieve our goals.
What I need from vendors: Quality product and timely service. Transparency and a commitment that no one is buying from them at a better price than they charge us. We don't need to be wined and dined. Just value our business and do a good job.
Have you changed your marketing strategy in response to the economy? How? Our marketing approach has changed significantly over the years. We have all been mesmerized by the cool analytics possible with digital advertising and have shifted funds into those areas. But I still believe in mixing in some old-school, largely untrackable, "leap of faith" approaches like billboards, radio, and targeted TV. One intentional change we've made over the past decade is to specifically target women more than ever before. I'm not sure if men fully realize this yet, but women don't listen to male advice on car care the way they used to!
How is social media affecting your business? Social media requires constant and vigilant attention. A firestorm can erupt in minutes and do lasting damage to your reputation. It is often completely unfair and always extremely frustrating, but if you don't act quickly and decisively, you will wake up one day wondering what happened to the business you worked your whole life to build. At the same time, investing in positive social media and proactively building a strong brand reputation will provide some balance that can help you survive any negative situations that occur.
How do you hire and fire? We give a lot of people a chance and we stick with them as long as they are working hard to be their best, on and off the job. If they stop caring, they have to go.
How do you train and retain? One of our founding principles is Growing People Through Work. We are all about 24/7/365 training and developing talent. We demand that everyone who works for us gets onto a path of self-improvement. And while we take great pride in all of the longtime associates we have on our team, we also want to make sure that when someone leaves our "JTM family," they do so as a better person than they were when they started. We teach classes in financial literacy and developing a "can-do" attitude. Everyone who works for us has a personal banker and a personal attorney to help as needed. We offer tuition reimbursement, first-time home buying programs, interest-free loans for anyone who gets in a financial jam, rewards for coaching youth sports teams or giving back in other ways, and we do strict and random drug testing to make sure our people are taking their lives seriously.
How do you deal with problem employees? We have tremendous patience for those who make mistakes but do so with good intentions. We have no patience for people who stop taking pride in their work. We don't let go easy, though, and probably allow too many second, third, and fourth chances, but part of our Growing People Through Work program accepts that personal growth is a process, not a switch. At the end of the day, though, if you aren't with us, you're against us, at which point we "release you to the market."
Fastest way into my doghouse: Try to figure out what I want you to say and then say that, instead of just going with the truth. I have no time for people who play games and sugarcoat things. If you don't know the unvarnished facts, you can't make the best decisions.
COVID-19
What are the biggest impacts of Covid-19 on your business? While Covid was devastating to the business from March to May, there was a surprisingly positive side to it. We had never really thought of ourselves as being "essential," but we found out that we are. This realization was a big morale boost for us as we fought through the many changes and realities of operating in a Covid world. The pride that our teams earned by being part of the solution—helping essential workers keep their cars running well so they could save lives—will live on forever. We did our part in the face of a global pandemic. We mattered.
How have you responded? We had to adjust to keeping our guests in their cars at Jiffy Lube. That sounds simple, but it has created a whole host of changes to how we have traditionally performed our services. All of the entities had to get used to 100% compliance with mask wearing and the other mandates. Wearing masks while working and sweating in the summer heat is extremely uncomfortable. But we had no choice.
What changes do you think will be permanent? Many of our guests have enjoyed staying in their cars during service. I think we will continue to provide that option forever.
BOTTOM LINE
Annual revenue: More than I ever imagined.
2021 goals: It is a bit of a long shot, but we have had 9 consecutive years of record sales and profits. If we finish this year really well we have a shot at making it a full decade of record-setting performances, despite working through a global pandemic. How cool would that be?!
Growth meter: How do you measure your growth? Comp guest count and comp sales.
Vision meter: Where do you want to be in 5 years? 10 years? In 5 years, right where I am today, growing intelligently and having fun innovating new ways to build the business. In 10 years, if I am still having this much fun, why change?
Do you have brands in different segments? Why/why not? Jiffy Lube and Tuffy are similar in many ways, although Tuffy is more focused on larger repair jobs, while Jiffy is more focused on helping people avoid the need for larger repairs. Jiffy is like a dentist. Tuffy is like an oral surgeon. Together, we can do anything. Mighty is a parts provider that services many different automotive shops. It is a different model as a warehouse/distribution business, but its success is tied directly to the success of the automotive service industry.
How is the economy in your regions affecting you, your employees, your customers? The economy appears to be rebounding, but there are still plenty of potential pitfalls, and any bad news could trigger a downward spiral. We are very cautiously optimistic that we have seen the worst of it.
Are you experiencing economic growth in your market? We are rebounding well from the Covid depths in almost every market, but the rebound feels tenuous at best.
How do changes in the economy affect the way you do business? When lots of people are buying new cars, we see a bit of a lag in business. When people decide to keep and maintain the cars they have, we pick up a bit. We are not very seasonal, but we are very resilient.
How do you forecast for your business? We produce a massive annual business plan that the entire leadership team helps write. We then look at current trends when setting/adjusting monthly budgets, making sure we keep the annual budgets in play while constantly pushing our teams to produce more.
What are the best sources for capital expansion? It has been great to have so many of the lenders who used to focus on working with restaurant chains now starting to develop an interest in funding automotive service expansion. I think Covid has shown how much safer a bet we are.
Experience with private equity, local banks, national banks, other institutions? Why/why not? We have always taken our banking relationships extremely seriously. We take the approach that having a good working relationship/partnership is far more important than an extra ¼ point in rates. We have actually developed a wonderful relationship with a credit union that has helped fund our real estate portfolio.
What are you doing to take care of your employees? Everything we can possibly think of doing. Nothing matters more than our people. They are the "secret sauce" that makes everything work.
How are you handling rising employee costs (payroll, minimum wage, healthcare, etc.)? We have raised some prices and will likely need to continue to raise them over the next couple of years. That is always a scary proposition, but there is no choice. Our average hourly rate has increased almost 50 percent in the past 3 years, and it may do that again in the next 3 years. The "UN"Affordable Care Act has not helped our people, as they can't afford the co-pays, let alone the deductibles. Our society needs to stop arguing and fix this by providing free "basic" health care for all citizens.
What laws and regulations are affecting your business and how are you dealing with it? We always adjust and adapt as needed to laws and regulations. One thing we have had a lot of fun and success with the past few years has been our Public Art project, which has been a great way to engage with our community, bring beauty and interest to retail shopping areas, and keep our business relevant in-between service intervals. It has also made it easy for consumers to notice us and remember where we are located, since retail signage regulations have become increasingly stringent and restrictive in many areas.
How do you reward/recognize top-performing employees? We have regular, formal bonus programs that reward great performances, both weekly and monthly. We also have been doing quite a few "surprise" bonuses and raises for those who have done something exemplary. We have an annual Managers Awards Banquet at which we honor all of our top performers. We also hold fun competitions that get the shops competing against each other for fabulous prizes.
What kind of exit strategy do you have in place? I know we are supposed to think about that, but we are having too much fun these days. None of our children is interested in taking over the reins, so whatever happens down the road will mark the end of the Sanner and Greenfield family's involvement in the industry that has provided so much to us. That is a little sad, but all good things must come to an end sometime, right?
Published: October 7th, 2020
Share this Feature
Recommended Reading:
Comments:
comments powered by

Disqus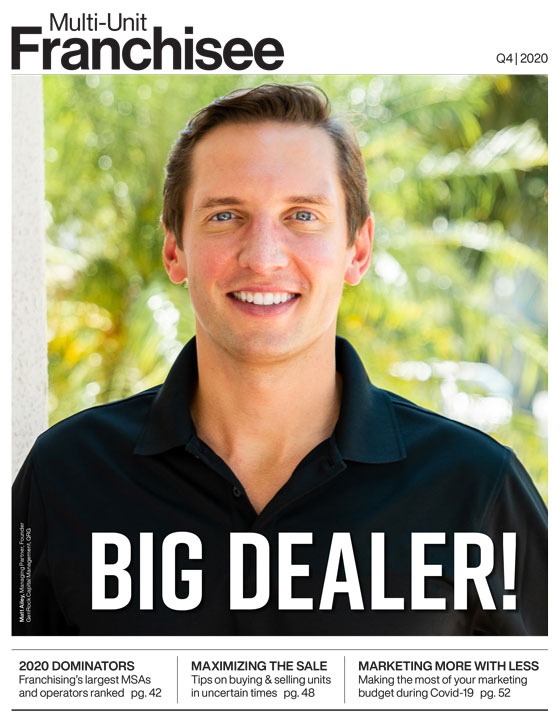 Multi-Unit Franchisee Magazine: Issue 4, 2020
With over 650 stores operating across 28 states and commitments to open more, Scooter's Coffee is in the midst of a strategic growth phase...
Cash Required:
$200,000
With many attractive development territories available for multi-unit growth, there has never been a better time to become a Penn Station franchisee.
Cash Required:
$300,000