Beauty Above the Mask: Doing well by doing good, from New Jersey to Ghana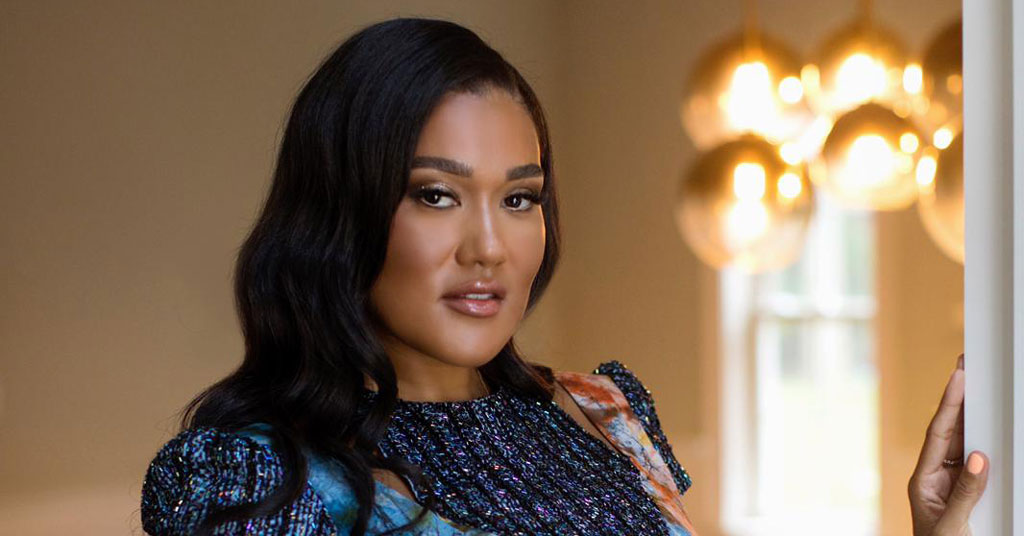 Name: Elaina Watley
Title: Multi-unit franchisee
Company: Amazing Lash Studio
Units: 3 open, 5 in development
Age: 35
Family: Single, one daughter
Years in franchising: 4
Years in current position: 4
Elaina Watley had a lucrative career in sports and entertainment marketing. She worked for top agencies including Creative Artists Agency and William Morris Endeavor, where she represented NFL players. Then she founded Brand Infinite, a marketing agency that managed the careers of professional athletes. She served as co-executive producer for a Showtime documentary with LeBron James and promoted clients who became New York Times best sellers. She also was part of creating and promoting a custom Nike shoe for former New York Giants wide receiver Victor Cruz.
Though her career had been rewarding and fulfilling, she was feeling drawn to something different. "After working primarily with men, I saw an opportunity to promote entrepreneurship within women," she says. "It was that moment in my life that propelled me into franchising in the beauty space." Today she operates three Amazing Lash Studio locations in New Jersey with five more in development.
Watley had seen the power of franchising in the lives of friends who had been successful with it. "I liked the scalability of franchising," she says. When she began meeting with representatives from Amazing Lash Studio 5 years ago, she knew it was the right fit. The brand, she says, was up front with its strategies and financials and she felt they really listened to her ideas. She also liked that it was an emerging brand that offered potential. Her three open studios are in Clifton, Montclair, and Florham Park, New Jersey.
But it hasn't been all about growing her own franchise empire. Watley will quickly tell you she is also passionate about inspiring other women to become business owners. Her vision has helped her build career opportunities for her employees and for other female entrepreneurs to grow. She's invested in financial training for her employees and developed an ownership and equity model based on a percentage of profitability.
Earlier this year, Watley visited Ghana for what turned out to be a life-changing trip, where she fell in love with the people and the land. When she returned home she launched an endeavor called The Butterfly Effect. One of the company's initiatives is to build a new school in Ghana. "The current school already has after-school programs in place, so our plan is to expand upon that by building a state-of-the-art facility that provides classes for the entire day," she says. Furthermore, she plans to create an investment fund to connect the global community to Ghana by providing more education on building viable and sustainable businesses.
You might expect that Watley would have more big goals in mind for 2021 and you'd be right. Looking ahead, she'd like to launch her own beauty line, open three new studios, acquire another one, and continue raising money for the school in Ghana. In business and in life, she's doing well and doing good.
PERSONAL
First job: My first job was with Creative Artists Agency (CAA) working specifically in entertainment marketing.
Formative influences/events: I worked at CAA for 4 years and switched to a new agency, William Morris Endeavor, where I represented a variety of NFL players and landed them marketing opportunities. While I found my work incredibly rewarding, I knew I wanted to do something different. After working primarily with men, I saw an opportunity to promote entrepreneurship within women. It was that moment in my life that propelled me into franchising in the beauty space.
Key accomplishments: When I worked in sports, it was always my goal to grant my client's wishes. One of my favorite moments was when I was able to be a co-executive producer for a Showtime documentary with LeBron James. I've also been able to promote a client to be a best-seller and created a custom Nike shoe for former New York Giants wide receiver Victor Cruz that sold globally. Transitioning into the beauty and franchising space has been a big accomplishment as I continue to grow with Amazing Lash and inspire women to pursue business ownership.
Biggest current challenge: Financing my desire to expand.
Next big goal: I would like to launch my own beauty line. Additionally, I would like to grow with Amazing Lash and own an entire region.
First turning point in your career: There have been so many. The first was when I realized I wanted to leave my career in sports and entertainment marketing and go into business ownership in the beauty space through franchising with Amazing Lash. It has been a blessing to grow as a business owner and inspire women to pursue entrepreneurship.
Best business decision: Purchasing two additional locations after my Montclair studio showed me franchising in a different way. It was this moment that I knew multi-unit ownership was for me. I am excited to keep growing with Amazing Lash while creating a blueprint for women who want to become business owners. Some of these women happen to be my employees, and I want to help them grow and see a pathway to ownership.
Hardest lesson learned: Not implementing automated business systems earlier.
Work week: My work week is ever-changing, especially in the midst of a global pandemic. A lot of it stems from the goals I want to accomplish for the week. I am a very goal-driven person. Planning for the future means being responsive to what is happening today.
Exercise/workout: I recently started biking and ride 30 miles a week. I also take time every day to meditate, and weight train three days a week.
Best advice you ever got: To think outside the box, you must define it first.
What's your passion in business? Having scalability, while also having net profits be consistent. The goal is measurable scalability without a decrease in profitability so we can be a sustainable business. Another key passion of mine is creating a launchpad for entrepreneurship for my employees.
How do you balance life and work? It's hard to balance, but I do the best I can. I have an 8-year-old daughter. She plays golf and speaks three different languages. I'm a single mother and she means the world to me, so every moment I get to spend with her is a blessing. I also enjoy traveling. I always say that my spirit tells me to travel. My favorite destination is Ghana.
Guilty pleasure: Sometimes there are just days where you need to turn the music up all the way and sing. For me, that is most days.
Favorite book: The Art of Seduction by Robert Greene.
Favorite movie: "Sound of Music."
What do most people not know about you? I graduated high school when I was 16.
Pet peeve: When people are not able to be proactive in their desire to develop.
What did you want to be when you grew up? I always wanted to be an orthopedic surgeon.
Last vacation: I went to Ghana, and we are currently building a house and a school there. The school broke ground on February 21, 2020 and will be built by September 2021. The name of the school is Lilies of the Field and will be for kids in kindergarten through high school.
Person I'd most like to have lunch with: Elon Musk.
MANAGEMENT
Business philosophy: To employ an ecosystem that is capable of committing to their role and that carries out the tasks they have been employed for.
Management method or style: To be transparent, accountable, self-sufficient, and to always encourage continuing education.
Greatest challenge: That I have been able to develop many of my employees into leaders and partners. As a result, it is difficult to find a place for these developed leaders to grow their careers. I don't want them to outgrow the business, and I want them to be in a strong financial position while doing what they love.
How do others describe you? As a selfless businesswoman who cares more about people's development than myself and who has a strong passion for business acquisition and strategy.
One thing I'm looking to do better: I want to dedicate more of my time to being in the field. Naturally, my time is spent handling office work and administrative paperwork. I went from owning three studios to having another five in development, which in turn goes from managing 30 to more than 150 employees. My goal is to spend four hours of my week doing paperwork and the rest of my time helping my team grow their businesses.
How I give my team room to innovate and experiment: I'm a multi-unit franchisee and Amazing Lash is fantastic at giving us best practices to implement. Based on this information, I will then take it to my team and have the Studio Support Center team lead training so they know how to do it right the first time. We brainstorm as a team how we can continue to grow and retain our customer base, as our main goal is to have 85 percent restored clients.
How close are you to operations? I am very involved in the day-to-day operations. I conduct a senior leadership call with managers every single day and then have one-on-one conversations with those managers to track weekly and monthly goals. I am in charge of inventory, budgeting, marketing, and hiring decisions. Being involved in all aspects of the business is what makes a strong multi-unit franchisee. You have to show others how invested you are in their success to help them grow into leaders.
What are the two most important things you rely on from your franchisor? 1) Learning and development. The brand recently launched Amazing Lash Studio Online University, a learning platform that has been transformational and offers courses for all of my team from stylists to managers to lash consultants; and 2) Operations and best practices. The Support Center team takes a very hands-on approach to helping me and my team. From one-to-one calls to regional best practice sharing to webinars, there is always an opportunity to learn from the Support Center, as all as from my fellow franchisees.
Have you changed your marketing strategy in response to the economy? We have spent more on our digital marketing strategy, which has created higher-quality leads since we have re-opened. We are now closing those leads at 60 percent compared with 30 percent before.
How is social media affecting your business? Social media has affected us in a very positive way. With lots of people at home and keeping up with social media, we realize we need to stay relevant on the digital front. That's why we have invested more into digital marketing tools to meet our consumers where they are on places like Facebook and Instagram. As a result, we have been doing more Facebook live and Instagram stories from our studios showing consumers how we are operating and that we are open for business.
How do you hire and fire? Hiring for me is a four-step process. Our director of marketing will conduct a phone interview with the candidate. Based on the phone interview, we then conduct a Zoom interview to see how the guest would sell a customer a product. Step three is an in-person interview where they would shadow one of our stylists and see how the job is performed, in addition to the front desk. Based on those three steps, we then decide to either hire or go in a different direction.
How do you train and retain? The brand recently launched Amazing Lash Studio Online University for franchisees and all studio employees, and it's really been transformational for my team. Now we have access to courses that range from technical to more leadership-focused opportunities. I also offer continuing educational and other learning opportunities and coach every single day. From a retaining perspective, I conduct weekly one-on-ones and dedicate time to my team and help them grow in their careers.
How do you deal with problem employees? Whenever there is an issue, we handle it right then and there. I believe that handling problems right when they happen creates a strong accountability structure.
Fastest way into my doghouse: To commit to a task you said you were capable of completing with no questions asked and then not doing it how it was supposed to be completed.
COVID-19
What are the biggest impacts of Covid-19 on your business? We were closed for 3 months, which allowed no revenue for a quarter of the year. We are currently getting our members back active on membership payments, which has been challenging at times. The biggest impact is making our employees and customers feel safe. We wore gloves and masks before Covid-19, but we are now implementing 10-minute time gaps between each client, offering curbside check-in, and conducting temperature checks with customers and employees.
How have you responded? I have to really commend the Support Center team for their help in navigating these uncertain times. The entire team has worked since this pandemic started to give franchisees the tools they need. They've launched a robust safety and sanitation process to help keep our employees and guests safe. Additionally, they launched the Operation Rise Up playbook, which provided me and my team with marketing, operations, and learning and development tools and resources. On the studio level, I have responded in a variety of ways. I used the downtime for additional training through the Online University. This allowed our team to dive deeper than we would normally get to if business were running as usual. Also, identifying key strategic mergers and acquisitions has been really important for me over the past several months.
What changes do you think will be permanent? Permanent changes I expect to see will be the wearing of gloves and masks, temperature checks, questionnaires, and curbside check-in.
BOTTOM LINE
Annual revenue: Almost $3.5 million (3 studios, 2019).
2021 goals: I would like to launch my own beauty line, open three new studios, acquire a studio, and raise money for the school we are building in Ghana.
Growth meter: How do you measure your growth? Net income, net profit, and is it scalable.
Vision meter: Where do you want to be in 5 years? 10 years? In 5 years, I would like be a franchisor with my first concept opening by 2025. In 10 years, I hope to sell that concept for north of $100 million.
Do you have brands in different segments? Why/why not? I am developing a skin care brand, but I see a strong opportunity within the beauty segment to keep growing within the industry.
How is the economy in your region affecting you, your employees, your customers? We are seeing lots of prospects come through our doors, which has been really encouraging. One of the biggest factors we have realized is that people still care about how they look no matter if they are working from home, from the office, or not working at all. With mask coverings predominantly covering the mouth, more people are willing to spend on lashes. Beauty above the mask is the way we see it. Revenue is about 80 percent what it would have been pre–Covid-19. We are also launching eyebrow services soon and recently launched Lash Pass.
Are you experiencing economic growth in your market? Not right now.
How do changes in the economy affect the way you do business? Right now, we are spending more money on our digital strategy, knowing many consumers are at home on their phones or on the Internet.
How do you forecast for your business? A lot of my forecasting comes from projections and trends happening within the beauty industry. Based on that information, I conservatively forecast what our revenue projections will be and work toward that goal.
What are the best sources for capital expansion? SBA lenders.
Experience with private equity, local banks, national banks, other institutions? Why/why not? I've purchased two businesses with cash, but all of my other businesses have been funded through SBA loans. I'm currently building a studio in Brooklyn and looking to work with private equity.
What are you doing to take care of your employees? We have been able to bring back all of our employees and continue growing their skill sets. Right now, the biggest thing is making sure our employees remain healthy. We have instituted many policies for our employees as it relates to working in a high-touch environment during a pandemic. We are providing career development trainings, and I spend a lot of my time at the studios ensuring operations are running smoothly. I am also making sure we have more high-touch-point conversations to listen to my employees and hear their concerns.
How are you handling rising employee costs (payroll, minimum wage, healthcare, etc.)? Driving more revenue. Payroll is the one thing people say you can cut, but you can't.
What laws and regulations are affecting your business and how are you dealing with them?
Thankfully, the Support Center team has been staying on top of all the CDC requirements and changes. They've launched a whole new section on our website to educate the public about what we've done to ensure we've created a safe environment in the studio. That's been really helpful. At the studio level, we are handling it as well as we can. We have social distancing guidelines in place, limited capacity, and have staggered our appointments to ensure our employees and customers feel safe, which is our number-one priority.
How do you reward/recognize top-performing employees? We have bonus systems in place along with goal-tracking software. As I mentioned, I am a goal-setter and achiever. I look to instill that value into my employees so they can exceed their goals and grow personally and professionally.
What kind of exit strategy do you have in place? I want to sell at an 8x multiple. Essentially, the goal is to sell all the studios to another person who will carry on the legacy so I can create my own franchise concept that I hope to start in the next 5 years.
Published: October 18th, 2020
Share this Feature
Recommended Reading:
Comments:
comments powered by

Disqus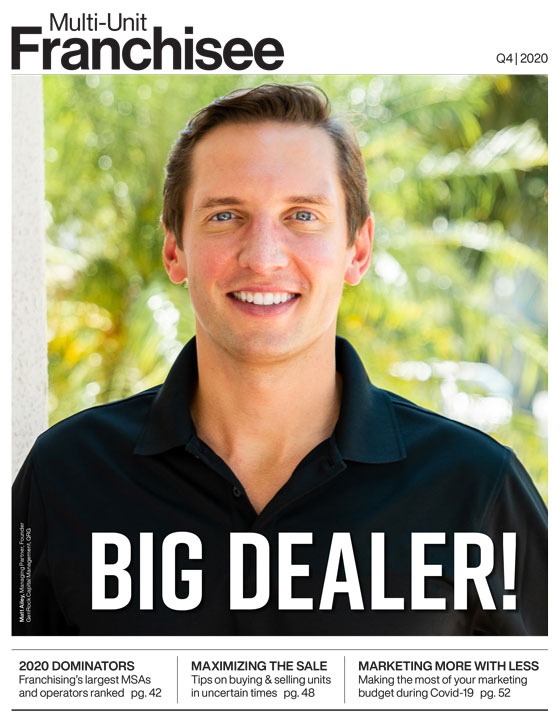 Multi-Unit Franchisee Magazine: Issue 4, 2020
With many attractive development territories available for multi-unit growth, there has never been a better time to become a Penn Station franchisee.
Cash Required:
$300,000
Vitality Bowls specializes in acai bowls, smoothies, juices, salads, grain bowls, wraps, toast & panini, made with unique superfoods like pitaya,...