BoeFly CEO Shares His Perspective on Small-Business Lending & the PPP
BoeFly CEO Mike Rozman says his company was well positioned within the fintech lending space when the Covid-19 pandemic began shutting down the world's economy. That's because BoeFly, a pioneer in the online lending space, had built a technology to match small-business borrowers with lenders in a simple and efficient process.
Nevertheless, the economic debacle resulting from Covid-19 has become a beast of a mess for borrowers and lenders alike, who all are trying to sort things out and get back to business. Yet, despite the built-in structural advantages online lenders have, "We had to make some technology adjustments, too," says Rozman.
"When the government announced the CARES Act's Paycheck Protection Program and rolled out a program in one week, it was simply too much too fast for the banking industry," he says. Rozman says that while lawmakers and bureaucrats designed a well-intentioned system built on speed, this forced banks to act too quickly and without the correct infrastructure in place.
Covid-19 also has thrown a monkey wrench into all SBA lending, overwhelming its resources and capabilities to meet an overwhelming demand. "Lending everywhere is just not happening right now, and the SBA won't return to normal until this is all behind us," he says.
Then there was the Herculean task of disbursing $350 billion to business owners in what turned out to be a matter of days, as businesses of all kinds across the country scrambled for desperately needed funds. Making it worse, and controversially, large public companies and PE-backed firms scooped up a good portion of those funds. (See Editor's Note at the end of this article.)
The result is that many thousands of small-business operators who applied for loans were unable to get a piece of that $350 billion before the money ran out. Meanwhile, many franchisees were left wondering how they would be able to pay their employees and remain in business.
Still, says Rozman, "I know that we were able to help some operators access some of that money who would not otherwise have gotten it."
Rozman says his franchisor clients are frustrated with the situation because they are hearing frustration in the voices of their franchisees. "Everybody wanted to distribute this money fast, but you can't roll out a new program in just a week."
In the meantime, Rozman says, he has been encouraging his franchisor clients to communicate often and share any updates they have with franchisees and other business partners to keep everyone informed and at ease. And like many others, BoeFly is doing its bit to help by providing the latest updates on its Covid-19 web page.
For franchisees, says Rozman, it's critical to understand that they must use a minimum 75% of any PPP loan they receive for payroll to have it be 100% forgiven down the road.
"If you have PPP money, you need to make sure to use it in a way that makes it completely forgivable," he says. "Second, put yourself in a spot to get funding. Have your house in order, use technology, and work with the right partners." This includes your banker – and acting as early as possible to improve your chances of receiving funding from the new round before that runs out.
Rozman believes that when the financial chaos from Covid-19 finally settles down, its effects on small-business borrowers will be long-lasting. "There will be new underwriting standards that take into account the kind of business it is, and how susceptible it would be to something like Covid."
Despite all, as he works to help small-business operators today, Rozman is also taking the long view and sees better days ahead. "Covid-19 has been a gigantic flash in the pan. But it will pass. We will get through this and business will thrive again."
Editor's Note: Yesterday (April 23), Congress approved a new $484 billion relief bill, with $310 billion earmarked for PPP funding. With large companies having scooped up a portion of the previous $350 billion – but now with many now returning it after public and Congressional pressure – time will tell how the distribution of funds works out this time for small-business applicants. See Article 2 in this newsletter for an update on the new, tightened regulations for borrowers and other changes specific to franchising.
Mike Rozman is CEO of BoeFly, which helps prospective and existing small-business owners secure fast, efficient, and competitive financing through its online matching platform by connecting borrowers with lenders from its more than 5,000 participating banks and specialty finance companies. Contact him online, or call 800-277-3158.
Published: April 25th, 2020
Share this Feature
Recommended Reading:
Comments:
comments powered by

Disqus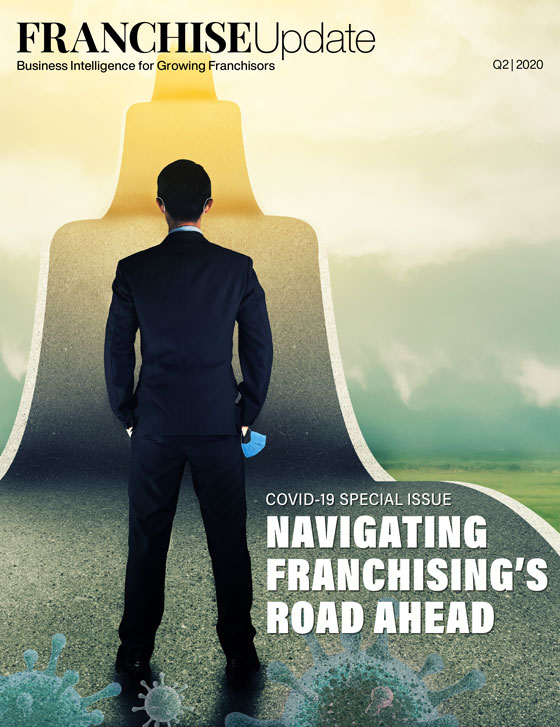 Franchise Update Magazine: Issue 2, 2020
UMI has over 23 years of experience supporting fast-growing multi-unit brands. From strategic planning to design, execution to analysis, UMI...
Hub by Thryv is an end-to-end client experience platform custom-built for franchises. Its ready-to-use business apps help franchisees view their...