Bringing an Australian Concept to the U.S.
Look out, there's more than Foster's coming to the U.S. from Australia.


Australian companies looking to expand beyond their borders are casting a hungry eye on the U.S. market. Physically Australia is over ¾ the size of the United States but there are only 19.9 million people in the country compared to a population of over 293 million in the U.S. What's more, high household and disposable incomes and the almost competitive desire to be the first on their block to try something new give American consumers both the means and the propensity to buy Australian products and services.

Equally attractive from a business viewpoint, franchising is well established in the United States. While Australian companies must comply with the U.S. disclosure requirements and regulations regarding the offer and sale of a franchise, they, like American franchisors, are largely free to include whatever terms they wish in their franchise agreement. Using franchising to enter the market, Australian companies can maintain and enforce their operating policies, set standards and protect their brand.

Michael Seid, Managing Director of MSA, a franchise consulting company recently spoke to a group of Australians looking to enter the U.S. market at the FCA Annual Convention in Canberra. "Both the size of the market and the ability to protect their brand and intellectual property make the U.S. attractive to Australians, said Seid. "Even companies who are not franchising at home are evaluating franchising as a means of entering the U.S. market. However, in a market this large and complex it requires a lot of homework to determine a strategy that will enable a company to be successful."

Bark Busters, an in-home dog training franchise entered the U.S. market 5 years ago from Australia. Liam Crowe, Bark Busters' Treasurer and CFO echoes Seid's comment regarding the need for homework and added the value of getting the advice of professionals who specialize in franchising. "This was a huge opportunity but we wasted a lot of time and money in getting started. We went through three attorneys before finding one that was really an expert in franchising and could give us the advice we needed to get started, said Crowe. "With the proper guidance we developed a single unit model. We were also able to lower our initial fee by instituting a training fee and royalty which made us much more competitive with other franchise offerings. Today, we have 150 franchisees in 34 states."

Where to start can pose a dilemma. California is the closest to Australia and the jumping off place for most flights between the two countries. "However, California may not be the most advantageous place to establish your U.S. franchise" says Kevin Hein, attorney with Snell & Wilmer who has assisted Bark Busters and other Australian companies to enter the U.S. market. "We've had clients look at California, Florida and then settle on Colorado. From a business standpoint, Colorado makes it very easy for franchisors to get established."

Another early decision is how to enter the market. While international franchising has long relied on the use of master franchise agreements for the rights to an entire country Seid advises that may not be the correct strategy for the U.S., "Putting all your eggs in one basket in a market with this much potential can be dangerous," cautioned Seid. "We see many companies using direct franchising through Area Development agreements or modifications of an Area Representative agreement."

How to provide support to American franchisees can also pose a challenge. One well established Australian brand whose concept is aimed at children is planning to franchise in the U.S. even before they begin to franchise at home. "We've made some adjustments to our menu based on the tastes of American children. In Australia we serve calamari nuggets and in the U.S. we'll replace them with chicken nuggets as it seems American children (and their mums) are not overly fond of calamari," said a spokesperson for the company. The company is costing out opening a company owned unit which they will use to provide on the job training to their franchisees. They are still evaluating whether to send the staff for the initial unit from Australia or train Americans. Because they have an internationally known brand that deals with children they want to be particularly careful about making sure that their franchisees are well trained, supported properly and that their standards can be enforced. In addition, having an operating unit on the ground will prove the concept in the U.S. and serve as a model for the selling of franchises.

"In cases where the Australian company is to be the franchisor through a U.S. based subsidiary careful consideration must be given to the formation of the entity that is to franchise in the U.S. and the legal agreement granting them the right to use the trademark from the parent company," said Hein.

It is fairly common knowledge that although the people of both countries speak English the exact words in the advertising message may need to be "Americanized". In addition, companies that rely on advertising on mass media to build brand awareness are also in for a surprise when they come to the U.S. At home they can spread their message over 104 television stations and a total of 607 AM and FM radio stations for the entire country. In the U.S. there are over 1,500 television stations and 10,304 radio stations. On one hand, the abundance of media choices enables franchisors to tailor a program to zero in on their target audience. On the other hand, sorting through the myriad of choices requires the help of professionals to ensure that advertising dollars are spent effectively.

For many Australian companies successful entry into the United States represents the equivalent of winning the lottery. Americans have both the desire and the means to try new products and once hooked, Americans are loyal customers. However, the bigger the opportunity the more important it is to do the homework necessary to ensure a successful entry.

Kay Ainsley
Managing Director
Michael H. Seid & Associates, LLC
Published: August 24th, 2005
Share this Feature
Recommended Reading:
Comments:
comments powered by

Disqus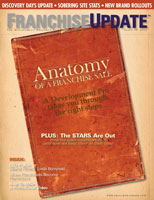 Franchise Update Magazine: Issue 4, 2005
Our franchise management software helps increase unit growth, reduce opening time, track and improve unit performance, automate financial reporting...
BoeFly drives growth by delivering financially qualified candidates increasing lead-to-franchisee conversion, and helping franchisees secure...