Building a Better Breakfast Brand
New growth strategy produces big turnaround for Denny's
"As a brand, people know Denny's," says Doug Wong, Denny's director of franchise development at the iconic, 56-year-old American breakfast franchise. "But they don't know who we are today." That goes for customers as well as potential Denny's franchisees.

The company's call to action is "Growth is back on the menu." And from conversations with three key corporate executives it's clear there's an aggressive, effective franchise growth strategy in place.

System-wide, Denny's reported 2007 sales of more than $2.4 billion at its 1,550 restaurants (373 company-owned and 1,177 franchised units as of March 2008). But beyond the numbers (see sidebars), executives at Denny's know the business of growing a franchise brand is all about growing relationships.

Steve Dunn, Denny's vice president of development, agrees with Wong's assessment of how the brand has been perceived. "Denny's is a legacy brand but it had begun to look a little old," he says. Just a few years ago, the Denny's system was doing all right with its existing restaurants, but there was little expansion or system development. Dunn, who oversees all areas of franchise development for Denny's, from recruiting through real estate, had previously been with brands including El Pollo Loco and Church's and was hired to help Denny's return to a growth mode.

"When I came on board a few years ago, there were no development agreements in the works. It was really a rebuilding process from day one," he says. Together with Wong and Mark Burgess, senior director of development he has been working to "reinvigorate" the brand--from the initial sales process to sprucing up the restaurants and menus. "We look different, feel different, and act different," he says today.
Fresh, new... and aggressive
One facet of the fresh start at Denny's has been the look and feel of its stores. "Have you been in one of our restaurants lately?" asks Dunn. Whether it's spicing up the menu or remodeling the restaurants, he says, the company is working hard to reposition the brand.

One move has been to team up with Pilot Travel Centers. The new joint development program with Pilot was launched last year, and Dunn says it puts the largest family restaurant chain and the largest travel center operator in business together. And, he says, it builds on Denny's heritage of highway development. At present, there are two co-branded units open and more are on the way.

The company is also focusing on value promotions, marketing, and menu management in its ongoing effort to reevaluate, reassess, and place financial investments where they are needed most. Denny's has created Fresh Express, a fast-casual concept, to add a convenience component to its product quality message and is using the concept as an R&D facility for initiatives to lure customers away from surging quick-service rivals. With three units in the Dallas market, the company is testing new and innovative ways to keep the Denny's brand relevant in today's marketplace.

These efforts seem to be working. Over the past several years, Denny's same-store sales have surpassed industry averages and are contributing to stronger financial performance for the company and its restaurants, and average unit volumes continue to rise for both company and franchised stores. And, as if to emphasize it means business, Denny's has paid down $201 million (36 percent) of its debt over the past two years. All these efforts have combined to create a brand that is more attractive to prospective franchisees and better able to support prospects after they sign on.
A "process-and-a-half"
Denny's is no different than any other franchise brand when it comes to lead generation and recruitment, but age also has its benefits. "We do have the advantage of being an established brand, so that helps the lead flow," says Wong, noting that Denny's very little online prospect mining. "For us now, it's just too crowded on the portal sites, although we might look at that in the future."

Wong believes in attending trade shows for the invaluable face-to-face time with potential candidates. Denny's is a regular exhibitor at events such as the Restaurant Franchise Conference, Restaurant Leadership Conference, the IFA's Annual Conference, and Area Developer's Multi-Unit Franchising Conference. "These are the places where the movers and shakers are, and are really the best places for networking," he says.

Geography also is playing a part in Denny's plans. "We do have a mature brand and some of our markets, such as the West and Southwest, don't have as much room for growth as say, the Mid-Atlantic or Northeast regions that we are strategically trying to grow," he says. That's why Denny's execs also will focus on regional franchise conferences and shows in areas considered ripe for the company's growth strategy.

Although initial investment costs can be high, Denny's doesn't have much trouble finding leads--but it's not just any lead they want, it's qualified leads. Wong relies on an outside firm, Liberty Development Consulting, to screen and pre-qualify prospective leads. "Prospects are channeled through Liberty and they have our metrics, a list of screening questions, and can pre-qualify and funnel the best leads right to me. It's a great process," he says.

Adds Dunn, "Liberty helps us get to the key people. They're financially qualified, geographically qualified, and we know how experienced they are. Some already have a business plan."

After passing through the first stage, qualified candidates' names land on Wong's desk, where he reviews the applications and performs background checks--quickly. "I try to get a call in to every candidate within 24 hours to two days," he says.

Those initial phone conversations give Wong a chance to dig a little deeper with the prospect. He says the first call can last from 45 minutes to an hour. He's probing for answers to questions such as, Why Denny's? Why now? Why this territory? If all appears promising, an FDD is sent to the prospect. (Denny's includes earnings claims in its FDD).

"Most franchisors have a sales process. At Denny's we have a process-and-a-half," he says. "If a prospect looks good and we go forward, they become like a child of mine."

Next up, Wong makes a personal visit to meet with the prospect one-on-one for a meeting that can last four hours or more. "We talk more, and we review a checklist," says Wong of the process of sharing extensive brand information. "I've been a franchisee and a franchisor, so I know where they're coming from and it puts them at ease." He says the two parties review a presentation and "interview each other." Again, it's about developing a relationship. If at any point either side feels it's not a good fit, Wong says, it's best to part ways sooner rather than later.

From there, prospects are required to begin creating a business plan (if they haven't already) and to meet with some franchisees. "Our existing operators provide each new prospect a real-world perspective on what it's like to be a Denny's franchisee and enable them to make an informed decision," he says.

If the prospect makes it this far, Wong implements a meticulous series of checks and balances to ensure that the business plan and paperwork are complete and ready for the next steps: an interview with Denny's franchise operations, in-store observation, and finally Discovery Day in Spartanburg, S.C., where the prospect has their first face-to-face meetings with key people in all departments. If all goes well, awarding and closing quickly follow--and that's when the real teamwork begins.
A different philosophy
Denny's offers a strong contingent of corporate resources and franchise support personnel who interact with the development department to play key roles in the recruiting process. Real estate, finance, legal, administration, and operations all are tied closely to one other. Dunn says one of the company's objectives is to keep the communication channels wide open. "Our corporate support staff is dedicated and available to work with prospects and answer any questions along the way," he says.

Dunn says Denny's is a complex franchise to operate (full-service restaurant, elaborate menu, 24-hour operation) and must have an open-door policy for prospects to find the information they need throughout the recruiting process, and beyond.

If a prospect is interested in a built-out geographic area or shows an interest in taking over a company-owned location, he is redirected to Mark Burgess (see sidebar).

On the funding side, any newly signed prospects who need access to financial resources can be directed to a number of lenders who are familiar with Denny's and more than happy to work with qualified candidates.

For new franchisees building new restaurants, a regional and corporate real estate team uses the most sophisticated tools available to help evaluate potential sites and assist in the new unit build-out. Says Wong, "Our real estate department can generate reports on proposed site traffic, growth areas, and we can even send our people to physically check out the sites." Dunn, who oversees the real estate department, says this assistance can also apply to anyone converting sites that previously housed other restaurant concepts or retail establishments.

Wong says it's critical for him to work closely with all internal departments. In fact, after signing a new prospect, he hands off his former prospect not only to a real estate department contact, but also to a franchise administrator and a franchise operations director.

"I've worked for five different brands and been a consultant during my career, and the philosophy at Denny's is different than any other place I've been," says Dunn. "We don't sell, we recruit; it's a courtship, not a sell." And he says every employee involved in the process understands that mission to create relationships.

"We try to deeply understand the prospects we're working with, and we want them to thoroughly understand us," says Dunn. "Ultimately, it's a business decision and both parties want to make the right business decision."

Dunn says not every franchise organization looks at the recruiting process in this manner. But that's how Denny's does it, and it's paying off.
Published: September 22nd, 2008
Share this Feature
Recommended Reading:
Comments:
comments powered by

Disqus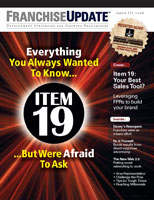 Franchise Update Magazine: Issue 3, 2008
919 Marketing Co. is a national content marketing, PR and social media agency serving franchise brands. Our proprietary social relations approach...
Franchise Update Media (FUM) is the trusted resource for the franchise industry. For 30+ years, FUM has been the leader in providing valuable...