Building a Management Mindset: 5 Keys to Multi-Unit Success
Some franchises work best with multi-unit ownership. But what makes multi-unit ownership work? It has little to do with how well franchisees cut hair, make sandwiches, or scoop poop. Even the best operators will fail at multi-unit ownership without an enterprise management mindset—from both franchisor and franchisee. Multi-unit success depends on these five capabilities:
Maintaining scalable systems (delivered by franchisor, executed by franchisee)
Screening, training, and coaching (franchisor and franchisee)
Leading, not doing (managing the enterprise)
Understanding financial drivers and results (monitoring the enterprise)
Managing the financial risks and rewards (planning the growth pathway)
Maintaining scalable systems. When I owned my own company, we had 19 locations, served by our corporate office and production center. Adhering to prescribed systems saved us many times. Beyond the obvious (proficiency + consistency = efficiency), our systems revealed when staff were attempting to steal from us, which stores were profitable and growing, which needed a management change, and ultimately enabled me to stay married and sleep at night. You cannot be at all sites every day, so systems, not verbal directives, are the structure for the team. Enterprise managers embrace them, maintain them, and monitor them.
Screening, training and coaching. In the rush to grow, franchisors may not carefully screen prospective franchise candidates, or may offer multiple units to the wrong person. Effective screening (meeting defined criteria) and onboarding (training, shadowing, and mentoring) are essential. Preparing to own a first location is very different from preparing for your second, third, or fourth. The successful franchisor recognizes this and has specific training for management and leadership skills for enterprise managers.
Finally, engagement with franchise business consultants who support and coach franchisees is critically important. This requires both the franchisor and franchisee to invest time and effort. Franchise systems lacking field teams with consulting and coaching skills risk letting franchisee problems snowball. Similarly, franchisees must coach their management teams. Successful enterprise managers and successful multi-unit franchise models embrace a strong coaching culture.
Leading, not doing. An enterprise mindset requires giving up operational responsibility. For the franchisee, this may mean giving up what they do best in exchange for leading, motivating, and coaching, which may not be their strong suit.
One strategy is to assign a spouse to each location, which can work because of the direct, hands-on approach of the couple. However, this is not enterprise management and can cause the marriage to suffer. Further, when they add more locations and run out of family members, things can quickly go sideways.
Enterprise managers must release operational duties to a competent team and focus their energy on hiring, training, monitoring, and coaching. Setting goals for KPIs and allowing the managers to manage is critical. When there are problems (and there will be), remember that putting out fires is not enterprise management. Brainstorming solutions with key team members and coaching up their performance is.
Understanding financial drivers and results. Multi-unit owners must routinely review financial statements, budgets, and KPIs. They must master breakeven analysis to establish meaningful sales and profit goals, and to predict the timeline to breakeven as each unit is added. Location 2 is funded by profits of Location 1 and new debt.
How much capital is needed? How will the new location costs differ from the original? What sales are needed to support the profit goal? By when? What activity goals will keep your team on track with building your new customer base in the time required? Enterprise management is management by the numbers.
Managing financial risk. The higher reward (additional profits) of multi-unit ownership comes with a trade-off: higher financial risk. In simple terms, growing sales and profits requires more capital or debt. It's the way wealth is built, but only if the enterprise is successful.
How long will it take to produce enough profit to repay the debt and pay a reasonable return to the owners? What if it takes longer than expected? Where will the money come from? What if you do better than expected? Where is the next opportunity to invest? Successful enterprise managers have written financial plans (Plan A and Plan B at least) that align with their personal financial goals and capacity. They take risks and then manage the drivers of their success to assure their rewards.
As a past franchise executive, I received phone calls from franchisees facing bankruptcy and divorce as a result of their business failure. Too many franchisors pass these off as failures of the franchisee. Many failures of the franchisee begin with a failure of the franchisor to incorporate the five competencies in their multi-unit development process.
Editor's Note: The author will be presenting a full-day session at the IFA conference on February 8 in Orlando on "Advanced Financial Essentials: Driving Profitable Growth Through Multi-Unit Expansion."
Rod Bristol is the director of business development and a presenter at Profit Soup, a financial education organization specializing in franchised companies. He can be reached at rod.bristol@profitsoup.com or at 206-427-5333.is the director of business development and a presenter at Profit Soup, a financial education organization specializing in franchised companies. He can be reached at rod.bristol@profitsoup.com or at 206-427-5333.
Published: November 29th, 2019
Share this Feature
Recommended Reading:
Comments:
comments powered by

Disqus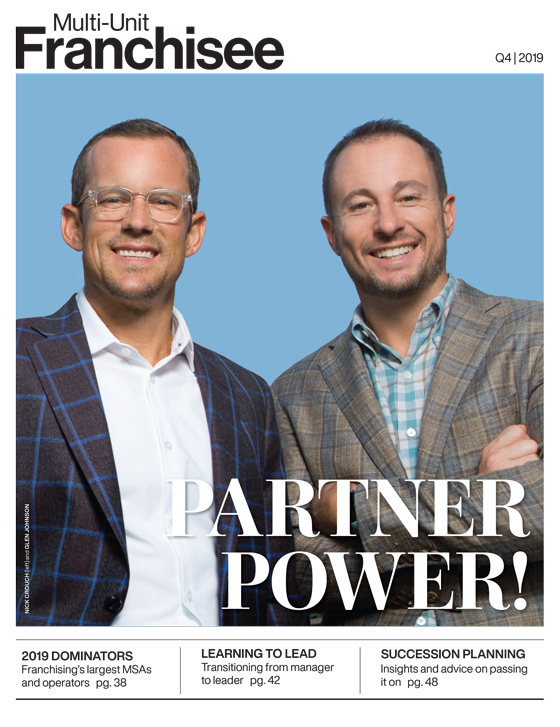 Multi-Unit Franchisee Magazine: Issue 4, 2019
Our first store opened in 1990 in California, growing quickly to a 5-store regional chain. PET DEPOT® started franchising locations in the USA in...
Cash Required:
$53,250
Briggs Home Care® offers a one-of-a-kind franchise opportunity to build a successful and rewarding home care business. Invest in our home care...
Cash Required:
$50,000