Building franchisee involvement--four franchisors show how it's done
It's human nature to want to be recognized and appreciated. After all, those kinds of accolades help to determine how we feel about ourselves as well as our careers. It's certainly no different in the franchising world. Franchisees want to know that they're more than just another cog on the wheel. They want to feel valued. When they feel like they play an active role in the decisions affecting their business, they're going to work harder. When they work harder, they're generally going to be more successful. And, of course, more successful franchisees mean a more successful franchise organization. So say the franchise executives who are really tuned in to their franchisees.

Building relationships
"We want our franchisees to know that we all make decisions together," says Keri Willenborg, director of corporate affairs and franchise sales, and co-founder of Supper Thyme USA, based in Omaha, Neb. "Building relationships with our franchisees is so important in getting them more actively involved."

The company currently has 31 franchisees, and measured growth is part of the strategic plan, she says: "We want to grow at a pace that allows for the development of personal relationships and strong units." The corporate staff is focused on fully and personally supporting the small network of franchisees. That's why Willenborg, co-founder Cher Stenger, and the rest of the corporate executives make themselves available 24/7 for their franchisees. "We really feel like we're on call when they have questions or needs," she says.

Allen Hager is president of Right at Home, a home health care franchise also headquartered in Omaha. Hager says his company's philosophy of caring for people applies not only to its customers, but to its franchisees as well. "We try to create an atmosphere of integrity and value with our franchisees," he says. "If we expect them to be actively involved, then we need to be involved, and we want them to see that."

Hager says it's important to build a dynamic relationship between franchisor and franchisee, remain focused on the company's philosophy and culture, and find ways to make improvements.

Dave Winter is president and CEO of Interior Door Replacement Company (IDRC) in Mountain View, Calif. "If you want to get your franchisees more involved, you have to eliminate fluff. They need information and answers, and they need to see that you work for them." Winter is doing just that as he supports his growing 17 franchisees, currently located between California and Texas.

With no corporate-owned stores and 95 franchises covering 140 territories, Jason Baldner, president of Kitchen Solvers in La Crosse, Wisc., needs his franchisees to be involved to help figure out which initiatives work and which don't. "It's tough to build one-on-one relationships the larger your system gets," he says. "But we try to stay in constant contact and are always looking for their feedback. It's important."

There's no mistaking--or minimizing--the need for franchisees to be actively involved. Here's how these four organizations are enhancing franchisee involvement in their systems.

Right at home
Advisory boards are certainly not a new concept in franchising. They're a tried-and-true warhorse that continues to provide benefits even today. And they're a part of the effort to boost franchisee involvement at Right at Home.

"Our advisory groups are involved in all of the major internal development processes here," says Hager. The groups help to continue development of the existing systems and to develop new systems. The company also has started forming subgroups based around specific projects, he says. "We just completed a web site overhaul after an advisory group of franchisees worked with us to determine how to make it better." Another advisory group helped uncover the need to allow franchisees to customize their web sites.

Hager says frequent surveys and feedback requests from franchisees are a must--and a clear indication that the franchisor is looking for active participation from its franchisees. "We must listen to what our franchisees are telling us," he says.

Annual and regional meetings are additional tools the company uses to involve franchisees. Again, not a new concept, but the difference is in the execution. "In addition to providing educational opportunities, these events allow for inspirational opportunities," says Hager. "It's very personal, we're all together. We see and feel successes there and we talk about how we can build more successes." He says the annual meeting draws more than 80 percent of the brand's franchisees.

Hager concedes that the annual meeting revolves around an agenda set by corporate, and says that's one of the reasons they've begun regional meetings. "These meetings belong to the franchisees. They plan them, set up the agendas, and even host them," he says.

Hager says corporate executives regularly visit franchisees on location. "There's no substitute for spending time with franchisees one-on-one." And although the personal touch is a vital part of franchisee involvement, technology also plays a major role.

"Our intranet, called OSCAR (Online Support Center and Resources), includes communication forums for franchisees to communicate nationally and within their own regions, resource libraries and materials, access to the company store, internal email, and suggestions areas," says Hager. There's even a component called Right at Home University, with industry-specific learning modules for franchisees' field staff and office staff. "We've found that the intranet has increased the flow of information from franchisees to us and also from franchisee to franchisee," adds Hager, who says he regularly monitors the activity on the site.

Later this fall, Hager says, the company will be hosting its first-ever Leadership Conference. "We're taking our top 10 franchisees on a three-day planning retreat," he says. Just one more way to encourage and create franchisee involvement.

Supper Thyme USA
Creating a close-knit franchise system has been a fundamental goal for Supper Thyme USA co-founders Keri Willenborg and Cher Stenger. Since beginning franchising about two years ago, they have focused on building personal relationships with their franchisees. "We want to ensure the success of every one of our franchisees," she says. "So we try to be strategic, offer training and support, but it's also important to share and grow together."

From regular conference calls to personal visits, there are some fundamental cornerstones that build franchisee involvement, says Willenborg. At Supper Thyme USA, there is personal contact from the moment a potential franchisee shows interest. "If you invest the personal time in the beginning, you can ensure success later on," she says.

Once on board, each new franchisee participates in a weekly conference call for the first 12 weeks. "We go through the operating manual week by week. We look at all the issues, such as licensing, ordering, really answering questions and solving any problems," she says. This is followed by a monthly conference call with all the franchisees, which also work as a great brainstorming session.

"We talk about how we're all doing, review policies, our corporate chef talks about the latest things she's working on, and of course, the franchisees share ideas."

Beyond this, corporate executives visit each location four times a year. "One of us goes and spends an entire day with each franchisee every quarter," says Willenborg. On these visits, they address any franchisee concerns, troubleshoot, check food quality, provide counsel, and "act as cheerleaders," she says.

Willenborg says one of the best tools for getting the franchisees involved has been the company's intranet/blog site. "It's really been a popular tool and a great resource for ideas," she says. Franchisees discuss and determine what has been effective in their markets as well as recommend new programs, strategies, and marketing initiatives. She says franchisees talk about things they've tried and how they worked or didn't.

Another way Willenborg and Stenger continue to build franchisee involvement is by encouraging franchisees to create fresh new recipes. The corporate chef reviews, tests, and evaluates all submissions to determine if they can work system-wide from a financial and supply angle. The successful recipes are then named after the franchisees who submit them.

Simply keeping franchisees informed is another way to ensure their involvement. Supper Thyme just completed its first formal survey of its customers. Willenborg says they received thousands of email responses and just finished compiling the data and sending it out to all the franchisees.

It's all meant to encourage interaction between franchisee and franchisor, as well as among franchisees, all of which happens on a grand scale at the company's annual conference.

Kitchen Solvers
As a franchise system expands, it becomes much more difficult to retain a personal touch with franchisees. But Kitchen Solvers President Jason Baldner believes it's still important to keep a consistent message going out, listen to franchisee concerns, and quickly address those needs.

"One of the things that we've done is tailor our approach to each franchisee," says Baldner. "Some like to have frequent contact every month, while others want to be left alone. We try to work with both scenarios and everything in between." He says one of the keys to having involved franchisees is keeping them in the loop and genuinely feeling they're a part of the process.

Kitchen Solvers' franchisee advisory board has been a key part of the company's growth and a great way to keep franchisees involved over the years. The board, consisting of five members elected by the franchisees, establishes a protocol that keeps the corporate office informed and involved with the franchise system. "Their mission is to be a representative for their region and advise, assist, and encourage franchisees to participate in corporate initiatives and get feedback on what's going on in their markets," says Baldner.

Individual advisory board meetings are held at Kitchen Solvers' annual convention and help bring important issues to the corporate office for action. Baldner says the company now holds three other advisory board meetings during the year to provide additional opportunities for franchisees to get involved. "We recognized that one annual meeting was not enough, and we wanted to have face-to-face meetings with franchisees," he says. The company also holds teleconferences to keep in touch.

The company is planning to create three new committees that will consist mostly of franchisees, he says. These new committees will work with a corporate liaison to develop solutions and create initiatives in marketing, pricing, and operations.

Additionally, all franchisees have access to the company's intranet site, KitchenNet, and can send feedback to the corporate office whenever they like. The site's Franchise Forum allows interaction among franchisees on questions about vendors, pricing, and other shared concerns. Baldner says this is a popular tool used by more than 70 percent of franchisees. Even an old-fashioned quarterly newsletter is used to communicate and stir interest. "It's about keeping the lines of communication open," he says.

"We've been going through a new branding initiative here over the past few months," says Baldner. "These are the times when you really want and need franchisee buy-in and involvement. We're using all of our tools and methods to reach out and keep the franchisees informed."

Interior Door Replacement
The $200 billion home improvement market is a hot industry right now--a fact not lost on Dave Winter, who's been busy building a network of franchisees that now numbers 17. Winter has created what he calls a brand council--currently with four of his franchisees--that has been a significant factor fostering franchisee involvement.

"We work together with our franchisees to create plans and initiatives that build our franchise brand," he says. For Winter, it's been a great way to show franchisees that the corporate office "really goes to bat for them," while at the same time gaining buy-in from the other franchisees. The company even hired an outside consulting firm about six months ago to help develop the brand council and create what he calls a good "internal and external brand."

"We've been working closely with our franchisees and the consultant to really hone in on what the customer sees when they have contact with us," he says. "What needs to be changed? What can we fix? What can we do better?" That kind of team-based approach is building a system of involved franchisees.

Winter says that when some franchisees are fully involved, those who are less involved see that and are more likely to buy in to the idea of participating more. That's part of why the corporate office recently singled out one of its more successful franchisees to develop a sales training curriculum.

"This guy was closing over 90 percent of his sales, so we asked him if he could put together a training program and present it to the other franchisees," says Winter. That franchisee is scheduled to present the program at the next annual convention.

Winter says the company also uses e-mail to distribute information such as best practices and other ideas franchisees can try. He also encourages franchisees to lead or be involved in regional fundraising efforts such as Habitat for Humanity or Breast Cancer Awareness. "We sponsor these things corporately to show that it's important to us too," he says.

There are many ways to boost or build franchisee involvement. And ultimately, more involvement is going to lead to more success. "The first step is to ask the franchisees to be involved," says Baldner. "Open the door to them. You can't force them to be involved, but if you can give them an open forum or channel through which to communicate--and you respond to their feedback--you can be successful."
Published: February 13th, 2007
Share this Feature
Recommended Reading:
Comments:
comments powered by

Disqus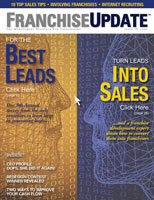 Franchise Update Magazine: Issue 4, 2006
The business messaging platform that lets you text from your office phone number directly on your computer, so you can actually get a response.
ApplePie Capital provides a fresh new approach to franchise financing that is focused on your growth and success.