Building from the Bottom Up
Staffing accounts for well over 50 percent of a franchise company's expenses, says Charlie Simpson, executive vice president and chief operations officer at Great Clips. And at Great Clips, he says, that figure is probably over 60 percent. Lowering that number can help a company compete--on price, in the short term. But when hiring for success, there are more important considerations than money.

"You can't pay less and expect to win," says Simpson. "The franchisor can't just view it on the cost side. Long-term, down the road, the company with the best employees is going to win." And he's willing to spend what it takes to find and retain them.

Great Clips, which turns 25 in 2007, has 1,000 franchisees and 2,500 salons in the U.S. and Canada, and plans to open about 200 new salons every year. So what types of people is Simpson looking to hire? Primarily those at what he calls "the point of impact between franchisor and franchisee."

"If you have the philosophy of getting the best franchisees, the person who interfaces with them has to be of sufficient quality to do business with them," he says. "They are the company to the franchisee."

Generally known as field consultant or field support staff, people in these positions are "the tip of the sword in interactions with franchisees," he says. (At Great Clips, they're called business services specialists or managers.) "We're always looking for the entry-level interface with the franchisee. If you add 200 units, you need X number of additional support people," he says.

One key attribute he looks for is a person's ability to build relationships. "We don't look at their business skills first; we expect that," he says. "In addition to that, how are their relationship-building skills? Can they develop a relationship at a high level with a franchisee? Can they build trust? Communicate?"

This ability to build and maintain relationships is essential, says Simpson: "They must be able to influence franchisees, since franchisees don't work for us."

The second component of the ideal hire, more important today than five years ago, is the ability to strike "a subtle balance between creativity and the ability to work within a system," he says.

"The way you move forward in today's franchise environment is not the old shoot-from-the-hip approach we took many years ago. Most of the low-hanging fruit is gone in most industries. We need to have precise systems, and a precise approach," he says. "You need a well-defined process and system, and then hire people who are good fits for the system. If not, it's very disruptive to a franchise business."

Yet within that system, he says, there must be room for innovation and creativity. "I think franchise companies are understanding the need to be more systematic, as well as to think outside the box."

Hiring future leaders
At Great Clips, the hiring philosophy for these field positions includes a long-term corporate growth strategy. "Your VP of operations is important, but how you get to that position is more important," says Simpson.

"That entry-level position is more important today than five years ago," he says. "You need to over-hire for those positions." That means looking at least two steps up the ladder when hiring for a field support role. Great Clips lays out a clear growth path for those who make the grade.

"We're striving to promote from within from those positions," he says. Not only does this save on hiring costs, but the company knows who it's getting. With executives coming up the ranks, there's no learning curve about the company's system, values, and culture. This is ideal, of course, but not always possible.

Finding and retaining employees
Offering a clear career path is one way Great Clips works to attract and retain quality employees. So is offering competitive salaries. "You're probably not going to keep the best employees long term if you're going to pay less," says Simpson.

Competitors will always pay more, and no franchisor is immune to losing good people, he says. "That happens in most companies. I don't believe it's about money." In fact, he's had employees jump ship for more money and return within a few years. "There's every chance it will not work out. The grass not always greener." Some of these returnees turn out to be a great source of referrals--as do other business relationships the company has cultivated.

"One of things we pride ourselves in is really good relationships with vendors and franchisees. We get an unbelievable amount of references from them," he says. Being located in an area with many other franchise headquarters, as well as Target, Best Buy, and 3M, he says, the company also fields unsolicited phone calls all the time. "We fill a large percentage of our openings from people who have approached us."

The company's 1,000 franchisees are a steady source of executive- level material for the franchisor. "There are at least 2 VPs I know of that have come from the franchisee ranks." One of those is Simpson. "I was a Great Clips franchisee. They recruited me."

The company still resorts to ads and executive placement services, but Simpson estimates that roughly half of the company's hires have come from recommendations from the community, vendors, and franchisees. But with the company's bottom-up strategy, many executives will come from within.

When a franchisor hires a new VP of development, "Most of the time you're buying their expertise on how to attract new franchisees. We don't have that need. We have that expertise in house." For this established franchisor most of its external hiring will come on the operations side, those who interface directly with franchisees: training, marketing, and support. "We have the internal systems and processes to bring people in and fit them into system," says Simpson.

The chronological progression in the hiring chain is 1) franchise sales, 2) real estate, and 3) field support. "But if you're going in that order and not thinking about them all at the same time, then you're probably going to be in trouble," he cautions. "You need all three things in place before you get all gung-ho on selling them the dream."
Published: January 30th, 2007
Share this Feature
Recommended Reading:
Comments:
comments powered by

Disqus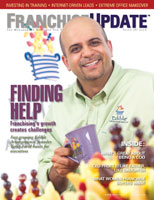 Franchise Update Magazine: Issue 3, 2006
Conferences
InterContinental, Atlanta
OCT 18-20TH, 2023
Slick Marketers is reinventing franchise marketing with a hyper-customized and ultra-localized marketing approach with measurable results and growth...
UMI has over 23 years of experience supporting fast-growing multi-unit brands. From strategic planning to design, execution to analysis, UMI...